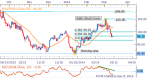 Learn about trading Forex from the experts by utilizing our ForexTV education blog and educational tools. Follow our easy to use reading materials, and training videos on how to read charts and analysis to help you take advantage of the latest in trading technology. With training at every level of experience from novice to expert.
You can ask questions and receive a response from one of our experienced analysts using our simple contact form.
The Jay Norris Education Blog
        Jay Norris is a 20-year veteran of the Chicago Board of Trade, and is a published author;  "Mastering the Currency Market", 2009, and "Mastering Trade Selection and Management", 2011. He is a contributing author to Technical Analysis of Stocks & Commodities Magazine, and has extensive experience teaching and mentoring traders in live markets. He is the Director of Learning at Trading University, LLC.