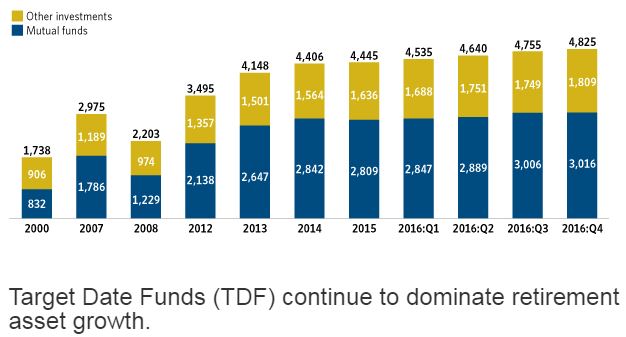 ForexTV Retirement Intelligence Unit set out to analyze the distribution of 401k Advisor market, RIA/Broker-Dealers and 401k Providers; as well as distribution of assets. We wanted to know what the 401k market looks like and how will it change in the next three-five years.
ForexTV Retirement Intelligence Unit took a snapshot of advisors and providers that make up the 401k market. With retirement on more people's mind as baby boomers prepare to leave the work force and Millennials unsure about the future of Social Security, it's no wonder that defined contribution (DC) plans led by 401ks and IRAs fueled by rollovers are dominating. According to the Investment Company Institute, DC plans and IRAs accounted for almost $15 trillion of the $25.3 trillion in retirement assets with 401ks making up 63% of DC plans growing 8.5% in 2016.
Advisors
Of the 300,000 active financial advisors in the U.S. licensed under FINRA or the SEC, an estimated 250,000 work on or get paid by a 401k or DC plan. Yet only 25,000 are minimally qualified with at least 5 plans and $25 million in DC assets – of those only 2500 are considered elite advisors with at least $250 million in DC assets and 10 plans. They manage an estimated 257,500 DC plans that have an advisor or 47% of plans with 68% of assets.
Which means that over half of all DC plans, mostly smaller ones, do not have an advisor with minimal qualifications. That will surely change as the move to fiduciary advisors heralded by the DOL rule will force many advisors out of the market either on their own volition or because their broker dealer or RIA does not want to incur the liability.
Broker Dealers/RIAs
There are less than 50 BDs and RIAs that have a focus on DC plans dedicating minimal resources, yet there are thousands of BDs and RIAs. The DOL fiduciary rule is forcing many distributors to take a hard look at advisors working on 401k plans to determine if they want to provide support or not. Which in turn is leading advisors looking to focus on 401k plans to seek organizations that offer the resources and support to manage and grow a corporate retirement practice.
Record Keepers & TPAs
Though there are only 38 national record keepers, there are more than 500 regional record keeping TPAs (third party administrators) and a total of 4,000 compliance TPAs that provide compliance and consulting but not record keeping services. Consolidation will continue for national providers following trends in the airline industry as costs continue to rise. If legislation allowing unaffiliated companies to join MEPs (multiple employees plans) passes, consolidation may be expedited with smaller plans moving from their current provider to join a MEP.
So what does this mean for 401k and even 403b plan sponsors? Make sure you have an experienced advisor who has the backing and resources of their BD or RIA to help you find the right record keeper and TPA to service your plan. Otherwise, you will find yourself in the jungle without a guide in a world getting more dangerous with increased lawsuits and scrutiny by lawmakers.

Tim Kelly is the Founder of ForexTV. Since its inception in 2003, ForexTV has been a global leader in forex news and has expanded its news coverage to multiple industries. ForexTV is now one of the most recognized brands in global financial news. Mr. Kelly was also the creator and founder of Retirement Intelligence.

Mr. Kelly is an expert in online marketing, search engine optimization, content development and content distribution. He has consulted some of the top brokerages, media companies and financial exchanges on online marketing and content management including: The New York Board of Trade, Chicago Board Options Exchange, International Business Times, Briefing.com, Bloomberg and Bridge Information Systems and 401kTV.

He continues to be a regular market analyst and writer for ForexTV.com. He holds a Series 3 and Series 34 CFTC registration and formerly was a Commodities Trading Advisor (CTA). Tim is also an expert and specialist in Ichimoku technical analysis. He was also a licensed Property & Casualty; Life, Accident & Health Insurance Producer in New York State.

In addition to writing about the financial markets, Mr. Kelly writes extensively about online marketing and content marketing.

Mr. Kelly attended Boston College where he studied English Literature and Economics, and also attended the University of Siena, Italy where he studied studio art.

Mr. Kelly has been a decades-long community volunteer in his hometown of Long Island where he established the community assistance foundation, Kelly's Heroes. He has also been a coach of Youth Lacrosse for over 10 years. Prior to volunteering in youth sports, Mr. Kelly was involved in the Inner City Scholarship program administered by the Archdiocese of New York.

Before creating ForexTV, Mr, Kelly was Sr. VP Global Marketing for Bridge Information Systems, the world's second largest financial market data vendor. Prior to Bridge, Mr. Kelly was a team leader of Media at Bloomberg Financial Markets, where he created Bloomberg Personal Magazine with an initial circulation of over 7 million copies monthly.

Latest posts by Timothy Kelly (see all)