tweet
Follow @tkforextv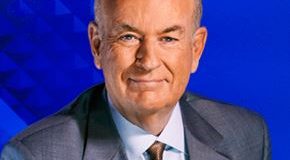 [OPINION] The firing of Bill O'Reilly at Fox News over claims of sexual harassment can be chalked-up as a victory for the newly-minted radical, militant left who has a clearly-stated mission to silence conservative speech and suppress tradition American values. Not to say Bill O'Reilly and Fox News are completely innocent (I just don't know that either way), it certainly has the appearance of being bad behavior. O'Reilly has denied the allegations, but the far-left special interest groups have prosecuted this case in the court of public opinion to the extent that Fox News felt the need to stop the bleeding in the interest of self-preservation and fire O'Reilly.
The Culture War
The secular-progressive, liberal movement as defined by O'Reilly in his best-selling book, Culture Warrior (2006), was often a target of his scorn, judgment and ridicule over the past twenty years. Those who identify with this movement certainly have demonstrated an equal and public enmity towards Mr. O'Reilly and have launched an untold number of smear campaigns against him. It is quite clear that this group has won this battle in the "Culture War". This battle is far from over and I am pretty sure that we have not heard the last of Mr. O'Reilly. Certainly this has emboldened the progressive liberals, we will be hearing lots more from this group.
Economic Activism & Identity Politics 2.0
By many accounts, Fox News' decision to part company with O'Reilly was mainly motivated by economics. Despite O'Reilly generating nearly half a billion dollars in advertising revenue for Fox News over the past few years, 21st Century Fox (the owner of Fox News) has billions at stake and those vaunted advertising clients were staying clear of O'Reilly for the moment. O'Reilly was not the first to be accused of sexual harassment among the Fox executive suite and News Corp needed to show some resolve in addressing it to maintain a semblance of corporate decency. Fox News clearly needs to clean-up its act.
The secular progressives would have been protesting Mr. O'Reilly for one thing or another; sexual harassment was convenient, easy and fit the current narrative on the left of rampant gender bias. It was convenient because the gender bias issue still had legs after the 2016 elections and Fox News has a recent history of sexual bias accusations against its top executive, Roger Ailes. It was easy because corporate advertisers quickly caved-in to shaming pressure from activist groups (the appearance of improper behavior towards women by O'Reilly, a powerful, white male, is a publicity hot potato). Again, O'Reilly denies any wrongdoing in the matter. But the main reason it was successful was because it was organized and used economic threats against corporations. Welcome to identity politics 2.0.
The Assault on Free Speech
Groups such as Indivisible, Black Lives Matter,Moveon.org, National Organization for Women (NOW) and other secular-progressive groups that thrive on the grievance industry are still reeling off the embarrassing defeat of the 2016 presidential elections and they have re-organized with a vengeance and are out for blood. O'Reilly often spoke critically (and with stunning accuracy) of this movement and the relationship they have with mainstream media, billionaire activists, Hollywood and most US Universities. Together, these groups have a standing mission to systematically censor conservative speech and contravene the laws of the nation to suit their collective agenda.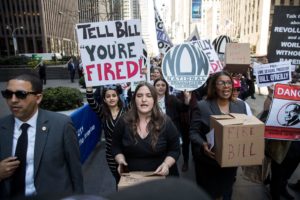 The Corruption of American Universities and Social Engineering
Nowhere is this more evident than the well-choreographed protests taking place at universities across America. Conservative speakers are shouted down by violent protests and often blocked from speaking at all. Dozens of prominent conservative speakers have had appearances cancelled at major publicly-funded universities across the country due to "security concerns" in the past year.
In almost every case, university administrators go through a contrived routine of "evaluating" the situation and arriving at the identical conclusion to cancel an appearance by a conservative speaker because they cannot ensure the safety of the speaker or their students. The language, ritual and outcomes are almost identical at every university. It's more than coincidence; it's a coordinated and systematic effort to deny diversity of thought. Who would have imagined this dynamic on US college campuses? It is a dark period for American education.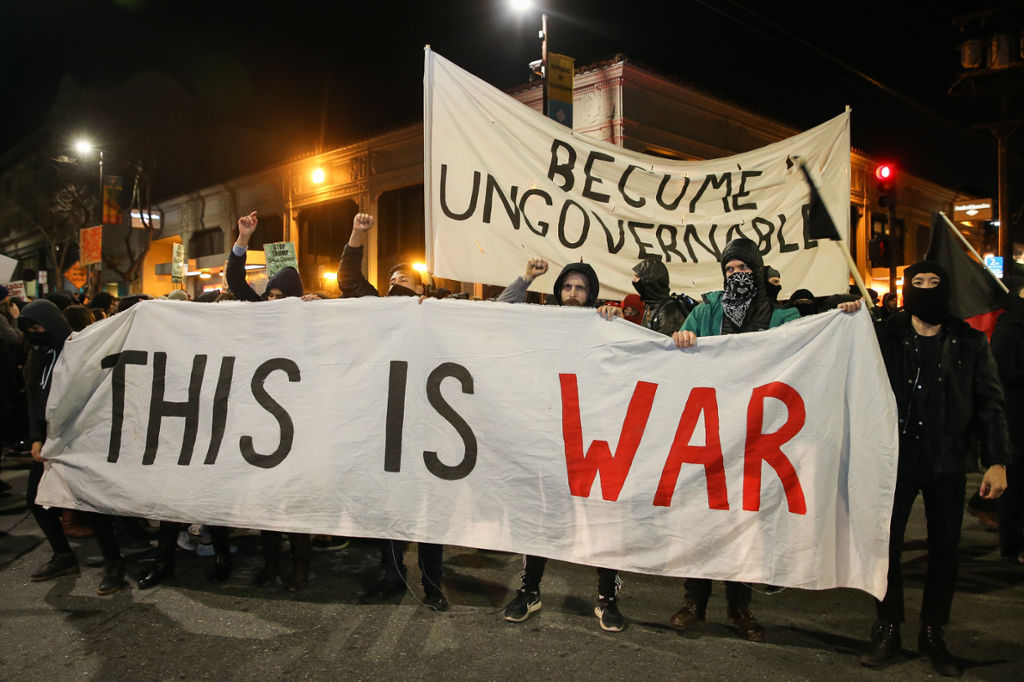 In many of these cases, paid protesters serve as a catalyst to incite the angst of students to stage violent and disorderly events and to give the false appearance of chaos and spontaneous, grass-roots opposition. These violent episodes are anything but spontaneous; they are staged and well-planned in advance, like they came out of a playbook.
Teaching the Dark Art of Social Division in Exchange for Liberty
That playbook can be found in the Indivisible Guide. It's a cult-like, radical manifesto that gives step-by-step instructions on how to:
conduct violent protests,
how to manipulate the press,
de-legitimize public figures,
how to deny free speech,
It provides actual scripts, telling people what to say in certain situations,
It instructs illegal aliens on how to thwart immigration authorities and immigration laws,
It urges followers to use accusations of racism, sexism and other demonizing language as much as possible, whether true or not, against public officials and popular conservative figures to halt any consideration of sensible dialogue,
It teaches the dark art of character assassination,
It specifically gives advice on how to manipulate and convince illegal aliens and minorities to be fearful of conservative ideology.
This manifesto preys on the young and impressionable, the disenfranchised, the feeble-minded and the economically vulnerable members of our society. In exchange for their allegiance, those groups are being asked to hand-over their constitutional rights.
It's as un-American a doctrine as I have ever seen. It is the anti-Constitution manifesto.
Liberals and the Democratic Party Treat American Liberty as a Cheap Carnival Prize
Make no mistake; there is a connection between the secular-progressive groups and the organized protests that were taking place outside Fox News. O'Reilly was a high-value target for the secular-progressives, the liberal press, the Hollywood elite and George Soros. The troubling issue is that the pattern of character assassination and essentially the organized attempt to censor traditional, conservative voices for purely political gain will continue, that I can guarantee. It is a stated goal of the secular-progressive movement which is openly aligned with the Democratic Party.
And while the left is reveling in the damage inflicted upon one of the top conservative thinkers and icons of traditional American doctrine, they are too blind with hatred and rage to notice that they are dismantling the very foundations of American liberty at the same time. Bill O'Reilly is one man, was the loss of American liberty worth this selfish effort?
The O'Reilly dismissal essentially validates the notion that anything goes. Any citizen is fair game and there are no rules, no decency and no due process. It is as clear a step towards the closing of the American mind as anything in the past century. The money and effort expended towards toppling Bill O'Reilly was staggering. It speaks volumes about the values and priorities of the left that should be a sobering reminder of how insidious, disconnected and wasteful a force this has become.
Fortunately, most Americans do recognize the moral decay the liberal movement represents, that's why they repudiated the democrats and Hillary Clinton in a sweeping electoral referendum. Sadly, many on the left are too entangled in retribution and destructive rage to see what is happening. They are sowing the seeds for further defeat because Americans are not as naive as the left thinks.
Whether O'Reilly engaged in sexual harassment as charged is not known to the public at-large at this time. Sexual harassment is a real and serious matter and must not be allowed to exist in the workplace or elsewhere. If he is guilty of this behavior, then his removal from that position of power at Fox News is justified. But when you consider the common attribute of the outcomes of these accusations was the award of millions of dollars to the accusers, it is legitimate to question the motives of these women.
By the same measure of objectivity, false accusations of sexual harassment must also be treated with equal weight and justice. False accusations of sexual harassment occur with alarming frequency as well and are often used as a tactic to gain legal and/or moral advantage over an adversarial party, many times in the interest of seeking personal monetary gain or political advantage. They also diminish the severity and legitimacy of real cases and their victims. The smoking gun here is in the Indivisible Guide which advocates using sexual harassment accusations as a weapon to delegitimize prominent figures cannot be ignored.
If NOW was so concerned about sexual harassment and not out for a "political scalp" why have they not directed an ounce of energy focusing their protests against Bill Clinton or Michael Bloomberg, who were also accused of a pattern of sexual harassment? It's because they are liberals, no mystery here. If the issue of O'Reilly's alleged sexual harassment is to be judged on a circumspect argument, the preponderance of motivations would surely be balanced at the very least.
It is almost unthinkable that any citizen would advocate obstructing an American President, causing unnecessary civil strife or manufacturing social divisions (and indeed jeopardizing the welfare of all Americans) for selfish, vindictive motivations, let alone do it openly. This is like a passenger on a commercial airplane hoping the plane will crash because they don't like the pilot or the other passengers. It is irrational and dangerous behavior and it is gaining in influence. Sensible Americans on both sides of the political aisle need to be concerned. America needs both strong, healthy liberal and conservative balance.

Tim Kelly is the Founder of ForexTV. Since its inception in 2003, ForexTV has been a global leader in forex news and has expanded its news coverage to multiple industries. ForexTV is now one of the most recognized brands in global financial news. Mr. Kelly was also the creator and co-founder of 401kTV where he served as Managing Editor until April 2017.

Mr. Kelly is an expert in online marketing, search engine optimization, content development and content distribution. He has consulted some of the top brokerages, media companies and financial exchanges on online marketing and content management including: The New York Board of Trade, Chicago Board Options Exchange, International Business Times, Briefing.com, Bloomberg and Bridge Information Systems and 401kTV.

He continues to be a regular market analyst and writer for ForexTV.com. He holds a Series 3 and Series 34 CFTC registration and formerly was a Commodities Trading Advisor (CTA). Tim is also an expert and specialist in Ichimoku technical analysis. He was also a licensed Property & Casualty; Life, Accident & Health Insurance Producer in New York State.

In addition to writing about the financial markets, Mr. Kelly writes extensively about online marketing and content marketing.

Mr. Kelly attended Boston College where he studied English Literature and Economics, and also attended the University of Siena, Italy where he studied studio art.

Mr. Kelly has been a decades-long community volunteer in his hometown of Long Island where he established the community assistance foundation, Kelly's Heroes. He has also been a coach of Youth Lacrosse for over 10 years. Prior to volunteering in youth sports, Mr. Kelly was involved in the Inner City Scholarship program administered by the Archdiocese of New York.

Before creating ForexTV, Mr, Kelly was Sr. VP Global Marketing for Bridge Information Systems, the world's second largest financial market data vendor. Prior to Bridge, Mr. Kelly was a team leader of Media at Bloomberg Financial Markets, where he created Bloomberg Personal Magazine with an initial circulation of over 7 million copies monthly.

Latest posts by Timothy Kelly (see all)