American National Employees Give Back for 9/11 National Day of Service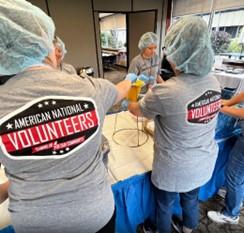 HOUSTON, Sept. 15, 2023 (GLOBE NEWSWIRE) — This week, American National Insurance Company partnered with the 9/11 Day organization to package thousands of meals earmarked for local food banks in support of the 9/11 National Day of Service. American National employees volunteered their time at events held at the company's Albany, NY, and Springfield, MO, offices. Houston area employees joined hundreds of other volunteers at NRG Stadium to pack more than 300,000 meals for people experiencing food insecurity.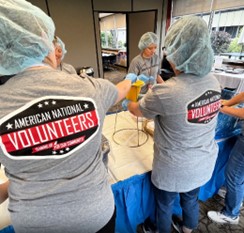 "Volunteerism has always been an important part of our culture at American National. We're proud of that and of our employees who, time and again, step up to serve the communities we call home," said CC Pardo, SVP & Chief Human Resources Officer, American National.
9/11 Day has helped transform September 11th into the largest day of service in America. In cities across the country, 9/11 Day organizes large-scale volunteer projects to assemble nutritious meals for Americans at risk of hunger.
"Partnering with 9/11 Day gave us an opportunity to remember the fallen and honor the heroes from that tragic day by coming together in service of those who need assistance," Pardo said. "We were honored to support and participate in this great effort to turn the anniversary of one of our nation's darkest moments into a day of doing good."
ABOUT AMERICAN NATIONAL
American National is a group of companies writing a broad array of insurance products and services and operating in all 50 states. American National Insurance Company was founded in 1905 and is headquartered in Galveston, Texas. Life insurance, annuities, health insurance, credit insurance, pension products, and other products and services are written through multiple companies. Property and casualty insurance is written through American National Property And Casualty Company, Springfield, Missouri, and affiliates. In New York, business is written through Farm Family Casualty Insurance Company, United Farm Family Insurance Company, and American National Life Insurance Company of New York, Glenmont, New York. Not all products and services are available in all states. Not all companies are licensed in all states. Each company has financial responsibility for only the products and services it issues. For more information, please visit www.AmericanNational.com.
Contact: Scott Campbell
SVP, Corporate Communications
Scott.Campbell@AmericanNational.com 
A photo accompanying this announcement is available at https://www.globenewswire.com/NewsRoom/AttachmentNg/d7639c5b-7651-4d2f-bc9c-59c0112b8ab0


Latest posts by GlobeNewswire
(see all)