Key automotive camera market players include Magna International Inc., Continental AG, ASM Pacific Technology Ltd., Brigade Electronics Group Pic., Bosch Mobility Solutions, OMNIVISION Technologies, and others.
New York, Nov. 14, 2023 (GLOBE NEWSWIRE) — The global automotive camera market size is predicted to expand at 10% CAGR between 2024 and 2036. The market is projected to garner a revenue of USD 46 billion by the end of 2036, up from a revenue of USD 14 billion in the year 2023. The growth of the market is set to be influenced by the increasing adoption of cars. Global auto sales rose from almost 65 million vehicles in 2021 to approximately 66 million vehicles in 2022. Therefore, with this, the market is also set to grow.
Request Free Sample Copy of this Report @ https://www.researchnester.com/sample-request-3507
From surround view at the bottom of the market to newer applications including e-mirror at the top, cameras are used in automobile applications for a wide range of purposes. With safety being a key priority for new car buyers, usage of the camera for the driver-assist system is fast expanding. According to the prediction of the World Health Organization, each year, traffic accidents claim the lives of almost 1.3 million individuals worldwide. There are an additional 20 to 50 million individuals who sustain non-fatal injuries, many of whom become disabled as a result. Hence, the need for automotive camera is growing significantly.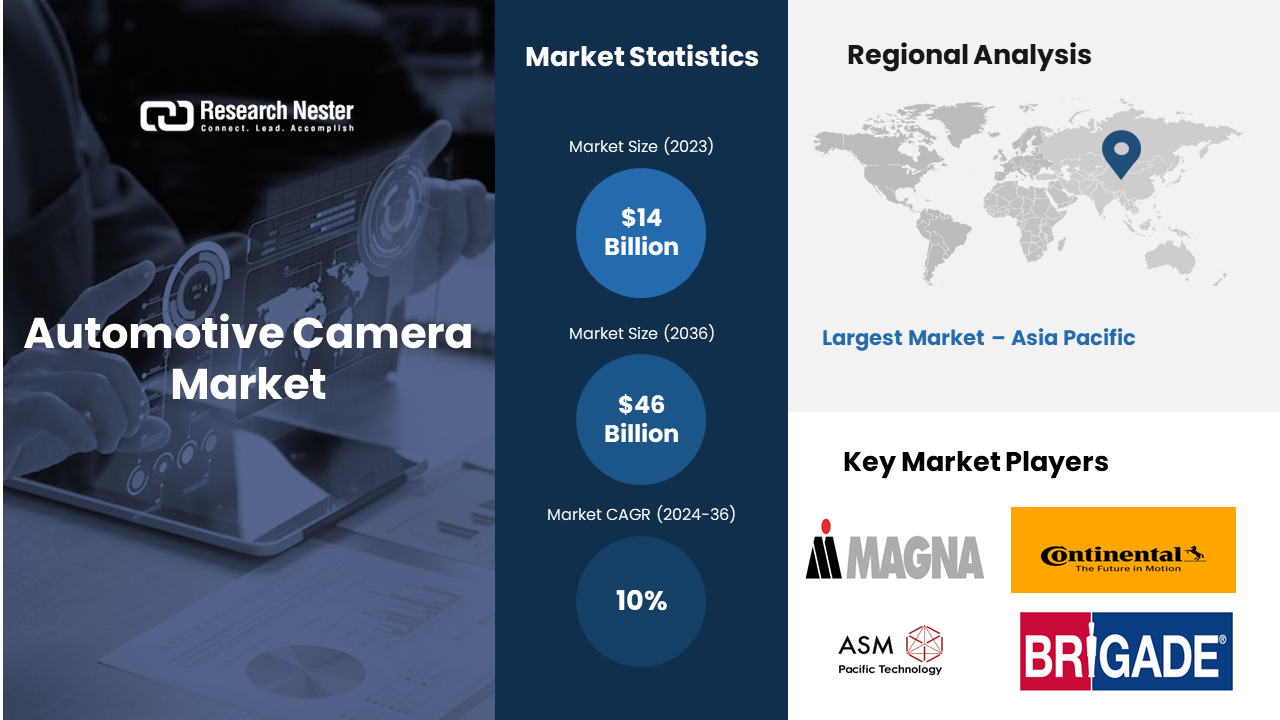 Automotive Camera Market: Key Takeaways  
Market in Asia Pacific region to propel the highest growth
The Passenger cars segment to garner the highest growth
Market in North America region to grow at a highest rate
Surge in Deployment of AI in Automobile to Boost the Growth of Global Automotive Camera
Artificial intelligence is employed in almost every aspect of the car-making process by auto manufacturers. Autonomous vehicles using machine learning and vision are one of the major instances of artificial intelligence in the automotive sector. In 2022, about 16,000 autonomous vehicles were sold globally, and this is estimated to increase to approximately 126,000 units sold in the year 2030. As a result, the automotive camera market is also projected to flourish. Autonomous vehicles utilize cameras, which are specialized image sensors that identify reflected visible light from various objects. Image sensors have the ability to identify a wide range of visible light frequencies since the sun generates a remarkable quantity of both UV and visible light. Moreover, since it also has AI deployed, the functions are carried out effectively.
Automotive Camera Industry: Regional Overview 
The global automotive camera market is segmented into five major regions including North America, Europe, Asia Pacific, Latin America, and the Middle East and Africa region. 
Surge in Adoption of Electric Cars to Drive the Market Share in Asia Pacific
The automotive camera market in Asia Pacific is set to gather the largest revenue of approximately 35% over the projected period. This could be owing to rising adoption of electric cars. In the Asia-Pacific area, China sold approximately 5 million electric automobiles in 2022, the most among any country. Electric vehicles are safer than ever due to a number of built-in safety systems. Electric cars are equipped with the newest technologies to ensure the safety of each of passengers while driving. These safety features include airbags along with cameras. Hence, the market share is projected to grow in this region.
Rising Demand for Commercial to Influence the Market Expansion in North America
The North America market for automotive market is predicted to capture the significant share of about 28% over the forecast period. The growth of the sector in this region is poised to be dominated by rising demand for commercial vehicles. North America was the top manufacturing region for commercial vehicles in 2022, producing about 12 million vehicles. These commercial vehicles are deployed with multi-cameras. The combination of cutting-edge features and technology is the newest trend in the market for multi-camera systems for commercial vehicles in North America. In order to increase the functionality of the system, manufacturers are implementing computer vision, machine learning, and artificial intelligence. Features including object detection, lane departure alerts, blind-spot detection, and driver behavior monitoring are made possible by these improvements.
Automotive Camera Segmentation by Vehicle Type
Passenger Cars
Commercial Vehicles
The passenger cars segment is set to capture the highest share in the market of about 72% over the projected period. The main element to influence the growth of the segment is growing demand for passenger cars. Global sales of passenger cars exceeded about 56 million in 2022, an increase of almost close to 2 percent over the previous year.
Make an Inquiry Before Buying this Report @ https://www.researchnester.com/inquiries-before-buying-3507
Automotive Camera Segmentation by Technology
Mono Cameras
Stereo Cameras
Infrared Cameras
The stereo cameras segment is slated to have notable growth in the market over coming years. Automotive ADAS utilizes stereo cameras to promote safety and enhance driving comfort. In contrast to a LIDAR system, a stereo camera system employs affordable visible light cameras to capture distance data throughout the full field of view. Hence, with the growing adoption of ADAS the segment is estimated rise. Moreover, research indicates that installing ADAS in every car would reduce the frequency of accidents on the roads by over 24%. Additionally, there can be a about 28% decrease in accidents occurring in the two most common scenarios. In other words, there are expected to be approximately 7,019 fewer accidents on city roads in clear weather and daylight and close to 3,471 fewer accidents on rural roads. Hence, the demand for ADAS is high.
Automotive Camera Segmentation by Camera Type
Side-Mirror
Corner-View
Interior-View
Rear-View Enhancement
Automotive Camera Segmentation by Application
Blind Spot
Parking Surrounding View
Drive Recorders
360-Degree Surround View
Automotive Camera Segmentation by Distribution Channel
Original Equipment Manufacturer
Aftermarket
A few of the well-known market leaders in the global automotive camera market that are profiled by Research Nester are Magna International Inc., Continental AG, ASM Pacific Technology Ltd., Brigade Electronics Group Pic., Bosch Mobility Solutions, OMNIVISION Technologies, and others.
Request for Customization of this Report @ https://www.researchnester.com/customized-reports-3507
Recent Development in the Automotive Camera Market
Omnivision introduced the first image sensor for car cameras in history. It combines STEREO flicker mitigation (LFM) with a 3micron pixel size camera that is coupled with 140db HDR to support functions like lens correction and faulty pixel rectification.
Continental showcased new automated driving system options. It created a hybrid camera system with an outside facing infrared camera and an internally facing camera. The surrounding cars and the driver can both be monitored by the system at the same time.
About Research Nester
Research Nester is a one-stop service provider with a client base in more than 50 countries, leading in strategic market research and consulting with an unbiased and unparalleled approach towards helping global industrial players, conglomerates and executives for their future investment while avoiding forthcoming uncertainties. With an out-of-the-box mindset to produce statistical and analytical market research reports, we provide strategic consulting so that our clients can make wise business decisions with clarity while strategizing and planning for their forthcoming needs and succeed in achieving their future endeavors. We believe every business can expand to its new horizon, provided a right guidance at a right time is available through strategic minds.
CONTACT: AJ Daniel
Corporate Sales, USA
Research Nester
Email: info@researchnester.com
USA Phone: +1 646 586 9123
Europe Phone: +44 203 608 5919


Latest posts by GlobeNewswire
(see all)