Chocolate California Prune and Banana Bread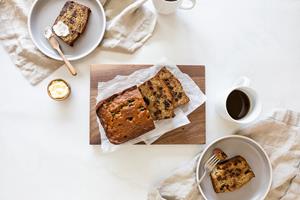 TORONTO, Sept. 18, 2023 (GLOBE NEWSWIRE) — For many Canadian families September marks a return to school and routine. With routine comes the opportunity to save time and money and make healthier food choices by meal planning for the week ahead. Incorporating nutrient-dense pantry-stable ingredients into recipes is an effective way to set family members up for success both in happiness and health.
California Prunes are an under the radar superfood, richly packed with antioxidants plus vitamins and minerals that support heart and bone health, as well as fibre to maintain good gut health. Prunes offer a versatile and nutrient-packed solution that can easily be added to a variety of recipes, helping Canadians get back-to-routine and prioritize their wellbeing.
Renowned registered dietitian and Ambassador for The California Prune Board, Dr. Nanci Guest, highlights the remarkable health benefits of adding California Prunes to weekday snack and meal repertoires. "Incorporating California Prunes into your daily routine can be a game-changer for your heart, bone and gut health as well as supporting your overall immunity by protecting cells from oxidative stress," says Dr. Guest. "California Prunes are naturally sweet, fibre-rich and have a low glycemic index which can help to regulate blood sugar levels and support healthy digestion. They're not only delicious but also incredibly nutrient-dense and can easily be added to your favourite sweet and savoury recipes to take on-the-go."
Nutrient-Packed Recipes from Breakfast to Dinner
Chocolate California Prune and Banana Bread: Start your morning with a slice of banana bread that takes a nutritious twist on a classic. The natural sweetness of California Prunes combined with the rich taste of dark chocolate and fresh bananas makes this a wholesome indulgence. Packed with fibre, vitamins, and antioxidants to support good gut health it's a simple way to fuel your morning routine. Consider swapping out the sugar in your other favourite baked goods recipes by making a homemade prune purée – it's a great way to elevate the flavour and enhance your nutrition.
No-Bake California Prunes Power Balls: California Prunes promote satiety, so you are less likely to be hungry between meals, making these an ideal snack to keep you fueled and focused throughout the day. This bite-sized, grab-and-go recipe will be enjoyed by adults and kids alike. They're a great snack to pack in lunches or to bring to the office for when you need a quick boost of energy. Their chewy texture paired with the nutty flavour of sunflower butter, make these bites both delicious and nutritious. Experiment with different nut butters and cereal combinations to suit your preferences.
Savoury Beef Stew with California Prunes: As the evenings get cooler, simplify your meals, and stay warm with this hearty beef stew complemented with rich California Prunes, healthy root vegetables and herbs. Prunes are naturally sweet adding a delicious flavour to soups and stews and have a low glycemic index which can help maintain blood sugar levels. A single serving of 4 to 5 California Prunes has 3 grams of soluble and insoluble fibre to help you maintain good digestive health. Save time by cooking this in a slow cooker to have a nutritious and satisfying ready meal for dinnertime that the whole family will enjoy.
So, as you begin to settle back into routine, and are seeking creative new ways to improve your overall health while still wanting to enjoy mouth-watering meals, try adding California Prunes. They are a versatile and sustaining ingredient that can effortlessly be enjoyed; try them whole, diced, or pureed, or pair them with proteins and grains, topped on salads and cereals, or in sauces and baked goods. When purchasing prunes look for "Product of USA" or "Product of California" for premium quality prunes.
For more information and recipes, please visit The California Prune Board website www.californiaprunes.ca.
ABOUT THE CALIFORNIA PRUNE BOARD  
The California Prune Board was established in 1952 to represent growers and handlers under the authority of the California Secretary of Food and Agriculture. California is the world's largest producer of prunes with orchards across 14 counties in the Sacramento and San Joaquin valleys. Promoting a lifetime of wellness through the enjoyment of California Prunes, the organization leads the premium prune category with generations of craftsmanship supported by California's leading food safety and sustainability standards.
FOR MEDIA ENQUIRIES PLEASE CONTACT:
Quinn Densmore, Harbinger Communications
qdensmore@harbingerideas.com
902.223.0506
A photo accompanying this announcement is available at https://www.globenewswire.com/NewsRoom/AttachmentNg/4bec7b97-654c-4fd7-b6de-81b1e9167f69


Latest posts by GlobeNewswire
(see all)