Dairy-free Yogurt? Coconut Collaborative, is leading an unlikely British Invasion: a delish new plant-based, line of dairy-free yogurt. Founded by identical twins Edward and James Averdieck, who founded the upscale Gü brand in Europe and sold it for £32 million ($48 million), the brand's single-serve yogurts — original, blueberry ,and mango & passionfruit — are made from coconut milk, are vegan-certified, and flavored with natural sugars from fruit. The brand has also released its 100-calory dairy-free Salted Caramel "Paradise Ganache Pots" into the marketplace.
Edward Averdieck is president and co-founder of The Coconut Collaborative, the #1 coconut yogurt brand and #2 plant-based yogurt brand in the UK. It is now available in the U.S. at Wegmans, Morton Williams, Gourmet Garage, and over 2,400 stores worldwide.
Edward began his career as a marketing manager in the advertising department for Procter & Gamble and it was there that he developed his first taste for America.  Later, he joined the music business at the eve of the digital age as part of the management team that co-founded OD2, an innovative music download company, with artist Peter Gabriel. OD2 quickly became the European market leader and was subsequently sold to Nokia Corporation as their version of iTunes. Edward then traveled the world, overseeing Nokia's worldwide music team, setting up music download stores in Asia, Europe, Australia & North America.
In 2016, Edward switched tunes to join his twin brother James as Co-Founder of The Coconut Collaborative, working to build an international presence for the burgeoning European dairy-free brand. In October 2017, backed by leading UK food industry investors, Edward launched The Coconut Collaborative Inc. in the U.S. realizing a lifelong ambition to live and work stateside to spread the coco-love far and wide with deliciouscoconut treats free from dairy but not from temptation.
New Plant-Based The Coconut Collaborative Yogurts and Desserts Sprout in U.S.
Plant-based foods are commanding more and more space on grocery shelves in the U.S. and Europe, according to research in the past year by Innova Market Insights. By focusing on taste and flavor, The Coconut Collaborative — launched in November 2017 in Wegmans store — is perfectly positioned to introduce plant-based yogurt and dessert category to mainstream consumers in the U.S.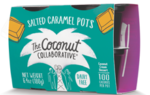 The Coconut Collaborative is also now listed in Earth Fare, one of America's foremost healthy food chains… that will only list products that contain "100% clean ingredients… and it is also on track to sell in 500 stores by the end of the year.
"Coconut Collaborative products taste delicious, and they happen to also be dairy and gluten-free. Those nutritional attributes are an added-value; we lead with taste, and this differentiates us from our competitors who lead with their more niche attributes," said Edward Averdieck, Coconut Collaborative president and co-founder says. "Our European heritage is rooted in indulgent desserts and we simply have the edge on taste. Being dairy-free should never compromise the quality of plant-based yogurts and desserts."
"We've been backed by retailers who have seen and tasted something radically different about our approach to the plant-based yogurt and dessert categories," Averdieck continued. "We believe that this category only achieves its potential when you can make plant-based products taste as good as or better than their dairy equivalents. That's the benchmark we set and that's what we work day in and day out to achieve."
The Coconut Collaborative offers a wide variety of delicious desserts and yogurts, recently adding Salted Caramel Ganache Pots, Vanilla Yogurt, and the larger 12.3 oz. Plain Yogurt.
"Pleasure needn't be sacrificed in the pursuit of a healthy lifestyle. There's a real gap in the U.S. market for great tasting, plant-based yogurts and desserts which feel indulgent but aren't packed full of sugar."

— Coconut Collaborative co-founder Edward Averdieck
According to Jaime Athos, president and CEO of the legacy plant-based alternative company Tofurky "The quality and broad availability of plant-based foods has really been the turning point," he says. "Consumers are showing us that if they are presented with the option to choose healthier and more ethically produced plant-based foods without sacrificing taste, they will jump at it."
The Coconut Collaborative is currently available at Kings Supermarkets, Balducci Food Lover's Market, Morton Williams, Gourmet Garage, Brooklyn Fare, Union Market and over 100 specialty gourmet stores in the tri-state NYC area. In June 2018, U.S. headquarters were set up in Manhattan Beach, California, and the company will be launching in September on the West Coast. Nugget Market in California, New Seasons & Market of Choice in Oregon and Metropolitan and Haagen stores in the Pacific North West are among the confirmed.
The Coconut Collaborative has added to its U.S. product base with the following:
 Salted Caramel Paradise Ganache Pots
Dairy free
Gluten free
Vegan
Made with coconut cream
120 calories
$4.99 SRP
 Vanilla Yogurt
Dairy free
Gluten free
Vegan
Made with coconut cream
Low sugar
$2.49 SRP
 Plain Yogurt 12.3 oz
Dairy free
Gluten free
Vegan
Made with coconut cream
Low sugar
$4.99 SRP
 About The Coconut Collaborative:
Coconut Collaborative was founded in 2014 by two guys on a mission to spread the Coco-love far and wide by bringing together like-minded coconut companies, sharing delicious and surprising coconut treats with the world, and giving back to the planet and its people… all while making some tasty yogurt along the way. The Coconut Collaborative was created by Edward's twin brother James Averdieck, Founder of Gü and his business partner. A card-carrying disciple of the super-drupe, James believes that pleasure needn't be sacrificed in the pursuit of a healthy lifestyle. For more information, visit https://coconutcollaborative.com or on [email protected]_usa for the latest and greatest.

Latest posts by Timothy Kelly (see all)