TextUs research finds rich media enhances overall engagement when used in campaign and conversational SMS for businesses, presents findings in upcoming webinar, scheduled for March 22, 2023 at 11am MT.
TextUs Webinar: Fill Your Pipeline: How to use Images and A/B testing to Increase Engagement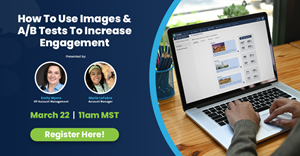 Denver, Colorado, March 16, 2023 (GLOBE NEWSWIRE) — Denver, Colorado, March 16, 2023 – TextUs, the leading conversational texting platform that enables organizations to have engaging real-time conversations with prospects, candidates, employees and customers has found in recent data that the presence of images in text campaigns increases overall engagement and lowers opt outs.  
In TextUs' latest State of Texting report, TextUs found text messaging to be the leading communication channel among those surveyed, outpacing email and phone by large margins.  Over 50% indicated text messaging was the most effective way to communicate in their business workflows.  Additionally, 62% of users indicate they are using text messaging multiple times per day.  Further, recent research indicates that SMS campaigns that utilize an image show a 10% increase in likelihood of getting a response.  Not only that, but these same rich media campaigns have a 22% lower opt-out rate.
While SMS campaigns are not new to business text messaging, the ability to send campaigns with rich media varies from provider to provider, so it is best to verify whether or not your texting platform can support this functionality.  
TextUs will be presenting some best practices and real world examples of how image use and A/B testing can drive engagement in text messaging campaigns in a live webinar on Wednesday, March 22nd  at 11am MST.  Webinar guests are encouraged to register even if they are unable to attend the live session as a recording will be emailed to all registrants following the presentation.  Registration is open to the general public and can be found here.
About TextUs
TextUs is the leading conversational messaging platform that enables organizations to have engaging real-time message-based conversations with their customers, candidates, and employees across their entire journey with the organization.  With seamless integrations to the top applicant tracking systems (ATS) and customer relationship management (CRM) platforms, texting is an easy and seamless extension of current business systems and day to day workflows.  With a 98% read rate and up to 45% response rates, TextUs delivers business text messaging combined with automated features to connect businesses with their customers in real time, making users more productive and driving better results to their bottom line.  To learn more, visit www.textus.com.
####
Attachment
TextUs Webinar: Fill Your Pipeline: How to use Images and A/B testing to Increase Engagement
CONTACT: Maggie Mistovich
www.textus.com
7208008105
maggie@textus.com



Latest posts by GlobeNewswire
(see all)