Key eddy-current testing market players include General Electric Company, Ether NDE Limited, Eddyfi NDT Inc., Ashtead Technology Ltd., TUV Rheinland AG, Mistras Group Inc., Fidgeon Limited, Magnetic Analysis Corporation, Waygate Technologies, and Ibd NDT System Corporation.
New York, Nov. 21, 2023 (GLOBE NEWSWIRE) — The global eddy-current testing market size is predicted to grow at a CAGR of over 8.5% from 2024 to 2036. The market is projected to garner a revenue of USD 3.6 billion by the end of 2036, up from a revenue of USD 1.5 billion in the year 2023. The development of new infrastructures in the world is the major factor that is driving the market growth. More than 2,500 global infrastructure projects were announced in 2020, a 5.5 percent increase from 2019. More than half of these were classified as sustainable infrastructure initiatives including wind and solar electricity. Given this tendency, the power sector had the most projects announced in 2020, followed by the transportation sector. A rise in the number of the establishment of new infrastructures will boost the supply of electricity and thus expand the network of transmission and thus increase the demand for eddy-current testing.
Request Free Sample Copy of this Report @ https://www.researchnester.com/sample-request-5265
Eddy-Current Testing Market: Key Takeaways
Market in North America region to propel the highest growth
The Conventional Eddy Current Testing segment to garner the highest growth
Market in Europe to grow at a highest rate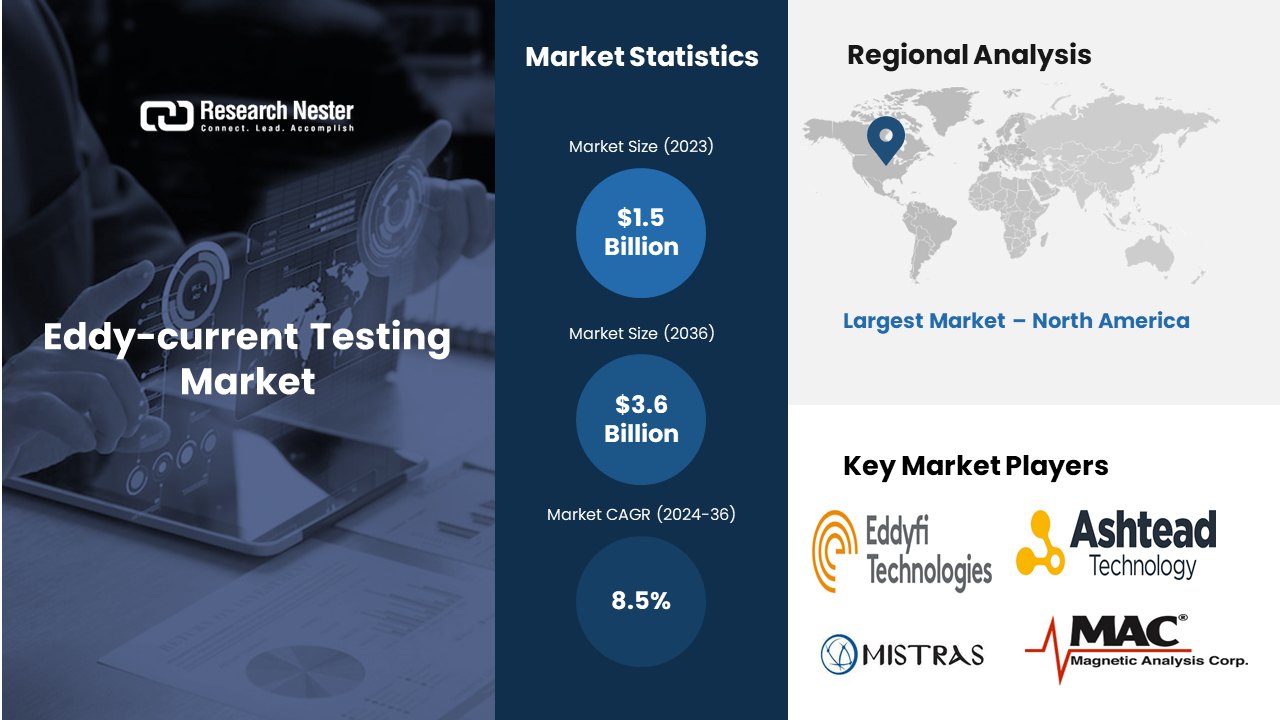 Rising Instances of Accidents in the Aerospace Industry is to Boost the Growth of the Eddy-Current Testing Market
Eddy's current testing can effectively detect corrosion or cracks in components caused by stress and wear and tear. Because of the layered nature of the structure, hidden corrosion might also be an issue. Stress cracks and corrosion around fasteners or between the attached longeron surface can be easily found using eddy current testing.    In 2022, the commercial aircraft industry experienced 39 total accidents, up from 29 in 2021. In 2022, the overall accident rate increased from 1.13 per million sectors in 2021 to 1.21. In total, one accident occurred for every 826,088 flights. It entails that a person who takes one flight each day must travel for 2,263 years before having an accident.
Eddy-Current Testing Industry: Regional Overview
The global eddy-current testing market is segmented into five major regions including North America, Europe, Asia Pacific, Latin America, and the Middle East and Africa region.
Growing Capacity of Wind Energy is to Boost the Market Growth in North America Region
In the United States, House Democrats recently sponsored legislation to set a 25GW offshore wind objective by 2030, with 12.5GW available by 2025. The presidency of Joe Biden will very certainly add to the momentum in favor of renewable energy. Finance does not appear to be a huge issue here, as large oil firms are going to encounter mounting pressure to transition away from fossil fuels. BP has invested USD 1.1 billion to acquire a 50% share in two Equinor-owned offshore wind projects on the East Coast. It is the first of its kind in the United States. Eddy current testing is another feasible and growing method of wind turbine NDT. Surface and near-surface abnormalities can be detected with ECT equipment. ECT, like UT, offers a benefit over other NDT procedures in that it does not necessitate the use of dangerous chemicals or a continuous supply of electrical power.
Expanding Nuclear Power Plants is to Elevate Market Growth in Europe
The day after Germany shuts down its last reactors, Finland opens Europe's first new plant in 16 years. The long-delayed completion of Europe's largest nuclear power station, Olkiluoto 3, means that nuclear power will soon meet around 40% of Finland's electricity demand, which the government believes would increase energy security and help it meet its carbon independence targets. Instead of being progressively phased out, Romania has doubled its nuclear production in the previous 15 years, while Hungary and the Czech Republic have grown theirs by an additional fifth. Sweden is considering legislation to allow for greater construction, while France plans to prolong the life of existing plants to 50 years and open a minimum of six additional facilities by 2035.
Make an Inquiry Before Buying this Report @ https://www.researchnester.com/inquiries-before-buying-5265
Eddy-Current Testing Segmentation by Technique
Conventional Eddy-Current Testing
Remote Field Testing
Alternating Current Field Measurement
Eddy-Current Array
On the basis of technique, the eddy-current testing market conventional eddy-current testing segment is expected to garner the largest market share by the end of 2035. The growth of the segment is majorly attributed to the growing production of power. Global electricity generation increased by around 2% in 2022, following the historical trend. Following a 6% rebound in 2021, worldwide power generation growth decreased to 2.3%, rebounding from its 2010-2019 average growth rate. Conventional Eddy Current is primarily used to detect surface faults, detect electrical conductivity, and measure gaps in diverse applications such as heat exchanger inspection in power plants.
Eddy-Current Testing Segmentation by Service
Inspection Services
Equipment Rental Services
Calibration Services
Training Services
Eddy-Current Testing Segmentation by Industry Verticals
Manufacturing
Oil & Gas
Automotive
Power Generation
Government Infrastructure & Public Safety
On the basis of industry verticals, the eddy-current testing market automotive segment is expected to gain notable market revenue over the forecasted period. The growth of the segment is majorly attributed to the rising production of vehicles especially electric vehicles. Eddy's current testing can uncover material and microstructural flaws prior to their entering a vehicle. Cracks or hardness problems are recognized early on, and broken parts can be dealt with accordingly. In 2022, around 85 million automobiles were manufactured worldwide. This figure represents an increase of around 6% over the previous year.
A few of the well-known market leaders in the global eddy-current testing market that are profiled by Research Nester are General Electric Company, Ether NDE Limited, Eddyfi NDT Inc., Ashtead Technology Ltd., TUV Rheinland AG, Mistras Group Inc., Fidgeon Limited, Magnetic Analysis Corporation, Waygate Technologies, and Ibd NDT System Corporation.
Request for Customization of this Report @ https://www.researchnester.com/customized-reports-5265
Recent Developments in the Eddy-Current Testing Market
June 2021, Ether NDE launched the Eti-300, a sophisticated eddy current tube testing equipment for examining non-ferrous tubing from the inner diameter (ID), to perform in the most demanding settings while providing superior inspection results and reporting features. The ETi-300 equipment and software suite is excellent for heat exchanger and condenser inspection operations in the Power Generation, Transportation, Petrochemical, and Oil & Gas industries.
May 2022, PETRONAS Technology Ventures Sdn Bhd (PTVSB), the company's technology commercialization arm, has partnered with Waygate Technologies Robotics AG (WTR) in order to market and expand a collaboratively created robotic inspection device in the oil and gas industry. The device, which is based on the BIKE robotic system, allows better data management and inspection of limited or difficult-to-reach locations in oil and gas facilities both onshore and offshore.
About Research Nester
Research Nester is a one-stop service provider with a client base in more than 50 countries, leading in strategic market research and consulting with an unbiased and unparalleled approach towards helping global industrial players, conglomerates and executives for their future investment while avoiding forthcoming uncertainties. With an out-of-the-box mindset to produce statistical and analytical market research reports, we provide strategic consulting so that our clients can make wise business decisions with clarity while strategizing and planning for their forthcoming needs and succeed in achieving their future endeavors. We believe every business can expand to its new horizon, provided a right guidance at a right time is available through strategic minds.
CONTACT: AJ Daniel
Corporate Sales, USA
Research Nester
Email: info@researchnester.com
USA Phone: +1 646 586 9123
Europe Phone: +44 203 608 5919


Latest posts by GlobeNewswire
(see all)