Leading electron microscopes market players include Zeiss Group, Thermo Fisher Scientific Inc, Olympus Corporation, Bruker, NT-MDT LLC, Leica Microsystems, Delong Instruments, Oxford Instruments plc, TESCAN ORSAY HOLDING, and Novartis Pharmaceuticals Corporation,
New York, Nov. 21, 2023 (GLOBE NEWSWIRE) — The global electron microscopes market size is expected to expand at ~10.8% CAGR from 2024 to 2036. The market is anticipated to garner a revenue of USD 22.2 billion by the end of 2036, up from a revenue of ~USD 6.48 billion in the year 2023.This growth of the market is projected to be dominated by a surge in demand for automobiles. The total amount of cars sold worldwide rose from approximately 65 million in 2021 to approximately 66 million in 2022. Hence, the demand for electron microscopes is also surging since it is used to find the defects in an automobile.
Request Free Sample Copy of this Report @ https://www.researchnester.com/sample-request-4396
The distinction between a faultless car and a recall-prone liability can be determined by these microscopic nuances. SEM (scanning electron microscopy) is one adaptable technique that offers this microscale understanding. At the nanoscale scale, SEM is effective in revealing complex morphological and topographical characteristics. Moreover, with the growing demand for electric vehicles, the market demand is growing since electric vehicles need to be properly inspected. Breaking new records, 2022 started off strongly. Approximately 9 million EVs were sold, accounting for about 13% of all new cars sold. This represents a significant increase from the over 8% of 2021.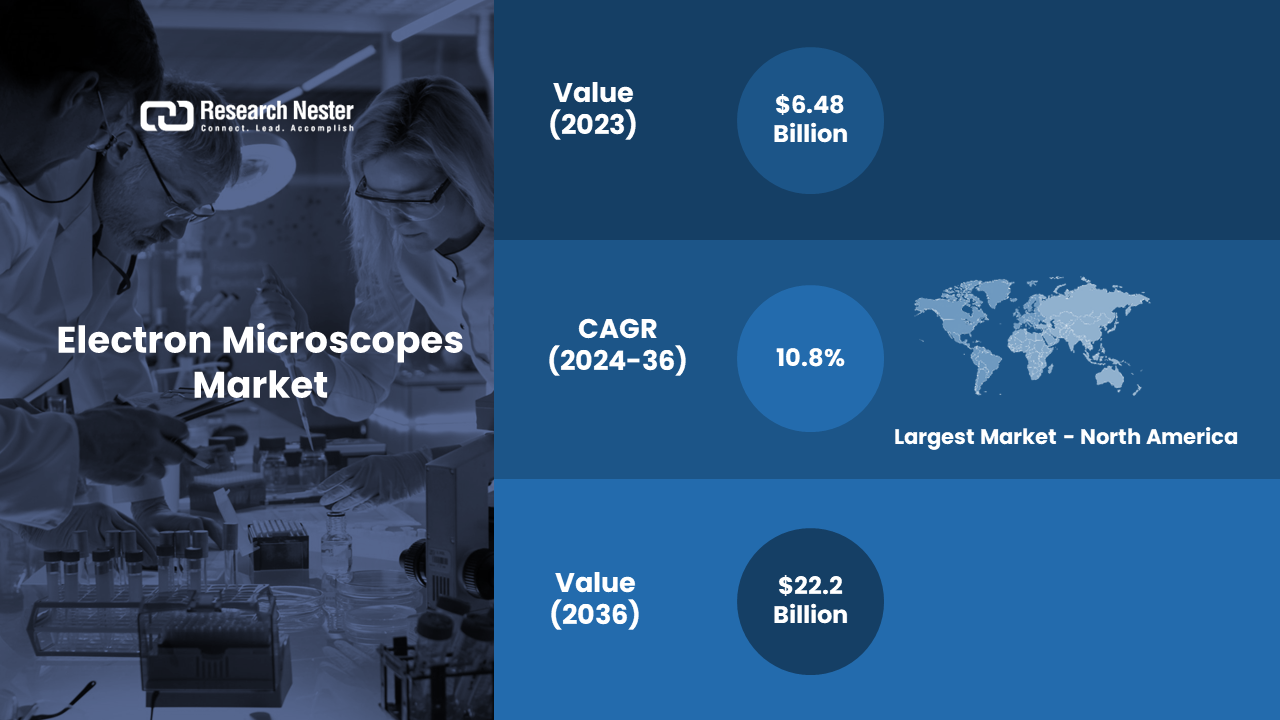 Surge in Number of Infectious Diseases to Boost the Growth of the Electron Microscopes Market
The prevalence of various infectious disease is growing all across the world. For instance, according to the World Health Organization, every year, there are about a billion instances of seasonal influenza, with 3–5 million of these incidents resulting in serious disease. Every year, it results in 290 000–650 000 respiratory fatalities. Additionally, every year people are being infected by various viruses. Hence, the detection and characterization of viruses have been extensively assisted by electron microscopy (EM). As a consequence, the market revenue for electron microscopes is growing.
Electron Microscopes Market: Regional Overview 
The market is segmented into five major regions including North America, Europe, Asia Pacific, Latin America, and the Middle East and Africa region.  
Surge in Prevalence of Chronic Disease to Drive the Market Growth in North America
The electron microscopes market in North America is predicted to capture the highest share of about 42% over the forecast period. The major element for its growth is projected to be growing chronic disease. Six out of ten Americans are affected by one or more chronic illnesses, such as diabetes, cancer, heart disease, or stroke.
Make an Inquiry Before Buying this Report @ https://www.researchnester.com/inquiries-before-buying-4396
Rising Urban Population to Influence the Market Expansion in Asia Pacific
The Asia Pacific market for electron microscopes is set to gather a notable share in the market over the coming years. The growth of the market in this region is poised to grow on account of the growing urban population. Asia is home to around 2.2 billion people or 54% of all metropolitan people globally. Asia is expected to have 1.2 billion more people living in cities by 2050, a 50% increase in the current number. With this, the market for energy storage is projected to grow which is further estimated to influence the market demand for electron microscopes.
Electron Microscopes, Segmentation by Product Type
Scanning Electron Microscope (EEM)
Transmission Electron Microscope (TEM)
The scanning electron microscope segment is projected to generate the highest market share of about 58% over the projected period. The major element to influence the segment growth is rising construction activities. There were estimated 794,431 built-up areas (BUAs) worldwide in 2016. This figure is expected to climb to around 849,406 by 2022. Furthermore, approximately 2 million buildings are planned to be built by 2050. Hence, this has further increased demand for HVAC industry. Consequently, the market demand for electron microscopes is also estimated to rise.
Electron Microscopes, Segmentation by Application
Lifesciences
Material Sciences
Semiconductors
Nanotechnology
The life sciences segment is predicted to have notable growth in the market over the coming years. The main element to dominate the segment growth is surge in prevalence of covid19 infection. Nearly 767 million cases of COVID-19 had been recorded globally as of June 13, 2023.
Request for Customization of this Report @ https://www.researchnester.com/customized-reports-4396
A few of the well-known industry leaders in electron microscopes market that are profiled by Research Nester are Zeiss Group, Thermo Fisher Scientific Inc, Olympus Corporation, Bruker, NT-MDT LLC, Leica Microsystems, Delong Instruments, Oxford Instruments plc, TESCAN ORSAY HOLDING, Novartis Pharmaceuticals Corporation, and others.
Recent Development in the Market 
In June 2022, ZEISS Microscopy partnered with LabCentral, a nonprofit organization created to serve as a launchpad for biotech startups. The enterprises intended to offer state-of-the-art microscopy and image processing capabilities to highly potential life science researchers over the course of a two-year incubation programme.
In June 2022, Bruker Corporation unveiled the XFlash 7 detector family, designed to work with its QUANTAXTM energy-dispersive X-ray spectrometer apparatus. For chemical breakdown of material models in electron microscopes, the new XFlash 7 detector series delivers the highest level of speed and reliability.
About Research Nester
Research Nester is a one-stop service provider with a client base in more than 50 countries, leading in strategic market research and consulting with an unbiased and unparalleled approach towards helping global industrial players, conglomerates and executives for their future investment while avoiding forthcoming uncertainties. With an out-of-the-box mindset to produce statistical and analytical market research reports, we provide strategic consulting so that our clients can make wise business decisions with clarity while strategizing and planning for their forthcoming needs and succeed in achieving their future endeavors. We believe every business can expand to its new horizon, provided a right guidance at a right time is available through strategic minds.
CONTACT: AJ Daniel
Corporate Sales, USA
Research Nester
Email: info@researchnester.com 
USA Phone: +1 646 586 9123 
Europe Phone: +44 203 608 5919



Latest posts by GlobeNewswire
(see all)