Associa Offers Fall Landscaping Tips for HOAs and Managed Communities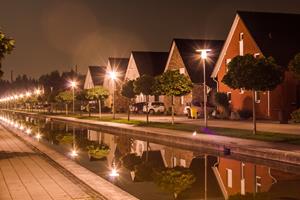 DALLAS, Sept. 27, 2023 (GLOBE NEWSWIRE) — Associa, the community management industry's largest company, is dedicated to helping homeowners' associations (HOAs) and managed communities create attractive and welcoming environments where residents can maximize their quality of life. An inviting HOA encourages homeowners to take advantage of shared amenities, engage with neighbors, and fully enjoy the comforts of their neighborhood.
Review Community Landscaping Rules
Let your HOA rules guide you when seeking inspiration for flowers, plants, and other fall landscaping ideas. They will help maintain community consistency and avoid designs that disrupt neighborhood aesthetics. Remember that every community is unique with its own style, so what works for a neighboring association may not work for yours.
Upgrade Outdoor Lighting
Set lights to a photocell sensor or solar timer. These devices automatically turn lights on and off. They not only save energy, but also enhance safety and security.
Changing a single bulb can be costly and time-consuming. Instead, have all outdoor bulbs inspected at the same time and replaced as needed. This can also help you purchase replacement bulbs in bulk at a discounted rate.
Switch to energy-efficient lighting. The cost and quality of LED and solar lighting have improved greatly in the last decade. To reduce energy costs, consider switching to LED lamps in existing fixtures or replacing them with solar lighting.
Install uplights and spotlights in outdoor areas. Outdoor lighting that highlights trees, fountains, and other landscaping features can instantly boost a community's curb appeal and security.
Plant Trees
Trees add to community ambiance and increase property values. Fall's mild temperatures and ripe soil make it the perfect time to plant them. Their placement and size are crucial. Use a balance of plants and trees and avoid types that will eventually grow so big that they will overcrowd and block homes or buildings. Plant trees that offer minimal fall landscaping maintenance and draw attention to community structures and shared areas.
Tidy Up and Clear Out Foliage
Maintain community grounds and ensure that common areas are free of overgrown grass and unkempt landscaping. A poorly maintained property can make a bad impression on potential homebuyers, reduce property values, and limit resident satisfaction. Ways to keep neighborhood grounds tidy include:
Trimming trees and bushes
Cutting grass and tending to garden beds
Clearing out broken or dead branches and rotted wood
 Refresh Mulch
Maintain plants in common areas throughout the season with a thick layer of mulch. A three-inch layer can drastically reduce weed growth and help reduce the cost of fall landscaping services. Also, healthy mulch offers a crisp, clean, and refreshed look to your community landscaping, which helps create the beautiful environment you want for your HOA.
HOA Fall Maintenance Checklist
Updating your landscaping this fall is a great goal, but keeping your community's buildings, grounds, and systems in good working order this time of year is crucial. To ensure you don't miss any essential improvements and repairs, download Associa's complimentary "HOA Fall Maintenance Checklist" to help guide your fall maintenance efforts.
About Associa
With more than 275 branch offices across North America, Associa is building the future of community for more than 6.5 million residents worldwide. Our 14,000+ team members lead the industry with unrivaled education, expertise, and trailblazing innovation. For more than 44 years, Associa has brought positive impact and meaningful value to communities. To learn more, visit www.associaonline.com.
Stay Connected
Like us on Facebook: https://www.facebook.com/associa
Subscribe to the Blog: https://hub.associaonline.com/
Follow us on Twitter: https://twitter.com/associa
Join us on LinkedIn: http://www.linkedin.com/company/associa
Attachment
Associa Offers Fall Landscaping Tips for HOAs and Managed Communities
CONTACT: Tom Womack
Associa
214.272.4107
tom.womack@associaonline.com



Latest posts by GlobeNewswire
(see all)