Key germ cell tumor market players include Eli Lilly and Company, BioNTech SE, ImmunoGen Inc., Teva Pharmaceutical Industries Ltd., Accord Healthcare Limited, Sandoz International Limited, Lundbeck A/S, Pfizer Inc., Merck & Co., Kyowa Hakki Kirin Co., Ltd., and Baxter International Inc.
New York, Nov. 21, 2023 (GLOBE NEWSWIRE) — The global germ cell tumor market size is projected to grow at a CAGR of over 12% from 2024-2036. The market is expected to garner a revenue of USD 122 billion by the end of 2036, up from a revenue of USD 10 billion in the year 2023. The rising instance of germ cell tumors is expected to boost the market growth primarily in the given time frame. Every year, 225,000 new instances of ovarian cancer are diagnosed worldwide, which leads to 140,000 fatalities. Ovarian germ cell tumors account for 15-20% of all ovarian cancers, with malignant ovarian germ cell tumors occurring at a rate of 2-6%.  
Request Free Sample Copy of this Report @ https://www.researchnester.com/sample-request-5255
These tumors are most common in adolescent girls and young women. Ovarian carcinogenic mixed germ cell tumors are rare severe malignancies that strike young adolescent girls. The most common combination recorded is dysgerminoma and endodermal sinus tumors. The most common pairing was adolescent teratoma and endodermal sinus tumor, so this combination is extremely rare.
Germ Cell Tumor Market: Key Takeaways
Market in North America region to propel the highest growth
The Chemotherapy segment to garner the highest growth
Market in Asia Pacific to grow at the highest rate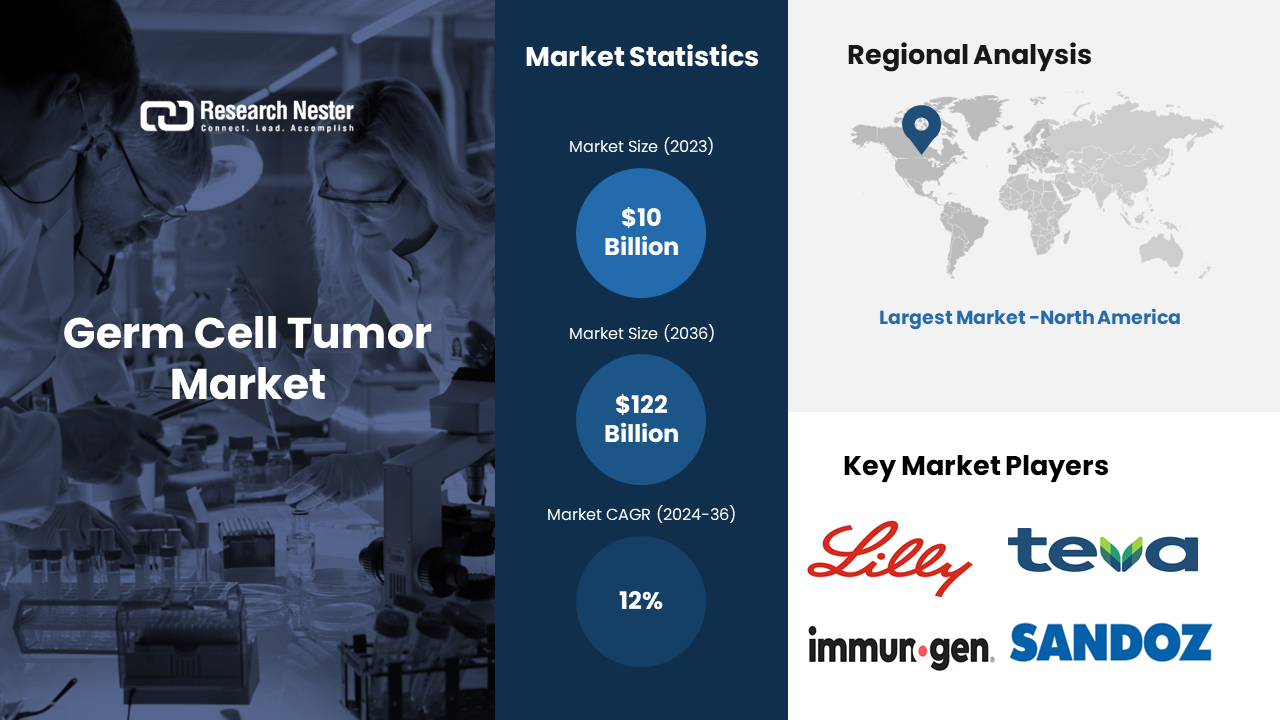 Development of the Technology for Early Tumor Diagnosis is to Boost the Growth of Germ Cell Tumor Market
The European Society for Medical Oncology (ESMO) has announced the advent of a new era of early detection of cancer with a simple blood test, the new technology is going to revolutionize the screening paradigms of cancer. New tests can detect common disease signals from tumor DNA in blood across over 50 forms of cancer. These findings are a critical first step towards early identification of previously difficult-to-find cancers. Cancer institutions need to step up and reinvent early identification of cancer and care. Cancer doctors, carers, and funders must brace themselves for a significant shift in early cancer detection that will affect nearly every stage of cancer diagnosis and treatment.
Germ Cell Tumor Industry: Regional Overview
The global germ cell tumor market is segmented into five major regions including North America, Europe, Asia Pacific, Latin America, and the Middle East and Africa region.
 Growing Cases of Germ Cancer in Both the Genders is to Boost the Market Growth in the North American Region
Cancer is the world's top cause of death and the second largest cause of death in the United States. Every year, the American Cancer Society calculates the number of new cancer cases and fatalities in the United States and publishes the most recent data on cancer occurrence in the general population. In 2021, the United States is expected to have around 2 million new cancer cases and nearly 600,500 cancer deaths, since it has been rising for most of the twentieth century. Furthermore, the rise in funding for cancer treatment and further research and development is also expected to boost the market growth in the region.
Rising Government Initiatives to Increase the Accessibility of Cancer Treatment to Elevate Market Growth in Asia-Pacific
In Japan, the number of people aged 65 and up is 29% of the overall population. Furthermore, the number of older cancer patients is rising. The Third Term of the Basic Plan to Promote Cancer Control in Japan is an initiative to strengthen cancer care facilities and health services. To establish standards for treating cancer in the elderly, content about cancer in the elderly was added. Furthermore, the Indian government has proposed and implemented some National Policies that specifically focus on the diagnosis, treatment, and aftercare of rare diseases. Such government reforms, increase the accessibility of the treatment for the common people with rare diseases.
Make an Inquiry Before Buying this Report @ https://www.researchnester.com/inquiries-before-buying-5255
Germ Cell Tumor, Segmentation by Disease Type
On the basis of disease type, the germ cell tumor market testicular segment is expected to hold significant market revenue over the given period. The growth of the segment is primarily attributable to the number of testicular tumor cases. Each year, between 8,000 and 10,000 men are diagnosed with testicular cancer. The likelihood of acquiring testicular cancer is one in 270. In the United States, an estimated 9,000 persons will be diagnosed with testicular cancer by the end of 2023. Approximately 1 in every 250 men and boys will be diagnosed with the condition in their lifetime. Moreover, it is expected that around 470 people will die from this disease in the United States by the end of this year. The fatalities were brought about by cancer that progressed from the testicles to other regions of the body and was incapable of being properly treated with chemotherapy, radiation therapy, and/or surgery, or by treatment complications. Furthermore, the standard age of diagnosis is 33 years old. However, this disease can impact and can be developed at any age. Children and teenagers account for about 6% of all cases. Approximately 8% of cases are diagnosed in men aged 56 and up.
Germ Cell Tumor, Segmentation by Treatment Type
Etoposide
Ifosfamide
Dactinomycin
Bleomycin
Chemotherapy
Cisplatin
On the basis of treatment type, the germ cell tumor market chemotherapy segment is expected to have a huge market share over the forecast period. The growth of the segment is majorly attributed to the rising efficacy of chemotherapy for the tumor treatment therefore, it is been opted by a lot of patients. Approximately 25% of cancer patients undergo chemotherapy in a given year. Chemotherapy is classified as a systemic treatment because the medications circulate throughout the body and may kill cancer cells that have spread (metastasized) to sections of the human anatomy that are distant from the original (primary) tumor.
Germ Cell Tumor Segmentation by Route of Administration
Germ Cell Tumor Segmentation by Product
Tablet
Capsule
Cream
Solution
Germ Cell Tumor Segmentation by Distribution Channel
Germ Cell Tumor Segmentation by End User
Hospitals
Ambulatory Care Center
Diagnostic Center
A few of the well-known market leaders in the global germ cell tumor market that are profiled by Research Nester are Eli Lilly and Company, BioNTech SE, ImmunoGen Inc., Teva Pharmaceutical Industries Ltd., Accord Healthcare Limited, Sandoz International Limited, Lundbeck A/S, Pfizer Inc., Merck & Co., Kyowa Hakki Kirin Co., Ltd., and Baxter International Inc.
Request for Customization of this Report @ https://www.researchnester.com/customized-reports-5255
Recent Developments in the Germ Cell Tumor Market
ImmunoGen Inc., a pioneer in the field of conjugates of antibodies and drugs (ADCs) for cancer treatment, revealed that the US Food and Drug Administration (FDA) has granted accelerated approval for ELAHERETM (mirvetuximab soravtansine-gynx) for the treatment of adult patients with folate receptor alpha (FR)-positive, platinum-resistant epithelial ovarian, fallopian tube, or primary peritoneal
Follow-up data from BioNTech SE's ongoing first-in-human Phase 1/2 trial (NCT04503278; 2019-004323-20) evaluating the safety and efficacy of the Company's Claudin-6 (CLDN6)-directed CAR-T cell therapy candidate BNT211 in patients with CLDN6-positive refractory/relapsed solid tumors were announced by BioNTech. When coupled with CARVac, the data reveal promising clinical activity and increased persistence of cancer-specific CAR-T cells. In patients with CLDN6-positive relapsed or persistent advanced solid tumors, BNT211 continues to demonstrate promising anticancer efficacy.
About Research Nester
Research Nester is a one-stop service provider with a client base in more than 50 countries, leading in strategic market research and consulting with an unbiased and unparalleled approach towards helping global industrial players, conglomerates and executives for their future investment while avoiding forthcoming uncertainties. With an out-of-the-box mindset to produce statistical and analytical market research reports, we provide strategic consulting so that our clients can make wise business decisions with clarity while strategizing and planning for their forthcoming needs and succeed in achieving their future endeavors. We believe every business can expand to its new horizon, provided a right guidance at a right time is available through strategic minds.
CONTACT: AJ Daniel
Corporate Sales, USA
Research Nester
Email: info@researchnester.com
USA Phone: +1 646 586 9123
Europe Phone: +44 203 608 5919


Latest posts by GlobeNewswire
(see all)