The growth of the Robot Software market is driven by the increasing adoption of automation, coupled with advancements in AI technologies such as machine learning, deep learning, and natural language processing (NLP), along with the rise of Industry 4.0.
New York, May 23, 2023 (GLOBE NEWSWIRE) — According to a report published by Next Move Strategy Consulting, the global Robot Software Market generated USD 7.8 billion in 2022, and is projected to reach USD 45.5 billion by 2030, at a CAGR of 23.9% from 2023 to 2030.
The research offers a detailed analysis of the drivers, restraints, and opportunities of the market to understand the changing market dynamics. Moreover, the research provides an extensive analysis of major segments and their sub-segments to identify the fastest-growing and highest revenue-generating segments.
Equipping the extensive analysis of each and every aspect of the market in 419 pages, accompanied by 337 tables and 359 figures, the report aims to become a source of guidance for market players, investors, and startups to determine the strategies for the next few years and achieve sustainable growth.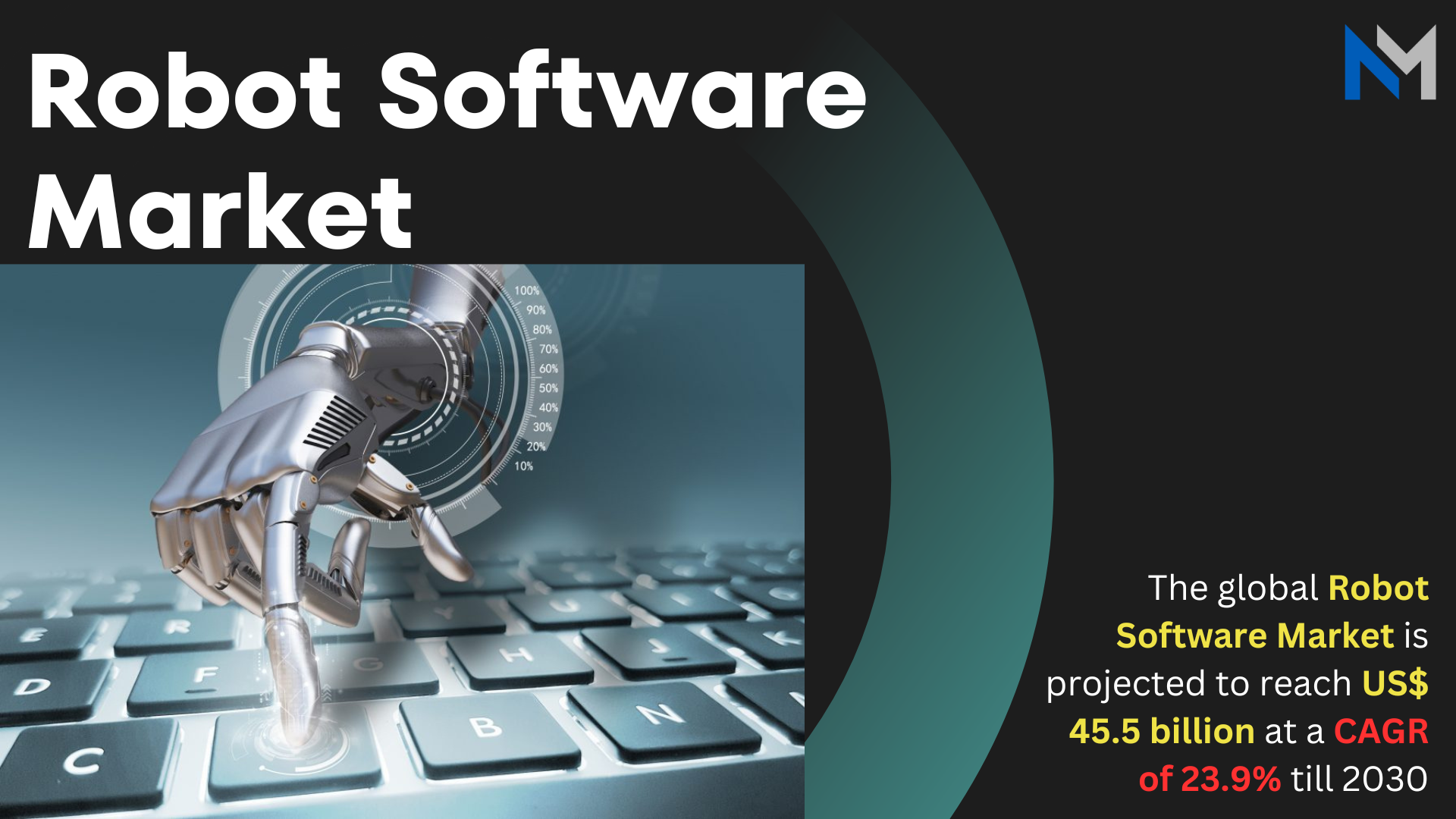 Request a free sample: https://www.nextmsc.com/robot-software-market/request-sample
Report Coverage
Details
Forecast Period
2023–2030
Base Year
2022
Market Size in 2022
USD 7.8 Billion
Market Size in 2030
USD 45.5 Billion
CAGR
23.9%
No. of Pages
419
Tables
337
Figures
359
Segments Covered
Robot Type, Software Type, Deployment, Organization Size, End User and Region
Drivers
Introduction of industry 4.0, which leverages technologies such as the Internet of Things (IoT) and automation
The rapid advancement of AI technology, combined with its integration across various industries
Opportunities
Development of intuitive and user-friendly programming interfaces that enable individuals with limited technical expertise to easily operate and program robots, expanding the accessibility and adoption of robotic automation in diverse industries.
The report identifies driving factors, restraining factors, and opportunities in the market. The introduction of industry 4.0, which leverages technologies such as the Internet of Things (IoT) and automation, has emerged as a crucial driver for the robot software market.
The incorporation of IoT enables interconnected devices and machines to communicate and share data in real-time, fostering a networked ecosystem. This connectivity provides robots with access to a vast amount of data, enabling them to make intelligent decisions, optimize workflows, and enhance overall efficiency. The ability to gather and analyze data from various sources allows for predictive maintenance, improved resource allocation, and optimized production schedules.
Moreover, automation plays a pivotal role in industry 4.0 by streamlining operations, reducing human intervention, and enhancing precision. Robots equipped with advanced software systems can automate repetitive and labor-intensive tasks, leading to increased productivity, higher output quality, and improved workplace safety. The integration of automation technologies with robot software empowers businesses to achieve higher levels of operational efficiency, reduce costs, and remain competitive in the global market.
However, potential for cybersecurity risks and vulnerabilities restraints the growth of robot software market. As robots become increasingly interconnected and reliant on software systems, they also become potential targets for cyber-attacks.
Identifying the opportunities that leading players can leverage to increase their market share, Next Move Strategy Consulting's Lead Analyst stated, "The integration of Edge Computing enables data processing and analysis at the edge of a network, empowering robots to make real-time decisions and perform tasks without depending solely on cloud-based infrastructure. This significantly reduces latency and enhances responsiveness, making it an ideal solution for applications that require immediate decision-making and action."
Buy this report directly from here:  https://www.nextmsc.com/report/robot-software-market
Need a customized report, Get in touch with us here: https://www.nextmsc.com/contact
Based on region, North America accounted for the highest share in 2022 and is expected to remain dominant throughout the forecast period. This is attributed to the region's robust technological infrastructure, strong presence of key industry players, and high adoption rate of automation and AI technologies. The introduction of Industry 4.0, which leverages technologies such as the Internet of Things (IoT) and automation, has significantly contributed to the growth of the robot software market in North America. The region has witnessed a rapid advancement of AI technology, combined with its integration across various industries, leading to increased efficiency, productivity, and cost savings. Moreover, favorable government initiatives and investments in research and development further propel the market growth in this region.
On the other hand, Asia Pacific is estimated to witness substantial growth during the forecast period, primarily driven by factors such as the region's expanding manufacturing sector, rising investments in automation, and the increasing adoption of AI-powered technologies. The region is home to several emerging economies, including China, India, and South Korea, which have witnessed significant industrial development and are investing heavily in advanced technologies. Additionally, the region's large population and rising disposable income levels are driving the demand for consumer electronics and automotive industries, creating opportunities for the implementation of robotics and automation solutions.
Asia Pacific's favorable government policies and initiatives supporting technological advancements, coupled with the presence of a skilled workforce, further contribute to the market growth. Moreover, the region's growing focus on research and development, collaborations between industry players and academic institutions, and increasing investments in AI research are expected to fuel the adoption of robot software solutions in various sectors, including manufacturing, healthcare, and logistics.
The study analyzes each region and its countries by segments and their sub-segments to outline the steps to be taken to consolidate their presence in the Robot Software market. Furthermore, this analysis helps determine the fastest-growing segments and the highest revenue-generating segments to take the next step accordingly.
If you have any queries, you can inquire before purchasing:  https://www.nextmsc.com/robot-software-market/inquire-before-buying
The report offers an extensive analysis of the competitive landscape of the global Robot Software market. Some of the major market players in the market are IBM, NVIDIA, ABB Ltd., FANUC, Teradyne Inc, H2O.ai, Brain Corp, CloudMinds, Clearpath Robotics, Neurala Inc. and among Others.
Also, Browse Related Reports:
Automotive Artificial Intelligence Software Market by Process (Signal Recognition and Image Recognition), by Technology (Machine Learning & Deep Learning, Computer Vision, and Natural Language Processing), and by Application (Semi-Autonomous and Fully Autonomous) – Global Opportunity Analysis and Industry Forecast, 2022 – 2030
Industrial Robotics Market by Type (Articulated Robots, Cylindrical Robots, Selective Compliant Assembly Robot Arm (SCARA) Robots, Cartesian Robots, and Other Types), by End user (Automotive, Electrical & Electronics, Chemical, Rubber & Plastics, Machinery, Metals, Food & Beverages, Precision & Optics, and Others), by Function (Soldering & Welding, Materials Handling, Assembling & Disassembling, Painting & Dispensing, Milling, Cutting & Processing, and Others) and Geography – Global Opportunity Analysis and Industry Forecast 2022-2030
Service Robotics Market by Type (Personal Robots, Professional Robots), Operating Environment (Aerial, Marine, Ground), Components (Control Systems, Actuators, Software, Sensors), Application (Professional, Personal) – Global Opportunity Analysis and Industry Forecast, 2020 – 2030
About Us:
Next Move Strategy Consulting is an independent and trusted third-platform market intelligence provider committed to delivering high-quality market research reports that help multinational companies triumph over their competition and increase their industry footprint by capturing greater market share. Our research model is a unique collaboration of primary research, secondary research, data mining, and data analytics.
We have been servicing over 1000 customers globally, including 90% of Fortune 500 companies over a decade. Our analysts constantly track various high-growth markets and identify hidden opportunities in each sector or industry. We provide one of the industry's best-quality syndicate as well as custom research reports across ten different industry verticals. We are committed to delivering high-quality research solutions per your business needs. Our industry-standard delivery solutions range from pre-consultation to after-sales services, provide an excellent client experience and ensure the right strategic decision-making for businesses.
CONTACT: Joseph Lawrence
Head - Client Engagement & Servicing
Next Move Strategy Consulting
E-Mail: Joseph@nextmsc.com
Direct: +1-217-650-7991
You can also email us at - info@nextmsc.com
Website: www.nextmsc.com


Latest posts by GlobeNewswire
(see all)