Hitachi Rail Battery Electric Trainss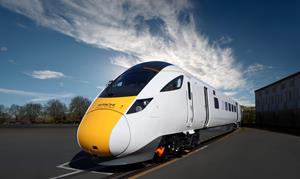 SUNNYVALE, Calif. And GATESHEAD, England, May 25, 2023 (GLOBE NEWSWIRE) — Turntide Technologies ("Turntide"), developer of breakthrough electrification and sustainable operations technologies, has been named the preferred supplier for the design and supply of traction battery systems for Hitachi's intercity battery train trial.
The North East partnership is working towards a UK trial to demonstrate how its battery technology can simultaneously reduce emissions and fuel costs. This pioneering technology stands to make the UK a global leader in intercity battery train technology.
This agreement and the potential mass production of the Hitachi battery management system would lead to high-quality production line jobs at Turntide's design and production facilities in North East England and represents Hitachi's commitment to engaging, where possible, with local suppliers in close proximity to its County Durham manufacturing base.
It also represents a significant development in building a supply chain cluster in the region to support the electrification of transport outside of passenger cars, which can support UK and international decarbonization ambitions.
In addition to being named as a preferred supplier, Turntide received the Hitachi Rail Partner Award for Sustainability. The award recognizes Turntide's outstanding work developing and manufacturing the battery system prototype for Hitachi's reduced emissions bi-mode and tri-mode trains.
Installing battery technology on a Hitachi intercity train will help cut fuel usage and reduce carbon emissions by at least 20%. Battery and hybrid trains provide a much faster, more affordable alternative to electrifying tens of thousands of kilometers of track across the UK or millions of kilometers globally.
These trains can switch seamlessly between diesel power, overhead electric power, or battery power. They can run on battery power alone, effectively bridging between electrified stretches of track or when entering/existing stations.
"The innovation and ingenuity that Turntide brings to electrification is exemplary, and we are delighted to name the company as our preferred battery systems supplier," said Jim Brewin, chief director for UK & Ireland, Hitachi Rail.
"We also recognize the importance of building local supply chains, which makes this appointment even more significant and highlights the role North East England has to play in electrification."
He added: "The electric car industry has already proved battery solutions. The real challenge has been to scale this technology designed to power a two-ton vehicle for a 200 to 400-ton train. It's not as simple as just making the battery bigger. Hitachi Rail's engineers, in collaboration with Turntide, have been working for more than a year on creating the necessary algorithms and software to achieve this upscaling."
Mark Cox, general manager of Turntide's transport business unit, said, "Recognition for the development of this battery system speaks to the level of collaboration and expertise the Turntide team brings to complex electrification projects. We possess the advanced skills necessary to assist clients such as Hitachi Rail in overcoming the technical challenges associated with electrifying passenger rail cars and decreasing carbon emissions in the railway sector."
The electrification of passenger trains is a crucial step towards reducing carbon emissions and achieving net-zero goals. Hitachi and Turntide's partnership and commitment to innovation will help create a sustainable future for the UK and decarbonize the transportation industry.
Turntide's transport division offers a world-class suite of high-performance electrification components, including batteries, inverters, fans, pumps, and EV motors. With more than 60 years of electrification expertise and 300,000+ vehicles in the field, Turntide is a trusted partner to leading OEMs in construction, agriculture, trucks, buses, marine, rail, and hypercars. From initial concept and prototyping to validation, Turntide's end-to-end approach reduces supply chain risks and speeds time to market by working with a single supplier. 
About Turntide Technologies
Turntide Technologies (Turntide) invents and scales breakthrough technologies to accelerate electrification and sustainable operations for energy-intensive industries. Turntide's solutions support commercial and industrial electric vehicles, building operations, and agriculture to optimize how the world uses energy. For more information, visit https://turntide.com/ or follow the company on LinkedIn and YouTube.
About Hitachi Rail:
Hitachi Rail is connecting the future of mobility – helping every passenger, customer and community enjoy the benefits of more seamless, sustainable journeys. The company's pioneering technology enables more than 18bn passenger journeys every year and helps to safely transport millions of tonnes of freight. 
As a trusted partner to operators around the world, Hitachi Rail delivers every part of the railway, from manufacturing and maintaining high speed bullet trains to digital signalling infrastructure and more.
Hitachi Rail is delivering value for its customers through Digital Transformation. The company's new Smart Mobility and Digital Asset Management solutions are cutting costs, carbon and congestion, while offering more choice and convenience to passengers than ever before.
Hitachi Rail is becoming a climate change innovator by innovating greener products with its customers – such as battery trains, and through its commitment to reduce its own CO2 emissions to net zero by 2030.
Hitachi Rail's reach is global, but its business is local – with success built on investing in the people and communities that it serves. With over 14,000 employees in 38 countries, the company is growing and looking to recruit diverse talent now.
Find out about more by visiting hitachirail.com or hitachirail.com/careers/
A photo accompanying this announcement is available at https://www.globenewswire.com/NewsRoom/AttachmentNg/1002cc19-df79-4830-8d8e-8b95219f7970
CONTACT: Media Contact: Jocelyn Johnson, Turntide Technologies, jocelyn@turntide.com


Latest posts by GlobeNewswire
(see all)