In Partnership With The It Gets Better Project
The Habit Burger Grill's Jorge Guevara & The Rainbow Shake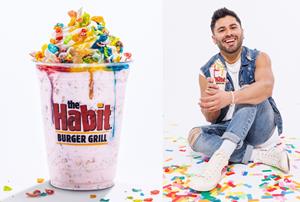 IRVINE, Calif., May 24, 2023 (GLOBE NEWSWIRE) — The Habit Burger Grill, the California-based restaurant company renowned for its award-winning Charburgers grilled over an open flame, signature sandwiches, fresh salads and more, announced today, the launch of the Rainbow Shake in celebration of the LGBTQ+ community and allies during Pride Month. Making its first appearance as a limited-time offer (LTO), the Rainbow Shake will be sold in the vast majority of its restaurants beginning May 31 and running throughout the month of June, while supplies last.
The creamy, flavorful Rainbow Shake features vanilla ice cream blended with rainbow cereal, topped with strawberry puree, passion fruit puree, blue raspberry syrup and finished with whipped cream sprinkled with crunchy rainbow cereal.
In honor of Pride Month, $1 for every Rainbow Shake sold (up to $50,000 total) will be donated to the It Gets Better Project, whose mission is to uplift, empower, and connect lesbian, gay, bisexual, transgender, and queer (LGBTQ+) youth around the globe.
In 2021, The Habit Burger Grill Facilities Manager Jorge Guevara had the idea to create a signature shake for Pride Month in an effort to raise awareness for those, like himself, who are members of the LGBTQ+ community. Although he's a facilities manager and not on the food and beverage team, he drew the shake on a piece of paper and not long after, found himself in the test kitchen creating the shake alongside chefs. He named the shake, The Rainbow Shake and this June, the shake will debut with Jorge serving as the official spokesperson.
"What has struck me most about the Rainbow Shake is that when I spoke up, my company listened. I told them that we need to show our support to the LGBTQ+ community, colleagues and allies by creating a menu item that speaks to the celebration of our community. And they did. They allowed me into the test kitchen to create something that meant something to me," said Jorge Guevara. "In my opinion, we have launched a shake that's reflective of the vibrant flavor of the LBGTQ+ community. And I can't wait for people across the nation to try it."
The It Gets Better Project was selected by Jorge, as he wanted to do more than just create the shake—he wanted to empower and support LGBTQ+ youth. And the It Gets Better Project was a natural fit, reaching millions of young people each year through inspiring media programming, educational resources, and international affiliates in 19 countries.
"We're here to bring everyone a taste of California feel-good, and we are honored to support the It Gets Better Project as it's an organization that aligns with what we stand for," said Jack Hinchliffe, Chief Marketing Officer at The Habit Burger Grill. "It's our mission to create a warm environment free of prejudice and bias where everyone is equally welcomed, respected, and celebrated for their authentic self—because at Habit Burger Grill, everyone has a seat at our table."
The It Gets Better Project is also thrilled to partner with Habit Burger Grill. As a proud family of storytellers and community builders currently spanning four continents, they align with like-minded companies who share in the message of inclusivity and empowerment of the LGBTQ+ community, especially in young people.
"The It Gets Better Project continues to positively impact the LGBTQ+ youth experience by connecting LGBTQ+ youth with resources and community," said Jimmy Ancheta-Tilley, Jr., Director of Development at the It Gets Better Project. "We are thrilled to join forces with companies like The Habit Burger Grill to elevate the power of storytelling through the Rainbow Shake."
The Habit Burger Grill is California's best-kept secret, named in Thrillist's list of "Underrated Burger Chains that Need to be in Every State!" Guests at The Habit Burger Grill can always count on freshly-made, handcrafted quality, served up with genuine hospitality. By continually pushing innovation across their new menu items, these latest additions are what make The Habit, a habit.
Connect with The Habit Burger Grill on social media at facebook.com/habitburgergrill, instagram.com/habitburgergrill, twitter.com/habitburger, tiktok.com/@habitburgergrill, and youtube.com/habittube.
About The Habit Restaurants, Inc.
Born in Santa Barbara, California in 1969, The Habit Burger Grill is a burger-centric, fast-casual restaurant concept that specializes in preparing fresh, cooked-to-order chargrilled burgers and handcrafted sandwiches featuring grilled tenderloin steak, grilled chicken and sushi-grade ahi tuna cooked over an open flame. In addition, it features fresh handcrafted salads and an appealing selection of sides and shakes. The Habit Burger Grill was featured in Newsweek's "America's Favorite Restaurant Chains 2023"; its Tempura Green Beans was named as the top green bean dish in The Daily Meal's "Ranking Green Bean Dishes From 11 Chain Restaurants" in 2023; and it was named in Thrillist's list of "Underrated Burger Chains that Need to be in Every State!" The Habit Burger Grill has since grown to over 350 restaurants in 14 states throughout Arizona, California, Florida, Idaho, Maryland, Massachusetts, Nevada, New Jersey, North Carolina, Pennsylvania, South Carolina, Utah, Virginia and Washington as well as 12 international locations, five in China and seven in Cambodia. More information is available at www.habitburger.com.
About the It Gets Better Project
The It Gets Better Project is a 501(c)3 nonprofit organization that strives to uplift, empower and connect LGBTQ+ youth around the globe. Created in 2010 as the result of one of the most successful viral video campaigns in YouTube's history, the It Gets Better Project provides critical support and hope to LGBTQ+ youth around the world by leveraging the power of media to reach millions of people each year. The project has expanded its origins in storytelling and media to include educational resources through It Gets Better EDU and reaches 19 countries outside of the U.S. through It Gets Better Global.
The project has garnered support from President Joe Biden, former President Barack Obama, and former Secretary of State Hillary Clinton, along with numerous celebrities, including Kelly Clarkson, Gabrielle Union, Chris and Scott Evans, Jojo Siwa, Zachary Quinto, Mj Rodriguez, Hayley Kiyoko, and Gigi Gorgeous. More than 750,000 people have taken the It Gets Better pledge to share messages of hope and speak up against intolerance. Please visit www.itgetsbetter.org for more information, and join the conversation on TikTok, Instagram and Twitter at @ItGetsBetter; Facebook.com/ItGetsBetterProject; and YouTube.com/ItGetsBetterProject.
The Habit Burger Grill Press Contact: HBGMedia@yum.com
A photo accompanying this announcement is available at https://www.globenewswire.com/NewsRoom/AttachmentNg/8d687024-6e3e-4de6-9de7-fc2309c3173f


Latest posts by GlobeNewswire
(see all)