Key injection molded plastics market players include Exxon Mobil Corporation, BASF SE, Celanese Corporation, The Dow Inc., Huntsman International LLC, Eastman Chemical Company, INEOS Group, LyondellBasell Industries N.V., SABIC, Chevron Philips Chemical Company LLC, and Daicel Corporation
New York , Nov. 16, 2023 (GLOBE NEWSWIRE) — The global injection molded plastics market size is projected to grow at a CAGR of over 4.02% from 2023 to 2035. The market is expected to garner a revenue of USD 518.77 billion by the end of 2035, up from a revenue of USD 311.32 billion in the year 2022. Rising demand for plastic in packaging is the major driving factor of the market. One million plastic bottles are purchased every minute around the world, and up to five trillion plastic bags are used annually. In sum, 50% of all plastic produced is intended for single use, meaning it is used once and then discarded.
Request Free Sample Copy of this Report @ https://www.researchnester.com/sample-request-5220
Plastic production has increased faster than any other material since the 1970s. If present trends of increase continue, global primary plastic production will rise above 1,100 million tonnes by 2050. Plastic injection molding for products is widely employed in a wide range of industries. Plastic is utilized in everyday household products such as cups, bowls, plates, utensils, and other kitchen tools.
Injection Molded Plastics Market: Key Takeaways
Market in Asia Pacific region to propel the highest growth
The Building & Construction segment to garner the highest growth
Market in North America to grow at a highest rate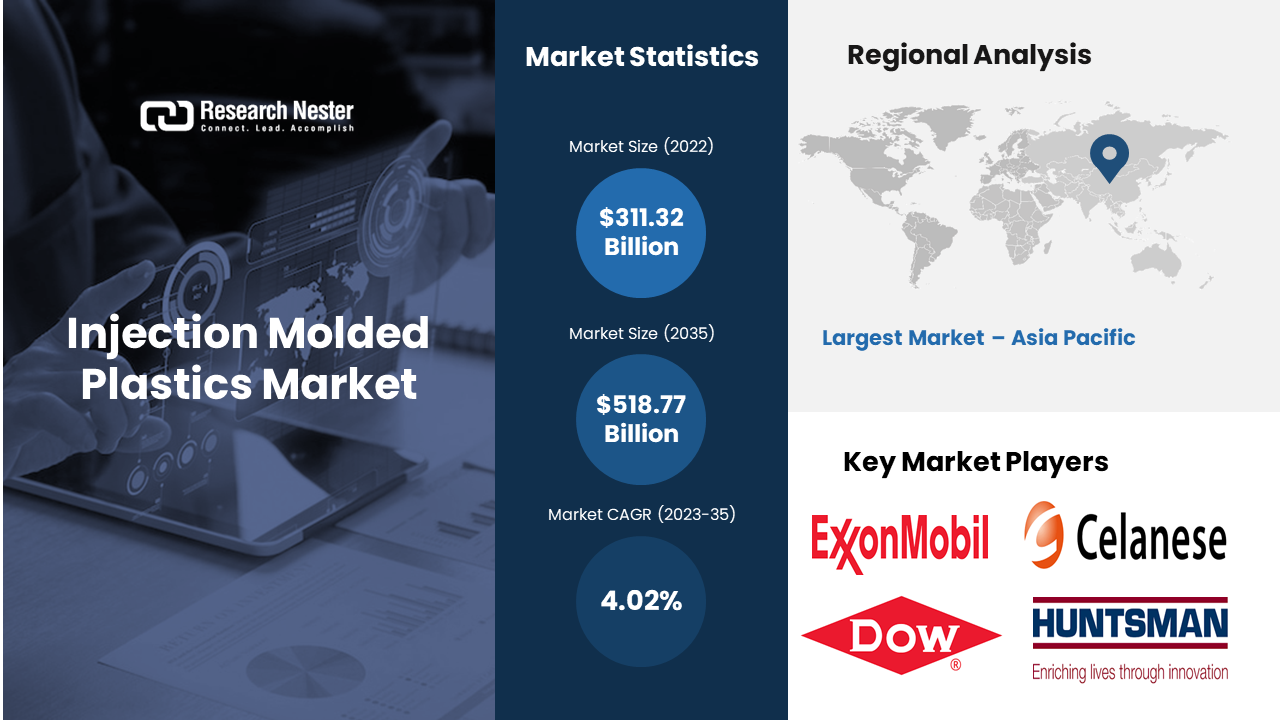 Growing Production of Automobiles is to Boost the Growth of Injection Molded Plastics Market
With expanding population and improving economic situation of the middle is the major factor owing to which the demand for automobiles is rising. Around 85 million automobiles will be produced worldwide by 2022. Moreover, China, Japan, and Germany were the top three makers of automobiles and commercial vehicles. Furthermore, the fast pace of advancement indicates that manufacturers are still optimistic about the future of EVs. Indeed, it appears that every month brings an innovation that puts us closer to the claimed promise of "Vehicles 2.0. The growing manufacturing and demand for electric vehicles will further boost the market growth. Even while car sales overall were down last year, global sales of electric vehicles grew by nearly 60% in 2022, topping 10 million for the first time.
Injection Molded Plastics Industry: Regional Overview
The global injection molded plastics market is segmented into five major regions including North America, Europe, Asia Pacific, Latin America, and the Middle East and Africa region.
Strict Government Regulations for Reducing Cheap Plastic Use is to Boost the Market Growth in Asia Pacific Region
As part of a campaign to protect the environment amid mounting concerns over marine pollution, the Cabinet passed an ordinance on Friday requiring enterprises to decrease their usage of 12 types of disposable plastic goods, which include cutlery and straws, beginning in April. Moreover, the Japanese government recently approved the Act on the Promotion of Resource Circulation for Plastics (Purasuchikku ni kakaru shigen junkan no sokushin-t ni kansuru hritsu) to decrease Japan's global plastic footprint. On the other hand, the Indian government announced to put an end to sales of single-use plastics on July 1, 2022, an initiative that will assist in reducing plastic pollution considering single-use plastics account for 43% of the waste made of plastic created in India. Single-use plastic manufacturing, sale, distribution, and consumption have all been prohibited.
Rise in the Plastic Use in Several Industries is to Elevate Market Growth in North America
Plastic use in the United States has approximately tripled since the 1980s, reaching greater than 80 million metric tonnes per year, with vast amounts turning up as waste. The predicted growth in demand for recycled plastics in industries such as packaging, automotive, and textile due to tax incentives granted by different state governments that encourage its usage is expected to enhance the market for plastic recycling. Moreover, the state government has taken several initiatives to develop advanced plastics. The Plastics Innovation Challenge Draught Roadmap is part of that initiative. In January 2021, it was posted, together with a Request for Information concerning ways that could enhance DOE's efforts to address the issue of plastic waste. 6 Incorporation of previously issued Request for Information feedback and new DOE's new SP includes technological advancements.
Make an Inquiry Before Buying this Report @ https://www.researchnester.com/inquiries-before-buying-5220
Injection Molded Plastics Segmentation by Raw Material
Polypropylene (PP)
Acrylonitrile Butadiene Styrene (ABS)
High-Density Polyethylene (HDPE)
Polystyrene
Others
Based on raw materials, the injection molded plastics market polypropylene segment is expected to accumulate the greatest market revenue by the end of 2035. The growth of the segment is majorly expected on account of the growing production of polypropylene. Polypropylene had a total volume of around 79.01 million metric tonnes in 2022 in the world. By 2030, the market volume is estimated to reach around 104.99 million metric tonnes. It is one of the most preferred materials for injection molding manufacture. On the other hand, ethylene is present in random copolymer polypropylene in amounts ranging from 1% to 7%. This sort of PP plastic is typically used for tasks that demand a pliable and clearer output.
Injection Molded Plastics Segmentation by Application
Packaging
Consumables & Electronics
Automotive

Exterior Components

Splash Guards
Grilles
Flood Rails
Fenders
Bumpers
Doors
Tail Lights
A/C Condensers

Interior Components

Interior Surfaces
Glove Compartments
Interior Door Handles

Motor Cycle Industry
Building & Construction
Aerospace
Healthcare

Medical Labware
Medical Equipment

Railway Applications

Exterior
Interior and Flooring
Infrastructure
Technical Parts

Industrial Equipment (Materials)

Industrial Safety Helmets
Industrial Parts

Computer Industry
Manufacturing
Office Supplies
Households

Exterior
Interior

Plastic Kitchenware
Toilet Seats
Organizers
On the basis of application, the injection molded plastics market building and construction is likely to hold the largest market share over the forecast period. The growth of the segment is majorly attributed to the growing construction of buildings. It is anticipated that 1.6 billion new buildings will be built by 2050, for a total of 2.6 billion buildings worldwide. There are many benefits to using plastic injection molding for building purposes since the industry requires functional, dependable goods and alternatives for construction and commercial uses that require highly specialized features.
A few of the well-known market leaders in the global injection molded plastics market that are profiled by Research Nester are Exxon Mobil Corporation, BASF SE, Celanese Corporation, The Dow Inc., Huntsman International LLC, Eastman Chemical Company, INEOS Group, LyondellBasell Industries N.V., SABIC, Chevron Philips Chemical Company LLC, and Daicel Corporation
Request for Customization of this Report @ https://www.researchnester.com/customized-reports-5220
Recent Developments in the Injection Molded Plastics Market
Celanese Corporation, the world's largest chemical and specialty materials company, stated today that it has finished the purchase of DuPont's Mobility & Materials (M&M) business. Celanese will be better positioned as a unified team to accelerate the advancement of Engineered Materials and create added value for our customers and shareholders.
WL Plastics Corporation recently announced the completion of its purchase of Charter Plastics, Inc.'s polyethylene pipe extrusion assets in Titusville, Pennsylvania. This strategic acquisition allows WL Plastics to diversify its product offerings, extend its client base, and penetrate new regional markets. The Titusville facility and accompanying assets are capable of producing a wide range of polyethylene pipe for a variety of end-uses.
About Research Nester
Research Nester is a one-stop service provider with a client base in more than 50 countries, leading in strategic market research and consulting with an unbiased and unparalleled approach towards helping global industrial players, conglomerates and executives for their future investment while avoiding forthcoming uncertainties. With an out-of-the-box mindset to produce statistical and analytical market research reports, we provide strategic consulting so that our clients can make wise business decisions with clarity while strategizing and planning for their forthcoming needs and succeed in achieving their future endeavors. We believe every business can expand to its new horizon, provided a right guidance at a right time is available through strategic minds.
CONTACT: AJ Daniel
Corporate Sales, USA
Research Nester
Email: info@researchnester.com
USA Phone: +1 646 586 9123
Europe Phone: +44 203 608 5919


Latest posts by GlobeNewswire
(see all)