Marketresearch.biz reports that the global insulin pumps market is rapidly growing in revenue, driven by rising diabetes prevalence, technological advancements in insulin pump devices, and increasing awareness of the convenience of continuous insulin delivery and glycemic control.
New York, Sept. 18, 2023 (GLOBE NEWSWIRE) — Global insulin pumps market size was USD 5.3 Billion in 2022 and is expected to reach USD 12.0 billion in 2032 and register a revenue CAGR of 8.7% between 2023 and 2032
Marketresearch.biz has published its latest market research report titled 'Insulin Pumps Market By Type (Tethered Pumps, Patch Pumps, Consumables) By End-User (Hospital And Clinics, Home Care, Laboratories, And Others), By Region And Companies – Industry Segment Outlook, Market Assessment, Competition Scenario, Trends, And Forecast 2023-2032'. The report comes with a fresh new design, structure, and presentation, with a more advanced perspective in mind to cater to evolving needs of our rapidly expanding client base. The market research report provides comprehensive insights into driving factors, restraints, opportunities, and trends, and presents in-depth outlook with supporting information in write-ups, and data in easily interpreted graphs and charts, including pie, bar, area, line and column figures, tables, and illustrations.
Also, independent figures, tables, charts, and write-ups are provided for each region, country, segment, and other components and statistics-driven aspect in the report. The various market scenarios, potential outcomes, viable opportunities, competitive analysis, impact analysis, and outcomes are covered extensively in the report, and the data and information formats are simple, yet dynamic so as to ensure ease of reading and understanding, as well to make for clear presentation and optimization.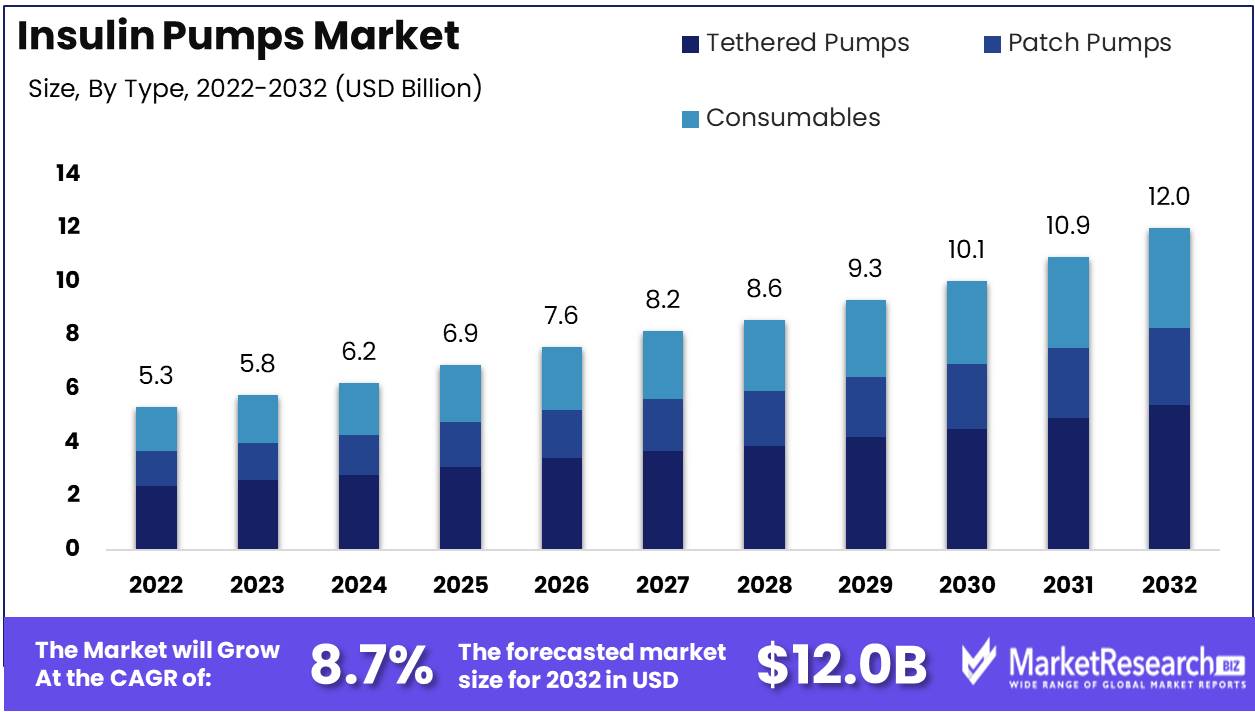 To get additional highlights on major revenue-generating segments, Request a Insulin Pumps Market sample report at: https://marketresearch.biz/report/insulin-pumps-market/request-sample/
Key Takeaways
In 2022, North America accounted for largest revenue share of around 47.3% of the global insulin pumps market revenue, with the United States accounting for majority contribution in terms of revenue and unit sales, owing to high prevalence of diabetes, presence of developed healthcare infrastructure, and availability of favorable reimbursement policies.
It is estimated that 63% of adults with T1D in the US and 5–15% of those in Europe use an insulin pump.
Among the end-user segments, the hospitals and clinics segment accounted for majority revenue share of 43.4% in 2022 and the trend is expected to continue over the forecast period.
In 2022, the homecare segment among the end-user segments accounted for second-largest revenue share, and is expected to register a relatively rapid revenue CAGR of 10.13% during the forecast period.
In 2022, the tethered pumps segment among the type segments accounted for largest revenue share of 72.3%, owing to substantially high popularity of this type among a larger user base.
Patch pumps segment is expected to register a double-digit revenue CAGR of around 11.1% over the forecast period as according to recent surveys, patients with type 1 diabetes (T1D) prefer insulin pumps without visible insulin infusion sets for continuous subcutaneous insulin infusion therapy, and this system type suits that preference.
Efficiency and Precise Dosing over Traditional Insulin Injections Driving Adoption
Advantages of insulin pumps over traditional injections include precise dosing, fewer injections, and better glucose control, leading to improved patient adherence and outcomes. Insulin pumps reduce the need for multiple daily injections and provide flexibility in adjusting insulin delivery to match varying activity levels and meal sizes. Also, these devices can improve overall blood sugar control and reduce the risk of hypoglycemia. The primary function of these devices is to mimic the natural insulin release of a healthy pancreas, providing precise insulin doses throughout the day.
Insulin pumps are most widely used by individuals in developed countries such as the United States, Canada, and Western European nations. These devices are particularly popular among individuals with type 1 diabetes, although some persons with type 2 diabetes who require intensive insulin therapy also benefit from these devices. Overall, insulin pumps have revolutionized diabetes management by enhancing convenience, control, and quality of life for a number of diabetic individuals. This is a key factor driving preference for and adoption of insulin pumps.
To understand how our report can bring a difference to your business strategy, Inquire about a brochure at  https://marketresearch.biz/report/insulin-pumps-market/#inquiry
Rising Prevalence of Diabetes and R&D on Closed-Loop Systems Driving Device Demand
The global insulin pumps market continues to register significantly rapid revenue growth, driven by key factors such as rising diabetes prevalence – especially type 1 and insulin-dependent type 2 – technological advancements in insulin pump devices, including smaller, smarter, and more user-friendly models, and increasing awareness of glycemic control and convenience of continuous insulin delivery. Innovations such as provision of services, including data connectivity for healthcare providers, are improving levels of patient care. Research & Development initiatives focusing on closed-loop systems and artificial pancreas development for seamless blood sugar management are expected to support market growth.
Advanced insulin pumps, like the Medtronic MiniMed 670G, utilize sensor-augmented technology to automatically adjust insulin delivery based on CGM data. This closed-loop system ensures more stable blood sugar levels and reduces the frequency of hypoglycemic and hyperglycemic events. The device offers a seamless and less intrusive way for individuals with diabetes to effectively manage their condition, providing a better quality of life and confidence.
Technological Advancements and Enhanced Features in Insulin Pumps
Technological advancements are resulting in increasing credibility and efficiency of devices being offered in the market. Continuous improvement in insulin pump technology, such as enhanced user interfaces, integration with smartphones, and predictive algorithms for very precise insulin delivery, are driving adoption and in turn, market revenue growth. 
In addition, customization and personalization is a trend that is gaining traction in the insulin pumps market. Insulin pumps that allow customization based on an individual's lifestyle, insulin needs, and activity levels are being increasingly preferred so as to meet diverse requirements of each user. Furthermore, integrated diabetes management systems, which are insulin pumps integrated with Continuous Glucose Monitoring (CGM) systems and other diabetes management tools, offer a comprehensive approach to diabetes care. These systems are also registering steady adoption, and the trend is expected to sustain over the forecast period.
Insecurity About Potential Device Malfunction and Incorrect Dosage Administration
A major factor having negative impact of preference for and adoption of insulin pumps among a sizable potential consumer base is incorrect administration of insulin. This could either be too little, too much, or release at the incorrect times, which can result in both transient and serious hypo- and hyperglycemia, wide glycemic excursions, severe hypoglycemia, and Diabetic ketoacidosis (DKA). Improper insulin dosing can occur due to user error or device malfunction, but either can have serious consequences.
Other factors that can have negative impact on market growth include cost and accessibility and technical challenges and device flaws. The high initial cost of insulin pump devices, along with ongoing expenses for supplies and maintenance, can limit accessibility, especially in low-income regions or for individuals without adequate insurance coverage. Technical glitches, device malfunctions, and the need for regular software updates can be an irritant for some users. These issues can erode user confidence in insulin pumps and lead to dissatisfaction among patients.
Enter Untapped Markets With More User-Friendly & Advanced Devices is a Smart Move
Companies operating in the global insulin pumps market can leverage available and emerging opportunities to expand revenue streams by targeting emerging markets such as India and China, where the diabetic population is expanding. Development of more affordable and region-specific insulin pump options can enable addressing needs in previously untapped markets. Continuous innovation remains crucial to this endeavor, and investing in R&D to create more advanced, user-friendly insulin pump devices, such as those incorporating closed-loop systems and Artificial Intelligence (AI), can attract both new and existing users.
Also, companies can explore value-added services like telemedicine support, data analytics, and personalized care plans, which will not only serve to enhance patient engagement but also establish subscription-based revenue models, thereby bolstering their bottom line.
Make informed business decisions with our sample report, revealing key market insights Click Here To Download/Request a Sample
| | |
| --- | --- |
| Report Attribute | Details |
| Market Value (2022) | US$ 5.3 Bn |
| Market Size (2032) | US$ 12.0 Bn |
| CAGR (from 2023 to 2032) | 8.7% |
| North America Revenue Share | 47.3% |
| Historic Period | 2016 to 2022 |
| Base Year | 2022 |
| Forecast Year | 2023 to 2032 |
Regional Analysis
Demand in Developing Countries Rising Along With Awareness About Benefits
The global insulin pumps market has been registering significant revenue growth, with regional markets playing a crucial role in shaping overall trajectory. Consumer preferences and diabetes prevalence data vary across regions, and this has major influence on market dynamics. Demand for advanced insulin pump technologies is considerably robust in North America and Western Europe, where diabetes prevalence is relatively high. These regions currently account for substantial revenue share, driven by consumer willingness to invest in innovative diabetes management solutions.
However, in contrast, emerging markets such as Asia Pacific, Latin America, and Africa are witnessing a surge in diabetes prevalence due to sedentary lifestyle, rising prevalence of obesity, Polycystic Ovary Syndrome (PCOS), and changing dietary habits among others. As awareness regarding effective devices for treatment of diabetes rises, consumers in countries in these regions are increasingly turning to insulin pumps, and this trend is creating major revenue growth potential for players operating in the market.
Product Innovation and Collaborations Dominating Competitive Landscape
The global insulin pumps market is characterized by intense competition due to presence of a number of key players. Major companies are employing various strategies to maintain their positions and gain a competitive edge in the market, and one such strategy is continuous product innovation. Companies such as Medtronic, Insulet Corporation, and Tandem Diabetes Care invest substantially in research and development to create technologically advanced insulin pumps. These devices are designed to be smaller, more user-friendly, and offer features like closed-loop systems and integration with CGM systems. By staying at the forefront of technological advancements, major companies attract customers looking for the latest and most effective diabetes management solutions.
Partnerships and collaborations are a common strategy in the competitive landscape, and companies are collaborating with healthcare providers, insurance companies, and other stakeholders to expand their market reach. For example, Medtronic has partnered with various healthcare systems to integrate its insulin pumps and CGM systems into telemedicine platforms, to enable remote monitoring and support for patients.
Price competitiveness is another factor having major influence on the competitive landscape, and companies may be having to adjust pricing strategies to make their products more accessible to a wider range of consumers, and offering comprehensive warranties, customer support, and training programs serve to enhance the overall value proposition for customers.
Service providers in the insulin pumps market are focusing on customer support and education to maintain a strong position. These entities offer training programs for healthcare professionals and patients to ensure safe and effective pump usage. In addition, a number of companies provide 24/7 customer support hotlines to assist users with any issues or queries or concerns they may have.
Moreover, service providers are focusing on creating a seamless experience for users and this includes improving the connectivity of insulin pumps to smartphones and other devices, thereby allowing for easier data monitoring and sharing between patients and healthcare providers. This data-driven approach helps users and healthcare professionals make informed decisions regarding insulin dosing and management.
Maximize your profitability with MarketResearch.Biz – Gain a competitive edge by acquiring this premium report at https://marketresearch.biz/purchase-report/?report_id=589
Key Market Players
Medtronics Inc.
Insulet Corporation
Tandem Diabetes Care Inc.
Roche
Ypsomed
Cellnovo Ltd.
Asante
Animus Corporation
Nipro Diagnostic Inc.
Abbott Laboratories
Johnson & Johnson (Animas Corporation)
Valeritas Holdings, Inc.
Sooil Development Co., Ltd.
Artsana S.p.A. (Chicco)
Segments Covered in the Report:
By Type:
Tethered Pumps
Patch Pumps
Consumables
By End-User:
Hospital And Clinics
Home Care
Laboratories
By Geography:
North America
Europe
Asia-Pacific
Latin America
Middle East & Africa
Uncover valuable statistics and future projections by accessing a sample report for historical and forecast market data spanning 2016 to 2032 at https://marketresearch.biz/report/insulin-pumps-market/request-sample/
Recent Developments
On 20 June 2023, Insulet Corporation, which is the global leader in tubeless insulin pump technology with its Omnipod brand of products, announced the commercial launch of its Omnipod 5 Automated Insulin Delivery System (Omnipod 5) for individuals aged two years and older with type 1 diabetes (T1D) in the United Kingdom (UK). The delivery system offers simplicity despite the advanced technology, and is the first CE marked tubeless hybrid closed loop system that integrates with the Dexcom G6 Continuous Glucose Monitoring system to automatically adjust insulin delivery and help protect against high and low glucose levels.
On 21 April 2023, Medtronic plc, which is the global leader in medical technology, announced U.S. Food and Drug Administration (FDA) approval of its MiniMed 780G system with the Guardian 4 sensor requiring no fingersticks while in SmartGuard technology. The system provides insulin to help account for when users occasionally forget to bolus or underestimates the number of carbs in their meal.
In March 2023, Sanofi and Provention Bio, Inc., which is a U.S.-based publicly traded biopharmaceutical company focused on intercepting and preventing immune-mediated diseases including type 1 diabetes (T1D), entered into an agreement under which Sanofi has agreed to acquire Provention Bio, Inc. for USD 25.00 per share in cash, representing an equity value of approximately USD 2.9 billion. The transaction adds an innovative, fully owned, first-in-class therapy in type 1 diabetes to Sanofi's core asset portfolio in General Medicines and further drives its strategic shift toward products with a differentiated profile.
On 23 January 2023, Tandem Diabetes Care, Inc., which is a global insulin delivery and diabetes technology company, announced completion of its previously announced acquisition of AMF Medical SA, which is the privately held Swiss developer of the Sigi Patch Pump. The Sigi Patch Pump is designed to be an ergonomic, rechargeable patch pump that reduces the burden of managing diabetes through its use of pre-filled insulin cartridges. The device is under development and not yet commercially available.
In March 2022, Medtronic launched MiniMed 780G system in India, which is a next-generation closed-loop insulin pump system for the treatment of type 1 diabetes in persons aged seven to 80 years. The system automates delivery of basal insulin and correction boluses every five minutes to diabetics to efficiently avoid highs and lows. The MiniMed 780G is part of the new Medtronic portfolio of insulin pumps with smartphone connectivity via Bluetooth technology, which allows users and their carers to view real-time glucose data and trends on compatible iOS and Android smartphones via apps.
Browse More Related Reports
Diagnostic Tests Market size is expected to be worth around USD 410.5 Bn by 2032 from USD 182.0 Bn in 2022, growing at a CAGR of 8.7% during the forecast period from 2023 to 2032.
Dialysis Machines Market size is expected to be worth around USD 28.5 Bn by 2032 from USD 18.2 Bn in 2022, growing at a CAGR of 4.7% during the forecast period from 2023 to 2032.
Personalized Medicine Market size is expected to be worth around USD 1,103.6 Bn by 2032 from USD 511.8 Bn in 2022, growing at a CAGR of 8.2% during the forecast period from 2023 to 2032.
Radiopharmaceutical Market size is expected to be worth around USD 11.2 Bn by 2032 from USD 5.8 Bn in 2022, growing at a CAGR of 7% during the forecast period from 2023 to 2032.
Ascites Market size is expected to be worth around USD 4.1 Bn by 2032 from USD 2.2 Bn in 2022, growing at a CAGR of 6.5% during the forecast period from 2023 to 2032.
About Us:
MarketResearch.Biz (Powered by Prudour Pvt Ltd) specializes in in-depth market research and analysis and has been proving its mettle as a consulting and customized market research company, apart from being a much sought-after syndicated market research report-providing firm. MarketResearch.Biz provides customization to suit any specific or unique requirement and tailor-made reports as per request. We go beyond boundaries to take analytics, analysis, study, and outlook to newer heights and broader horizons.
Follow Us on LinkedIn: https://www.linkedin.com/company/marketresearch-biz/
Follow Us on Facebook: https://www.facebook.com/marketresearch.biz
Follow Us on Twitter: https://twitter.com/PrudourResearch
CONTACT: Global Business Development Team – MarketResearch.biz
MarketResearch.biz (Powered By Prudour Pvt. Ltd.)
Email: inquiry@marketresearch.biz
Address: 420 Lexington Avenue, Suite 300,
New York City, NY 10170, United States
Tel: +1 347 796 4335
Website: https://marketresearch.biz/


Latest posts by GlobeNewswire
(see all)