Marketresearch.biz has published its latest market research report titled 'Laundry Detergent Market' they have offered with a fresh new design, structure, and presentation, with a more advanced perspective in mind to cater to the evolving needs of their rapidly expanding industry
New York, Sept. 18, 2023 (GLOBE NEWSWIRE) — Laundry detergents market size is expected to reach USD 196.1 Bn in 2032 from USD 137.6 Bn in 2022 and register a CAGR of 3.7% during the forecast period (2023-2032)
The market research report provides comprehensive insights into driving factors, restraints, opportunities, and trends, and presents an in-depth outlook with supporting information in write-ups, and data in easily interpreted graphs and charts, including pie, bar, area, line and column figures, tables, and illustrations.
Also, independent figures, tables, charts, and write-ups are provided for each region, country, segment, and other components and statistics-driven aspects in the report. The various market scenarios, potential outcomes, viable opportunities, competitive analysis, impact analysis, and outcomes are covered extensively in the report, and the data and information formats are simple, yet dynamic so as to ensure ease of reading and understanding, as well as make for clear presentation and optimization.
Get additional highlights on major revenue-generating segments, Request a Laundry Detergent Market sample report at https://marketresearch.biz/report/laundry-detergents-market/request-sample/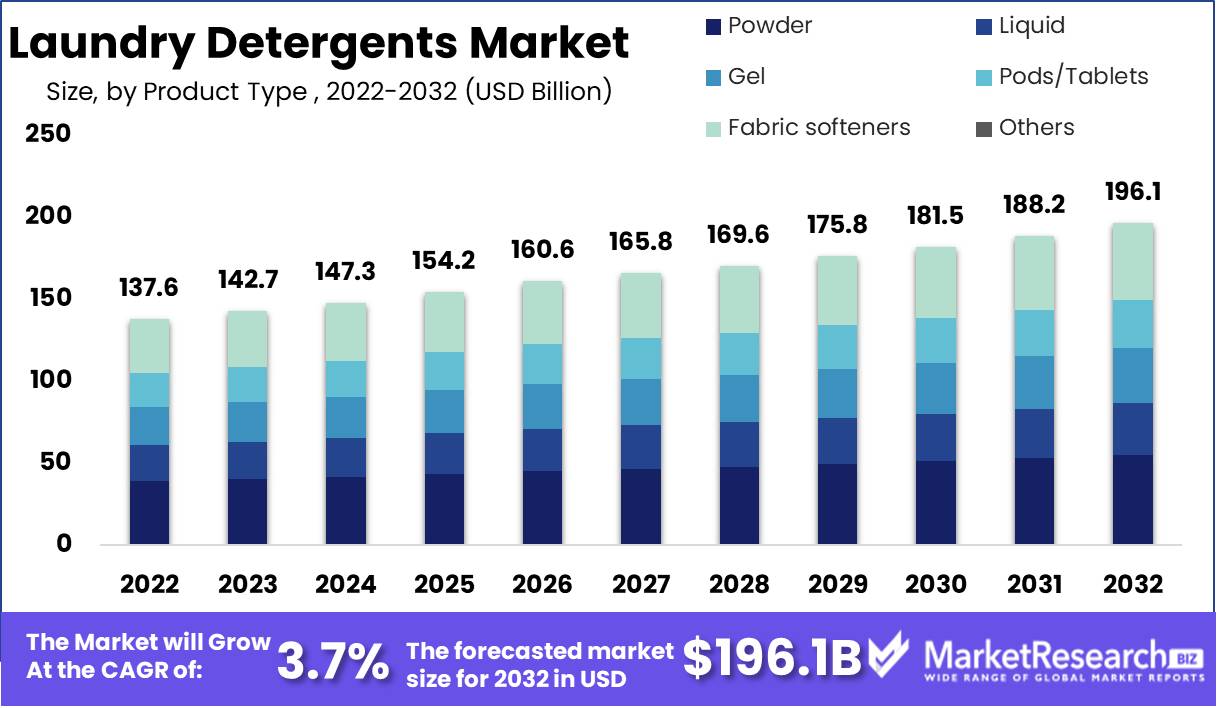 Key Takeaways
In 2022, North America accounted for the largest revenue share, with the United States accounting for the majority contribution, and is expected to register a CAGR of 3.1% over the forecast period.
Among the regional markets, the Asia-Pacific laundry detergent market is expected to register the fastest CAGR of 7.18% over the forecast period.
Among the product type segments in 2022, the powder segment accounted for 35.10% of revenue share, and this is attributed to the high consumption of detergent powder in emerging economies, large consumer base in countries in Asia Pacific, and high preference for this form of detergent.
The household segment among the application segments accounted for the largest revenue share of 69.245% in 2022 and is expected to register the fastest CAGR of 7.1% over the forecast period due to steady urbanization, increasing number of nuclear families, and increasing preference for owning washing for convenience and cost-effectiveness of do it yourself laundry.
In 2022, the offline segment (comprising supermarkets/Hypermarkets, Convenience Stores, Independent Retailers, and Others) accounted for a majority revenue share of 74.5%, and the trend is expected to continue over the forecast period.
Growth Opportunities
Environmental Concerns Play a Major Role in the Emergence of Eco-Friendly Alternatives
Laundry detergents can contain chemicals, including phosphates that can lead to water pollution, nonylphenol ethoxylates (NPEs) that break down into harmful nonylphenols, and synthetic fragrances and dyes that may not be biodegradable. The packaging of detergents also contributes to the generation of high volumes of non-biodegradable and plastic waste. Development and use of eco-friendly detergents with biodegradable ingredients and reduced packaging waste are expected to alleviate some concerns, and some brands have switched to offering natural surfactants, enzymes, and hypoallergenic alternatives.
Nonetheless, laundry detergent is a household essential formulated with the primary functionality of cleaning and removing dirt, stains, and odors, while also preserving fabric quality. Traditional liquid and powder detergents are common, but new products continue to emerge, to cater to varying consumer preferences and to address environmental concerns.
In recent years, eco-friendly detergents with biodegradable ingredients and minimal packaging have gained major popularity. Pods or capsules offer convenience, scent boosters, and stain removers enhance laundry results, and a number of products come with a number of functionalities in a single package. Increasingly stringent regulatory norms and consumer awareness regarding the negative impacts of detergents on the environment have resulted in a number of manufacturers developing and launching products containing biodegradable ingredients such as natural washing soda, coconut oil, and mineral-based surfactants, plant-based enzymes, and zeolites, among others. The most common types of laundry detergents include powder, liquid, pods, and specialized variants such as high-efficiency and cold-water detergents. Consumers can choose based on washing machine type and personal preferences.
Trending Factors
Major Trends Driving Innovation Include Sustainability and Reduced Footprint
Sustainability, convenience, and innovation are among some of the major trends driving change and brand image fortification across the laundry detergent manufacturing industry. Sustainability has become a paramount concern, and the majority of major manufacturers are focused on formulating and introducing more eco-friendly detergents with biodegradable ingredients and reduced packaging waste. Convenience is another key trend, with the rise of single-dose detergent pods and liquid capsules simplifying the laundry process and reducing potential overuse. Innovation in ingredients and formulations is also prominent, with the integration of advanced enzyme-based stain removers, plant-based surfactants, and allergy-friendly options addressing various consumer needs and preferences.
To understand how our report can bring a difference to your business strategy, Inquire about a brochure at https://marketresearch.biz/report/laundry-detergents-market/#inquiry
Driving Factors
Advanced Ingredients and Cleaning Capabilities to Cater to Consumer Preferences
Global laundry detergent market revenue growth has remained substantially robust throughout as these products are a basic need or an essential across a wide range of end-use sectors, from households and hospitality to healthcare facilities, manufacturing, and beyond. Some key factors contributing to robust revenue growth include rapid urbanization, rising disposable income among an increasing consumer base, improving lifestyle, and the general need for maintaining hygiene and cleanliness.
Consumption trends are indicating a shift towards eco-friendly and high-efficiency detergents, driven by environmental concerns. Advancements in ingredients, such as enzyme-based stain removers and plant-based surfactants, are enhancing cleaning efficacy while minimizing environmental impact. Government initiatives promoting sustainable practices and reducing pollution have positively impacted the market. New products include concentrated formulas, thereby reducing packaging waste.
Specialized Products & e-Commerce Positioning Products Within Easier Reach
Demand for convenient laundry detergent products such as single-dose pods and liquid capsules has been increasing since the introduction of these products. These formats simplify the laundry process, reduce wastage, and enhance user convenience as an increasing consumer base continues to prioritize ease-of-use and time-saving solutions.
The introduction of specialized detergents targeting specific consumer needs is another key trend observed in the market. Sales have been increasing on the back of rising awareness regarding the availability of allergen-free detergents for sensitive skin, high-efficiency formulas for modern washing machines, and cold-water detergents that promote energy efficiency.
The growth of e-commerce and subscription-based models has provided consumers with convenient access to a wide range of laundry detergent options. Online sales platforms and subscription services have expanded market reach and increased product visibility, and serve to add convenience to consumers seeking hassle-free purchasing and delivery options, and this is contributing significantly to overall market revenue growth.
Make informed business decisions with our sample report, revealing key market insights Click Here To Download/Request a Sample
| | |
| --- | --- |
| Report Attribute | Details |
| Market Value (2022) | USD 137.6 Bn |
| Market Size (2032) | USD 196.1 Bn |
| CAGR (from 2023 to 2032) | 3.7% |
| North America Revenue Share | 3.1% |
| Historic Period | 2016 to 2022 |
| Base Year | 2022 |
| Forecast Year | 2023 to 2032 |
Restraining Factors
Saturation and Shift Towards Alternative Options and Price Fluctuation Restrain Growth
Some factors having a negative impact on market growth include market saturation, the shift toward sustainable and DIY alternatives, fluctuating raw material prices, and competition from alternative cleaning solutions. Laundry detergents are approaching saturation in major mature markets such as North America and Western Europe. Most households in countries in these regions already use laundry detergents, and this limits further potential opportunities for market expansion. As a result, intense competition among existing brands has led to price wars and reduced profit margins, making it challenging for companies to achieve substantial revenue growth.
Also, the trend toward sustainable living and Do-It-Yourself (DIY) laundry detergents is having a major negative impact on the market. Consumers are increasingly exploring homemade detergent options or choosing eco-friendly, organic, and natural alternatives instead of opting for off-the-shelf products. This shift away from conventional detergents can lead to decreased sales for traditional laundry detergent brands, especially those that do not offer environmentally friendly options. Companies must adapt by introducing greener products to remain competitive in the market.
In addition, the cost of raw materials used in detergent manufacturing, such as petroleum-based chemicals and surfactants, can be volatile and fluctuations in prices can affect production costs and ultimately lead to higher product end prices. Consumers may be deterred by rising detergent prices, causing reduced demand and restraining revenue growth.
Furthermore, competition from alternative cleaning solutions, such as laundry balls, magnets, and reusable laundry discs, which carry the claim to reduce or eliminate the need for detergent altogether is expected to result in sluggish growth. Though not yet widely adopted, these alternatives appeal to those consumers seeking cost savings and contributing to environmental benefits, potentially diverting revenue from traditional detergent sales.
Regional Analysis
Variations in Regional Trends and Consumer Preferences Determine Scenarios
The laundry detergent market in different regions registers variations in trends and factors driving revenue growth. Diverse consumer preferences and evolving market dynamics are key to varying market scenarios and forecasts. North America accounts for the largest revenue share among the regional markets, with the United States contributing significantly to the large market share. This robust revenue share can be attributed to a sizeable population and strong consumer demand for premium and eco-friendly detergent products in the United States.
However, the Asia-Pacific laundry detergent market is currently registering the fastest revenue growth rate, with key countries such as China and India, contributing significantly to overall revenue. Key factors such as rapid urbanization, increasing middle-class consumer base, rising disposable income, and increased access to washing machines are driving steady demand for laundry detergents in these markets.
Also, consumer preferences play a key role in shaping the market landscape, and while consumers in mature markets prioritize convenience and sustainability, consumers in emerging economies tend to lean toward affordable, high-performance detergents. In addition, some initiatives supporting revenue growth include a focus among manufacturers on sustainable and eco-friendly formulations, as well as innovative packaging and delivery options to cater to the diverse needs of global consumers. Furthermore, marketing campaigns highlighting the benefits of specialized detergents, such as those for sensitive skin or high-efficiency machines, have been boosting sales. Collaborations with e-commerce platforms have expanded market reach, and this is providing consumers convenient access to a wider range of laundry detergent options.
Grow your profit margin with MarketResearch.biz – Purchase This Premium Report at https://marketresearch.biz/purchase-report/?report_id=37012
Competitive Analysis
Competitive Landscape Getting More Competitive Due to Newer Strategies
The global laundry detergent market landscape is highly competitive and characterized by the presence of a large number of established multinational corporations and regional players. Key strategies employed by leading players to maintain a robust position in this competitive landscape include innovation, sustainability, marketing, and expansion into emerging markets.
Leading detergent manufacturers continuously invest in research and development to create innovative products that cater to evolving consumer preferences. This includes the development of high-efficiency detergents, enzyme-based stain removers, and products suitable for various water temperatures. Innovation also extends to packaging and this is evident with the introduction of convenient single-dose pods and sustainable, eco-friendly packaging. Also, sustainability has become a central focus for many leading players. Companies are reformulating their detergents to include biodegradable ingredients, reducing plastic waste in packaging, and adopting eco-friendly production processes to align with growing consumer demand for environmentally responsible products. A major focus is being paid to robust marketing and branding strategies, as this is crucial for maintaining visibility, enhancing brand image, and driving revenue. Leading companies invest substantially in advertising and promotion to create brand recognition and develop loyalty, and often collaborate with celebrities or influencers to endorse their products and connect with consumers on social and digital platforms.
In addition, a number of leading players are expanding their reach into emerging markets with growing consumer bases. Countries such as China and India offer significant growth potential due to rising disposable incomes and an increasing number of households owning washing machines. Moreover, major companies are deploying strategies to diversify their product portfolios in order to cater to a broader range of consumer needs. This includes the introduction of specialized detergents, such as those for sensitive skin or baby clothing, and by offering a variety of products, companies can leverage a larger share of the market. In line with this strategy, companies are also adopting mergers and acquisitions to expand product offerings and strengthen their position in the market.
Key Market Players
Procter & Gamble
Unilever Group
Church & Dwight Co., Inc.
Henkel AG & Co. KGaA
Clorox Company
Reckitt Benckiser Group plc
Kao Corporation
C. Johnson & Son, Inc.
Lion Group
Amway Corporation
Segments Covered in the Report:
By Product Type:
Powder
Liquid
Gel
Pods/Tablets
Fabric softeners
Others
By Application:
By Distribution channel:
Online
Offline
Supermarket/Hypermarket
Convenience Stores
Independent Retailers
Others
By Geography:
North America
Europe
Asia-Pacific
Latin America
Middle East & Africa
For more insights on the historical and Forecast market data from 2016 to 2032 – download a sample report at https://marketresearch.biz/report/laundry-detergents-market/request-sample/
Recent Developments
On 4 August 2023, ARM & HAMMER Laundry announced the debut of Power Sheets Laundry Detergent, which is the first major detergent brand to launch in the sheets detergent category on Amazon in the U.S. The new launch is in partnership with actress and environmental advocate Victoria Justice. This innovative laundry solution from ARM & HAMMER eliminates plastic bottle waste while delivering the trusted A&H powerful cleaning performance.
On 28 July 2022, Unilever announced the global launch of its most sustainable laundry capsule, which is the fastest-growing detergent format in many parts of the world. The capsule is specially designed for top performance in cold (20°c and below), short cycles. Consumers can save up to 60% energy per use, and GHG emissions are reduced by 16% 1 and come in plastic-free 2 cardboard packaging.
On 13 Aug 2021, Mumbai-, India-based packaged consumer goods company Godrej Consumer Products Limited (GCPL) announced the launch of digital-first brands, with one being a single-use laundry capsule – Godrej Ezee Detergent Pods, with the objective of capitalizing on the steady shift of packaged consumer goods to e-commerce. The new launches are in the categories of detergents (laundry and dishwashing) and home care and are available via e-commerce platforms.
Browse More Related Reports
Liquid Soap Market size is expected to be worth around USD 50.8 Bn by 2032 from USD 32.5 Bn in 2022, growing at a CAGR of 4.7% during the forecast period from 2023 to 2032.
Esters Market size is expected to be worth around USD 143.6 Bn by 2032 from USD 85.2 Bn in 2022, growing at a CAGR of 5.5% during the forecast period from 2023 to 2032.
Coated Fabrics Market size is expected to be worth around USD 41.5 Bn by 2032 from USD 25.8 Bn in 2022, growing at a CAGR of 5.0% during the forecast period from 2023 to 2032.
Hydraulic Oil Market size is expected to be worth around USD 220.5 Bn by 2032 from USD 156.2 Bn in 2022, growing at a CAGR of 3.6% during the forecast period from 2023 to 2032.
Hanger Market size is expected to be worth around USD 2.8 Bn by 2032 from USD 1.8 Bn in 2022, growing at a CAGR of 4.6% during the forecast period from 2023 to 2032.
About Us:
MarketResearch.Biz (Powered by Prudour Pvt Ltd) specializes in in-depth market research and analysis and has been proving its mettle as a consulting and customized market research company, apart from being a much sought-after syndicated market research report-providing firm. MarketResearch.Biz provides customization to suit any specific or unique requirement and tailor-made reports as per request. We go beyond boundaries to take analytics, analysis, study, and outlook to newer heights and broader horizons.
Follow Us on LinkedIn: https://www.linkedin.com/company/marketresearch-biz/
Follow Us on Facebook: https://www.facebook.com/marketresearch.biz
Follow Us on Twitter: https://twitter.com/PrudourResearch
CONTACT: Global Business Development Team – MarketResearch.biz
MarketResearch.biz (Powered By Prudour Pvt. Ltd.)
Email: inquiry@marketresearch.biz
Address: 420 Lexington Avenue, Suite 300,
New York City, NY 10170, United States
Tel: +1 347 796 4335
Website: https://marketresearch.biz/


Latest posts by GlobeNewswire
(see all)