Circularity Diagram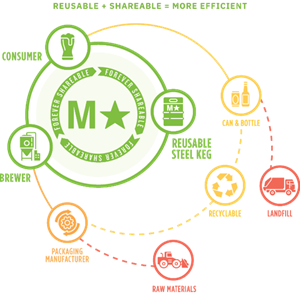 DENVER, Jan. 31, 2023 (GLOBE NEWSWIRE) — MicroStar Logistics, the proven global leader in outsourced keg management solutions, today announces the results of a new ISO-14040 Framework Lifecycle Analysis (LCA). The study, completed by Deloitte's renowned U.S. Sustainability Practices team, found that MicroStar's dense network of reusable, shareable steel kegs reduces the beer industry's carbon footprint by over 10MM kg CO2e annually compared to owned kegs. These findings reinforce the results from previous LCA's and are consistent with the concepts driving the global movement towards more circular models.
"Globally, more and more companies recognize the power of circularity… models that return finite resources to the supply chain more directly are simply more efficient. Because MicroStar's pooled keg programs are both reusable AND shareable, they hit the bullseye of circularity, providing superior sustainability AND economic benefits," said Dan Vorlage, MicroStar's VP of Global Marketing.
"MicroStar truly delivers one of the best examples of circularity. Their dense network of steel kegs with decades of reuse potential combined with a platform enabling brewers to share kegs makes for an efficient alternative to owned steel kegs or difficult to recycle single-use plastic kegs," said Kyle Tanger, Managing Director in Deloitte's U.S. sustainability practice.
Recognizing MicroStar's leadership in the field of circularity, the company has also launched its new website and tagline, "Forever Shareable." To learn more about how MicroStar unlocks the power of shareability, including their commitment to quality, low total costs of ownership, and creating long-term operating partnerships with their customers, visit www.MicroStarLogistics.com.
About MicroStar Logistics
Founded in 1996, MicroStar Logistics is the world's leading provider of circular, outsourced supply chain solutions for the beer industry. MicroStar's highly efficient and sustainable shared keg programs now include over 6 million stainless steel kegs (MicroStar-branded kegs in the US and Kegstar-branded kegs internationally). Its Quality Services division extends the life of reusable assets making the most efficient use of finite resources. Visit MicroStarLogistics.com to learn more.
A photo accompanying this announcement is available at https://www.globenewswire.com/NewsRoom/AttachmentNg/9a530104-7fe5-4ed7-b34d-90c120191a90


Latest posts by GlobeNewswire
(see all)