MidAmerica Pharmaceuticals Launches KOURZEQ™ Oral Paste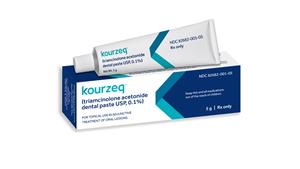 CHICAGO, Nov. 14, 2023 (GLOBE NEWSWIRE) — MidAmerica Pharmaceuticals today announced that it is bringing KOURZEQ™ (triamcinolone acetonide dental paste USP, 0.1%) – a new option for the treatment of canker sores – to market. KOURZEQ™ is an FDA approved prescription oral paste that is specially formulated to treat oral lesions such as canker sores.
Canker sores, also called aphthous ulcers, are shallow lesions that develop on the soft tissues inside the mouth. KOURZEQ oral paste helps heal canker sores faster by reducing inflammation and providing relief of burning and pain.
KOURZEQ will be available exclusively via telehealth through a partnership between MidAmerica Pharmaceuticals and BeyondMD®. Consumers simply visit kourzeq.doctalkgo.com and set up a virtual visit with a credentialed healthcare professional who can assess the patient and prescribe KOURZEQ if appropriate; the prescription can then be ordered for delivery directly to their doorstep.
"We are pleased to be offering a new FDA-approved option for those living with, and suffering from, canker sores," said Eve del Rio, MD, Chief Medical Officer for MidAmerica Pharmaceuticals. "As a board-certified dermatologist, I see how much canker sores negatively impact the daily activities of those suffering from them. We are proud to offer quick access to KOURZEQ for appropriate patients, and we are confident that it will make a positive difference for those suffering from canker sores."
"After seeing firsthand how painful canker sores can be," said Linda Brennan, Chief Executive Officer of MidAmerica Pharmaceuticals, "I created MidAmerica Pharmaceuticals so that we can bring a solution to millions of people. Our telehealth distribution model enables sufferers to gain quick access to a healthcare provider and KOURZEQ and get back to normal sooner."
"When you have a canker sore, you simply can't wait weeks for an office visit appointment. Being able to receive expert healthcare, online and without an in-person appointment will be a great relief to anyone with a canker sore," said John Bernard, M.D., Medical Director for BeyondMD. "We are pleased to be able to offer KOURZEQ through our platform via our licensed prescribing physicians as an effective way to help heal canker sores."
About KOURZEQ™
KOURZEQ (triamcinolone acetonide dental paste USP, 0.1%) is an FDA-approved prescription medicine that is used to treat oral lesions, including canker sores in adults. KOURZEQ helps canker sores heal faster and relieves discomfort by decreasing inflammation in the mouth and providing relief of burning and pain when applied to canker sores.
Side effects may include: local burning, itching, irritation, dryness, blistering or peeling, rash, infection, and thinning of the tissue inside the mouth. Use only as directed by your healthcare provider. Overuse could affect your immune system. For more information about KOURZEQ, please visit www.kourzeq.com.
Selected Important Safety Information
Do not take KOURZEQ if you are allergic to KOURZEQ (triamcinolone acetonide dental paste USP, 0.1%) or any of its ingredients or if you have a mouth or throat infection.
Before taking KOURZEQ, tell your healthcare provider (HCP) if you:
Are pregnant or plan to become pregnant.
Are breastfeeding or plan to breastfeed.
Are taking any medicines, including any prescription and over-the-counter medicines, vitamins, or herbal supplements.
Please visit kourzeq.com to view complete Important Safety Information and Full Prescribing Information.
About MidAmerica Pharmaceuticals
The mission of Chicago-based MidAmerica Pharmaceuticals is to improve the quality of life for canker sore sufferers via the introduction of KOURZEQ. MidAmerica's telehealth solution includes a virtual healthcare provider visit plus a dispensing pharmacy – a convenient, all-in-one solution for canker sore treatment. Visit www.kourzeq.com to learn more.
About BeyondMD®
BeyondMD provides easy access to healthcare via their virtual telemedicine services. Their network of credentialed and qualified doctors has provided easy healthcare access to over 1 million patients since being founded in 2009 and offers the highest quality of care, convenient access and a seamless experience for patients across 50 states in the U.S. For more information on BeyondMD, please visit beyondmd.com. 
CONTACTS:
Investors:
Linda Brennan
linda@midamericapharmaceuticals.com
Media: Jennifer Podkasik
jen@arrowheadcommunications.com
(630) 347-9338
Abby Penich
Abby@arrowheadcommunications.com
(630) 212-2229
A photo accompanying this announcement is available at https://www.globenewswire.com/NewsRoom/AttachmentNg/9aa9112c-5d0a-4029-8f9e-712c6934a4c3


Latest posts by GlobeNewswire
(see all)