Hyperscaler Adds BlueField-3 DPUs to Its Networking Stack to Offload Data Center Tasks From CPUs
NVIDIA BlueField-3 DPU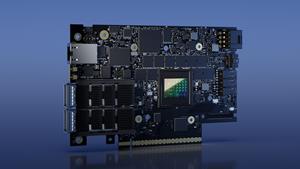 SANTA CLARA, Calif., March 21, 2023 (GLOBE NEWSWIRE) — GTC — NVIDIA today announced that Oracle Cloud Infrastructure (OCI) has selected the NVIDIA BlueField-3® DPU as the latest addition to its networking stack, offering OCI customers a powerful new option for offloading data center tasks from CPUs.
BlueField-3 is NVIDIA's third-generation data processing unit that enables enterprises to build software-defined, hardware-accelerated IT infrastructures from cloud to data center to edge. It improves performance, efficiency and security in data centers by offloading, accelerating and isolating infrastructure workloads, thus freeing expensive CPU cores to run business applications.
OCI offers a wide range of cloud infrastructure and platform services to its customers to build and run applications and services in the cloud or on premises. By utilizing BlueField-3, OCI is extending its long-established approach of offloading data center infrastructure tasks from CPUs.
"The age of AI demands cloud data center infrastructures to support extraordinary computing requirements," said Jensen Huang, founder and CEO of NVIDIA. "NVIDIA's BlueField-3 DPU enables this advance, transforming traditional cloud computing environments into accelerated, energy-efficient and secure infrastructure to process the demanding workloads of generative AI."
"Oracle Cloud Infrastructure offers enterprise customers nearly unparalleled accessibility to AI and scientific computing infrastructure with the power to transform industries," said Clay Magouyrk, executive vice president of Oracle Cloud Infrastructure. "NVIDIA BlueField-3 DPUs are a key component of our strategy to provide state-of-the-art, sustainable cloud infrastructure with extreme performance."
BlueField-3 Boosts Data Center Performance, Efficiency and Security
BlueField-3 is the foundation of the data center control plane that delivers cloud and AI services. Tests show power reductions of up to 24% on servers using NVIDIA BlueField DPUs compared to servers without DPUs.
The DPUs support Ethernet and InfiniBand connectivity at up to 400 gigabits per second and provide 4x more compute power, up to 4x faster crypto acceleration, 2x faster storage processing and 4x more memory bandwidth compared to the previous generation of BlueField.
BlueField also delivers full backward-compatibility through the NVIDIA DOCA™ software framework. DOCA equips developers with advanced, zero-trust security capabilities, including the ability to create metered cloud services that control resource access, validate each application and user, isolate potentially compromised machines and help protect data from breaches and theft.
Watch Huang discuss the NVIDIA BlueField-3 DPU in his GTC keynote.
About NVIDIA
Since its founding in 1993, NVIDIA (NASDAQ: NVDA) has been a pioneer in accelerated computing. The company's invention of the GPU in 1999 sparked the growth of the PC gaming market, redefined computer graphics, ignited the era of modern AI and is fueling the creation of the metaverse. NVIDIA is now a full-stack computing company with data-center-scale offerings that are reshaping industry. More information at https://nvidianews.nvidia.com/.
For further information, contact:
Alex Shapiro
NVIDIA Corporation
+1-415-608-5044
ashapiro@nvidia.com
Certain statements in this press release including, but not limited to, statements as to: the benefits, impact, performance, features and availability of our products, collaborations and technologies, including NVIDIA BlueField-3 DPU, Bluefield-2 and the NVIDIA DOCA software framework are forward-looking statements that are subject to risks and uncertainties that could cause results to be materially different than expectations. Important factors that could cause actual results to differ materially include: global economic conditions; our reliance on third parties to manufacture, assemble, package and test our products; the impact of technological development and competition; development of new products and technologies or enhancements to our existing product and technologies; market acceptance of our products or our partners' products; design, manufacturing or software defects; changes in consumer preferences or demands; changes in industry standards and interfaces; unexpected loss of performance of our products or technologies when integrated into systems; as well as other factors detailed from time to time in the most recent reports NVIDIA files with the Securities and Exchange Commission, or SEC, including, but not limited to, its annual report on Form 10-K and quarterly reports on Form 10-Q. Copies of reports filed with the SEC are posted on the company's website and are available from NVIDIA without charge. These forward-looking statements are not guarantees of future performance and speak only as of the date hereof, and, except as required by law, NVIDIA disclaims any obligation to update these forward-looking statements to reflect future events or circumstances.
© 2023 NVIDIA Corporation. All rights reserved. NVIDIA, the NVIDIA logo, NVIDIA BlueField and NVIDIA DOCA are trademarks and/or registered trademarks of NVIDIA Corporation in the U.S. and other countries. Other company and product names may be trademarks of the respective companies with which they are associated. Features, pricing, availability and specifications are subject to change without notice.
A photo accompanying this announcement is available at https://www.globenewswire.com/NewsRoom/AttachmentNg/a9dd2837-e5fa-48aa-90c1-7e4a29dfc10e


Latest posts by GlobeNewswire
(see all)