Major polyglycerol market players includes Merck KGaA, Taiyo Kagaku Co., Ltd., Estelle Chemicals Pvt. Ltd., BASF SE, Spell Organics Ltd., DuPont de Nemours, Inc., Spiga Nord S.p.A, Croda International Plc, and Sakamoto Yakuhin Kogyo Co., Ltd.
New York, Sept. 14, 2023 (GLOBE NEWSWIRE) — The global polyglycerol market size is projected to grow at a CAGR of 8% from 2023 to 2033. The market is estimated to surpass USD 8 billion by the end of 2033, up from a revenue of about ~USD 2 billion in the year 2022. The industry growth is majorly attributed to increasing export volumes of polyglycerol esters of edible fatty acids (PEFA) (E475) and their use in various industries such as food and cosmetics. The global export value of PEFA (E475) in 2021 was USD 44 billion, compared with USD 38 billion in the year 2020, for a CAGR of 16% in 2020–2021. Polyglycerol is made up of fatty acids and glycerol and is known as an emulsifier.
Request Free Sample Copy of this Report @ https://www.researchnester.com/sample-request-4624
The fatty acids used to make polyglycerols are derived from soybeans, castor beans, etc. Polyglycerin is sold under the CAS number 29894-35-7 and is also known as propanetriol, homopolymer, etc. It can reduce the viscosity, so it is used in other substances such as chocolate and lecithin. To produce polyglycerol, glycerol is heated to 200 °C in a reactor with an alkaline catalyst. Fatty acids are made separately at similar temperatures and then blended together to create ricinoleic acid.
Global Polyglycerol Market: Key Takeaways
Market in Asia Pacific to propel highest growth
The food & beverage segment to garner the highest growth
Market in North America to grow at a highest rate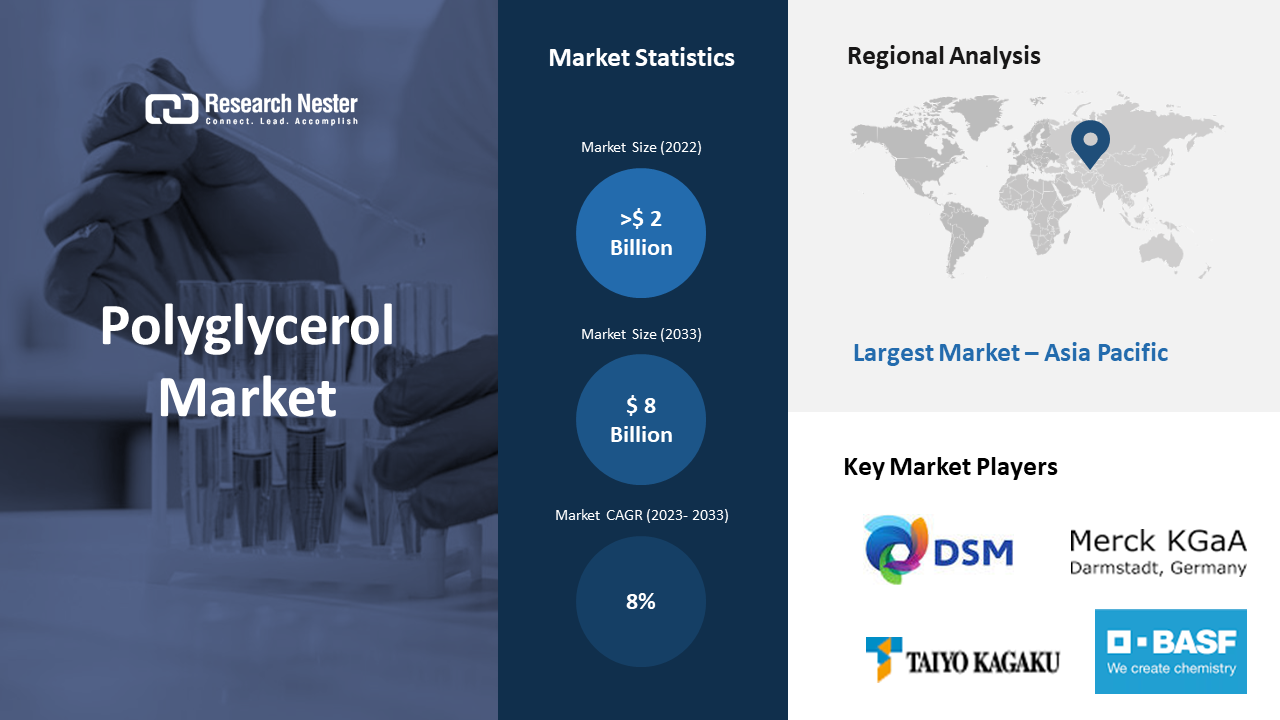 Increasing Consumption of Poultry Meat across the Globe to Boost Market Growth
Polyglycerol is one of the polymeric condensation products of glycerol. It is usually made from natural glycerin, a substance derived from vegetable oils. Polyglycerol is a food additive and raw material in cosmetics, serving as a moisturizer and thickener in cosmetics. In addition, polyglycerol esters of fatty acids (PEFA) (E 475) are widely used as food additives. The mean and 95th percentile of daily exposure to PEFAs used as food additives in children were 2.6 and 6.4 mg/kg body weight, respectively, in the off-brand scenario. Trends such as the growing use of polyglycerol as an alternative energy source in poultry, ruminant, and swine feed and research are expected to continue to have a positive impact on market growth during the forecast period. This use has also been attributed to the increasing consumption of poultry meat worldwide. By 2022, India alone had consumed approximately 4000 tons of poultry meat. Polyglycerol is FDA-approved and can be used as an emulsifying food additive in chocolate and salad dressings to reduce viscosity. In addition, polyglycerol also contains skin care ingredients, so it is often used in cosmetics. It is a viscous, yellowish liquid that is insoluble in ethanol and water.
Growing Pharmaceutical Industry to Drive Asia Pacific Market Growth
The polyglycerol market in the Asia Pacific is estimated to garner the largest revenue by the end of 2033. The market growth is mainly attributed to the increasing use of pharmaceuticals, the significant expansion of pharmaceutical manufacturing operations, and the wide use of polyglycerol esters in the pharmaceutical industry, which are considered edible ingredients. In 2019, more than USD 276 billion's worth of medicines were manufactured in China. Moreover, the global market in the Asia Pacific region is expected to grow even faster owing to the increasing consumption of meat and junk food. As mentioned earlier, polyglycerol is used in foods to prevent starch retrogradation, so fast food can be consumed longer without becoming contaminated. On the other hand, meat consumption is growing rapidly in this region. For instance, demand for meat is projected to increase by 30% by 2030 and by about 75% by 2050.
Make an Inquiry Before Buying this Report @ https://www.researchnester.com/inquiries-before-buying-4624
Increasing Meat Consumption to Propel Market Growth in the North American Region
The polyglycerol market in the North American region is estimated to garner the highest CAGR by the end of 2033. The region's growth can be attributed in large part to the population's increasing meat consumption. The United States is the world's largest beef producer. There was a time in U.S. history when the cattle industry was as popular as growing crops in agriculture, but not today. Media campaigns and recent scientific discoveries have led many consumers today to be afraid of red meat, attaching great importance to the content of the diet. In 2014, the United States ranked fourth in beef consumption per capita. They are currently second with nearly 58 pounds consumed. The average annual consumption of U.S. beef is 11 cows in a lifetime. According to this, the average meat eater will eat about 7,000 animals in their lifetime. US consumers eat about 27 pounds of ground beef per person, accounting for nearly half of all beef sales. The United States is the world's largest beef producer. In 2021, US beef production will reach 27.95 billion pounds. Hence, all these factors are anticipated to contribute to regional market growth.
Polyglycerol Segmentation by Functions
Food & Beverage
Cosmetics & Personal Care
Pharmaceuticals
Others
The food and beverage segment in the polyglycerol market is expected to have the largest share over the forecast period. Food and beverage service can be broadly defined as the process of preparing, serving, and providing food and beverages to customers. The growth of the segment can be attributed to the fact that polyglycerol is widely used in the food industry, especially in food manufacturing, as an emulsifier, colorant, texture stabilizer, preservative, and others. For example, the total value of packaged and labeled food was noted to grow from USD 700 billion in 2015 to around USD 850 billion worldwide in 2020. As of the year 2021, the global meat industry reached approximately USD 900 billion and is projected to reach approximately USD 1 trillion by 2027.
Polyglycerol Segmentation by Product
Polyglycerol market from the PG-3 segment is anticipated to hold a significant share during the forecast period. The segment growth is mainly backed by the extensive application of the segment in the personal care and cosmetics industry, which is expected to remain at the top during the forecast period. Moisturizers, foundations, anti-aging serums, lip glosses, and hair conditioners are all made with PG-3 in personal care stores. The personal care industry is growing rapidly as the global population is increasingly inclined to use cosmetics for skin and hair care. For instance, looking at the European cosmetics industry, with 841 small and medium enterprises (SMEs) in the cosmetics manufacturing sector, France is the European leader, followed by Italy with 736 SMEs in 2020.
Top companies operating in the global polyglycerol market that are Merck KGaA, Taiyo Kagaku Co., Ltd., Estelle Chemicals Pvt. Ltd., BASF SE, Spell Organics Ltd., DuPont de Nemours, Inc., Spiga Nord S.p.A, Croda International Plc, Sakamoto Yakuhin Kogyo Co., Ltd., and other.
Request for Customization of this Report @ https://www.researchnester.com/customized-reports-4624
Recent Development in the Polyglycerol Market
Koninklijke DSM N.V. (DSM), a Dutch multinational corporation, to announce its strategic choice to devote all of its expertise and resources to addressing the pressing socio-economic and environmental issues related to how people produce and consume food worldwide.
Merck KGaA, a German multinational science and technology company, to acquire M Chemical Inc. and the chemical business of Mecaro. This acquisition is based on the semiconductor solution portfolio of the company and to expand Merck KGaA's global and regional capabilities.
About Research Nester
Research Nester is a one-stop service provider with a client base in more than 50 countries, leading in strategic market research and consulting with an unbiased and unparalleled approach towards helping global industrial players, conglomerates and executives for their future investment while avoiding forthcoming uncertainties. With an out-of-the-box mindset to produce statistical and analytical market research reports, we provide strategic consulting so that our clients can make wise business decisions with clarity while strategizing and planning for their forthcoming needs and succeed in achieving their future endeavors. We believe every business can expand to its new horizon, provided a right guidance at a right time is available through strategic minds.
CONTACT: Contact US

AJ Daniel
Corporate Sales, USA
Research Nester
Email: info@researchnester.com
USA Phone: +1 646 586 9123
Europe Phone: +44 203 608 5919


Latest posts by GlobeNewswire
(see all)