Two icons who have done so much to shape the story of Porsche in the U.S. – Alwin Springer and Patrick Long – will lead the largest Porsche fan gathering in the world at WeatherTech Raceway Laguna Seca in September
Porsche announces Grand Marshals for Rennsport Reunion 7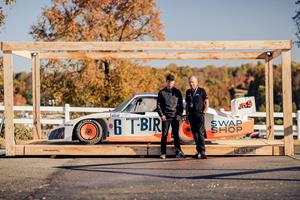 Atlanta, March 28, 2023 (GLOBE NEWSWIRE) —  Icons of Porsche is not just the theme for Rennsport Reunion 7, but represents the talented people who have pushed the limits, taken risks and bravely driven Porsche to success over the past 75 years as a sports car marque. Porsche Cars North America (PCNA) is proud to announce that two icons whose passion and determination positively influenced the brand both on the track and the road have accepted the nomination as Rennsport Grand Marshal. Alwin Springer, a leader in U.S. Porsche racing as well as very first CEO of Porsche Motorsport North America will be joined by an 18-year veteran driver of the Porsche works team, Patrick Long.
Both Springer and Long will preside over Rennsport Reunion 7 – taking place September 28 to October 1, 2023 at WeatherTech Raceway Laguna Seca near Monterey, California. In its six previous editions, Rennsport has become not only a celebration of Porsche passions of the past but also offers a glimpse into the future, hosting the global debut of new cars for the road and track.
Racing and the spirit of competition has been Alwin Springer's lifelong passion – and a dream come true. Alwin has been rooted in Porsche Motorsport for over 50 years – first as a technician, and ultimately as CEO of Porsche Motorsport North America from January 1990 to February 2004. Springer was instrumental in shaping the motorsport presence of Porsche in the United States into what it is today, and remains an intricate element of the marque to this day as a consultant.
This prestigious nomination clearly moved him: "I never dreamed one day I would be honored in this way," said Springer. "In my career, the goal has always been the next race. We focused everything on the next win. We didn't think about creating a legacy, but this is a result of that. I am not one for a show of emotion, but this has touched me."
Patrick Long, a three time IMSA Champion whose lengthy list of racing accomplishments also include GT wins in a Porsche 911 at the 24 Hours of Le Mans and Daytona as well as the 12 Hours of Sebring and the Petit Le Mans, is excited to be able to share the human stories defining the legends that have shaped Porsche motorsport legacy: "Porsche is special in that the history of our brand walks hand-in-hand with our motorsport history," said Long. "The icons of Porsche have influenced what has happened on track and on the street no matter what their titles might be. Alwin's influence can be seen on the track and on the roads today. That is what Rennsport is about and I am deeply honored to share this role with him. But we are only the figureheads. This is about the icons of the brand that we will have at Rennsport Reunion 7 this fall."
While the hundreds of the greatest Porsche race and road cars will be on display in the paddock and in competition on track, it is the people that make Rennsport Reunion a draw for enthusiasts and novices alike. With 75 years of Porsche history to draw from, icons of the Porsche world including legendary drivers, engineers, personalities and influencers will offer the personal insights of three-quarters of a century of automotive excellence impossible to find anywhere else.
For further details, updates and event highlights including special programming, news on Esports, fan zones, live stream opportunities, autograph sessions with drivers and a host of other off-track activities, fans can also visit the new, dedicated Rennsport website at PorscheRennsportReunion.com
Attachment
Porsche announces Grand Marshals for Rennsport Reunion 7
CONTACT: Frank Wiesmann
Porsche Cars North America, Inc. 
770.290.3414
pr@porsche.us



Latest posts by GlobeNewswire
(see all)