BotWay Software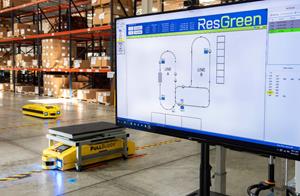 SHELBY TOWNSHIP, Mich., Jan. 27, 2023 (GLOBE NEWSWIRE) — ResGreen Group (OTC PINK: RGGI)
ResGreen Group International, Inc. (RGGI), a next-gen mobile robot and software solutions company, unveiled today a new Application Programming Interface (API) for its BotWay software that uses REST, an architectural style that makes it easier to integrate with other software systems and applications. REST or RESTful, which stands for Representational State Transfer, is an approach to communications that uses less bandwidth, making it more suitable for efficient internet usage.
"BotWay's REST API benefits our customers by making it easier for BotWay to integrate with other software systems such as Warehouse Management Systems (WMS), Manufacturing Executive Systems (MES) and Enterprise Resource Planning (ERP) systems," said Parsh Patel, CEO at ResGreen. "Our goal is to make BotWay the most interoperable and easy-to-use software in the industry from its REST API to remote interface and simulation capability."
The REST API makes it easier to retrieve information from BotWay such as where a mobile robot is located, the battery life of connected devices and how long the software has been operating.
The ResGreen team made additional updates to BotWay, such as introducing a new architecture for its command structure that enables integration with a more diverse group of robotic equipment, IoT (Internet of Things) devices and vehicles. The new command structure allows connected technology to use their own syntax to communicate with BotWay.
ResGreen also enhanced BotWay by adding a configurable archiving system that backs up important information such as data logs, performance logs and other metrics.
About ResGreen Group International, Inc. (RGGI)
ResGreen is a premier provider of automated material handling solutions, including interoperable software, Autonomous Mobile Robots (AMRs), Automatic Guided Vehicles (AGVs) and industrial automation devices. Connectivity and collaboration are the cornerstones of ResGreen's products, as well as Industry 4.0 and 5.0. ResGreen's team of experienced engineers use the Internet of Things (IoT), MQTT protocol and Robot Operating System (ROS) to design technologies that interface with a wide variety of automated equipment, electronic components and software systems. For more information, visit resgreengroup.com.
Contact:       
Sarah Carlson
scarlson@resgreengroup.com
A photo accompanying this announcement is available at https://www.globenewswire.com/NewsRoom/AttachmentNg/e89ce8e7-5042-4990-8627-7cbe9d2efebc


Latest posts by GlobeNewswire
(see all)