New Food Packaging Solution Combines Performance with Innovation to Lock in Freshness
Sabert EcoSnap Product Family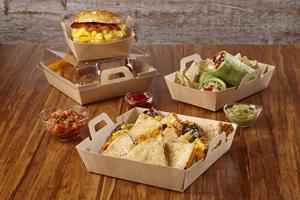 SAYREVILLE, N.J., May 23, 2023 (GLOBE NEWSWIRE) — As part of its continued commitment to sustainability, Sabert Corporation, a global leader in innovative and sustainable food packaging solutions, announced today its impressive new EcoSnap™ product family. Fully recyclable, EcoSnap™ features a clear PET lid that intuitively snaps onto a PFAS-free paperboard base with a unique audible locking system to keep food secure every time.
Along with the inventive snap-in technology and eco-friendly construction, EcoSnap is designed to help operators enhance how food items look on the shelf and taste on the dinner table. The stackable clear PET lid beautifully merchandises various hot and cold food items, such as gourmet baked goods, green salads, burgers and fries, poke bowls, sandwiches and wraps, tacos, chicken wings and more. In addition to being sustainable, the premium paperboard base has a water-based grease barrier to help maintain and protect food quality and integrity.
"Research shows consumers are going out of their way to recycle and looking for businesses to offer more sustainable products," said Stephny S. Halstead, Vice President, Marketing & New Product Development at Sabert Corporation. "We understand operators increasingly need food packaging products that are sustainable, safe and effective. EcoSnap™ delivers on all of those aspects and more. With 40 years of innovation and a strong focus on sustainability, Sabert is uniquely positioned to continue to help operators address their customers' growing demands and interests with best-in-class, eco-friendly food packaging solutions."
Easy for both operators and consumers to use, key EcoSnap™ features include:
Audible lid lock technology
Stackable design for merchandising, transport and storage
Splash proof fully recyclable PET lid
EcoSnap™ paperboard base is made from PFAS-free, FSC Certified Paper
Smooth wall lid for premium product presentation
Aqueous grease barrier to ensure consistent performance
Enhanced branding capabilities, such as colorful custom sidewall printing and embossed PET lids
The EcoSnap Paperboard Base and clear PET Lid are now available in 6X6, 6×9, 8×8 and 9×9. To learn more about Sabert's packaging products, please visit https://sabert.com/products/collections.
About Sabert
Sabert is a leading global manufacturer of innovative food packaging products and solutions. The company was founded in 1983 on a single purpose: to reinvent food packaging to nourish and protect our world. Headquartered in Sayreville, New Jersey, Sabert operates North American facilities in California, Illinois, Indiana, Kentucky, New Jersey, Texas, and Virginia as well as manufacturing facilities in Nivelles, Belgium; Kimbolton, England; Lodz, Poland; and Zhongshan, China. Using its proprietary Packaging Value Model™, Sabert combines deep insights about food lifecycles and consumer lifestyles, with fast and flexible production capabilities. Its industry-leading product designs encompass all five areas of innovative packaging: Performance, Presentation, Safety, Sustainability and Economics.  For more information, visit www.sabert.com.
Media Contact:
Marie VanAssendelft
201-724-6372
mvanassendelft@sabert.com
A photo accompanying this announcement is available at https://www.globenewswire.com/NewsRoom/AttachmentNg/4f3b1d6a-9d28-4d60-af0e-b1c6c8563a7d


Latest posts by GlobeNewswire
(see all)