Format, a Zenfolio owned company, partners with OCADU to Empower Canada's Art and Design Community
Students at Canada's Preeminent Art and Design University Win Prestigious Format Career Launcher Prize.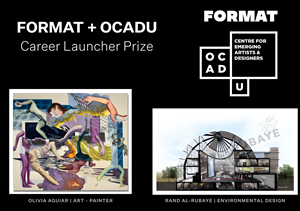 Menlo Park, CA, May 25, 2023 (GLOBE NEWSWIRE) — Format, the leading portfolio website provider for artists, designers, photographers, and creative professionals, is expanding its Educational Outreach initiatives with OCADU, the largest university for arts and design in Canada. 
In collaboration with OCADU's RBC Center for Emerging Artists and Designers, two students were awarded the first ever Format Career Launcher Prize.
Olivia Aguiar, a painter in the OCADU Department of Fine Arts, and Rand Al-Rubaye, an environmental designer in the Department of Design were each awarded a monetary Format Career Launcher Prize, along with a free Format Pro Plus lifetime subscription, and a one-on-one consultation with the Format Expert Site Building Team. Two runner-ups receiving a free one-year Format plan subscription were multi-disciplinary artist Rashvena Khosa and UX/UI designer Trinity Leon.
The selection of the Format Career Launcher prize winners is the culmination of a creative opportunity offered only to OCADU students who are graduating in 2023. The call for submissions started in January 2023 and required that each applicant present their creative work with a Format portfolio website. Submissions were judged by OCADU staff on the quality of their creative work and how well they related the narrative of their practice using their Format website.
John Loughlin, CEO of Format's parent company, said the awards reflect a continuing commitment to creative arts education. "The Format and OCADU partnership began in 2012 and we are pleased to advance our support of arts and design students, giving them the best opportunity to start a successful career immediately after graduation. The Format Career Launcher program furthers our commitment to students and educators and aligns with our pledge announced in 2022 to provide $1 million of free student website subscriptions." he stated.
Throughout the academic year, Format provides free webinars and workshops for OCADU students to teach them the foundations of building a portfolio and other professional practice principles. Format also provides all registered OCADU students with a free Format account while they are enrolled and for six months after graduation. Additionally, all OCADU alumni receive a 25% ongoing discount on Format annual plans to help support and build their professional careers.
Zev Farber, OCADU Director of the RBC Center for Emerging Artists & Designers, acknowledged the impact of the Format Career Launcher Prize. "Format provides OCAD University students with access to an easy-to-use, professional-grade platform which not only enhances the online profile of an individual's creative practice, but also measurably improves employment outcomes and other important markers of career success. The new Format Prize for graduating students further demonstrates their exceptional commitment to, and support for, the OCADU community."
About Format
Format is a website builder and content management system designed for creative professionals to showcase their work, collaborate with clients, and manage their business in a broadly accessible and secure online platform. 
The Format Prints Marketplace (PrintsMarketplace.com), is an online gallery that sells museum grade prints from artists and photographers around the world.
Format was acquired by Zenfolio in 2021.
Attachment
Students at Canada's Preeminent Art and Design University Win Prestigious Format Career Launcher Prize.
CONTACT: Zenfolio
pr@zenfolio.com



Latest posts by GlobeNewswire
(see all)