Becker's Top 150

Becker's Top 150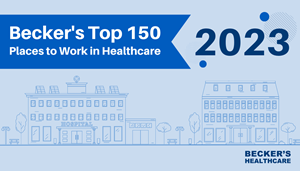 Sayre, Pa., March 28, 2023 (GLOBE NEWSWIRE) — The Guthrie Clinic is proud to announce that they have been named to Becker's Healthcare 2023 list of "150 Top Places to Work in Healthcare." 
Becker's Review is the leading healthcare industry news outlet for business analysis. The hospitals, health systems and companies included on this list are exceptional employers, many of which invest in team members' professional development, wellness benefits and continued education. The list honors healthcare establishments that are committed to advocating for diversity in the workplace, promoting work-life balance, and boosting employee engagement.  
This is the first time Guthrie has received this prestigious award. Dr, Edmund Sabanegh, President and CEO, The Guthrie Clinic said, "This extraordinary honor is a testament to our caregivers, and their hard work and dedication to our community. Recognitions such as this affirm for our caregivers – and for candidates — that Guthrie is the right choice to work and build a rewarding career."  
The list is intended to shine a spotlight on hospitals, health systems and healthcare companies that have a positive impact on the lives of their employees and communities. Guthrie was one of 96 health systems in the nation recognized and the only locally-based system in  its service area to receive this designation. 
About Guthrie:  
The Guthrie Clinic is a non-profit multispecialty health system that integrates clinical and hospital care with research and education. Located in Sayre, Pennsylvania, The Guthrie Clinic is one of the nation's longest established group practices, founded in 1910 by Dr. Donald Guthrie with a vision of providing patient-centered care through a clinically-integrated network of employed providers. It is an industry leader in the use of technology and electronic medical records to provide high-quality care. Among The Guthrie Clinic's 6,500 caregivers are more than 700 physicians and advanced practice providers, representing the spectrum of medical specialties and sub-specialties. The Guthrie Clinic is a five-hospital system with a large network of outpatient facilities that spans nearly 9,000 square miles in Pennsylvania and upstate New York. It is dedicated to training the next generation of health care leaders, offering seven residencies and three fellowships.     
Visit us at Guthrie.org. Follow us at Twitter.com/GuthrieClinic, Facebook.com/TheGuthrieClinic, Linkedin.com/company/TheGuthrieClinic, and Instagram.com/TheGuthrieClinic.      
About Becker's Healthcare: 
Becker's Healthcare is the go-to source for healthcare decision-makers and one of the fastest growing media platforms in the industry. Through print, digital and live event platforms, Becker's Healthcare equips healthcare leaders with information and forums they need to learn, exchange ideas and further conversations about the most critical issues in American healthcare today. 
Attachments
Becker's Top 150
Becker's Top 150
CONTACT: Kathy Cramer
Guthrie
570-887-4415
kathleen.cramer@guthrie.org



Latest posts by GlobeNewswire
(see all)