McGregor and his company have given the foundation $3.7 million to date
Proper No. Twelve presents a $1 million check to the Tunnel to Towers Foundation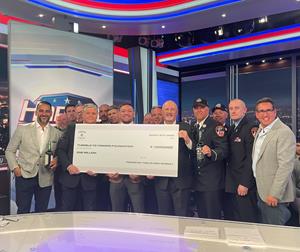 Staten Island, New York, March 17, 2023 (GLOBE NEWSWIRE) — The Tunnel to Towers Foundation announced that it has received a generous $1 million donation from Proper No. Twelve Irish Whiskey, founded by Multi-Weight UFC Champion Conor McGregor.
The global entrepreneur, restaurateur, athletic icon, and soon-to-be movie star made the announcement Wednesday on Fox News' Hannity, where he presented Tunnel to Towers Chairman & CEO Frank Siller with a check.
"I'm proud of Proper No. Twelve, and all the people working behind the scenes at Proper No. Twelve to make this happen," McGregor said. "As human beings, it is a must to give back. That's what life is about, giving back."
This donation marks $3.7 million donated by Proper No. Twelve to the Tunnel to Towers Foundation since March 2020.
At Proper No. Twelve's launch in late 2018, McGregor and his partners pledged that the whiskey company would donate $5 for every case sold, until donations reached $1 million annually, to first responder organizations around the world. 
During the check presentation, program host Sean Hannity announced he would also make a $100,000 donation to the Tunnel to Towers Foundation.
"We are so grateful for Conor and Proper No. Twelve's continued support of the first responder community here in the States and worldwide. Without the generosity of people like Conor, the Proper No. Twelve team, our monthly donors, and supporters like Sean Hannity, we would not be able to do the work that we do for America's heroes," said Foundation Chairman & CEO Frank Siller.
For more information about the Tunnel to Towers Foundation, please visit T2T.org.
About the Tunnel to Towers Foundation
Born from the tragedy of 9/11, the Tunnel to Towers Foundation carries out its mission to "do good," by providing mortgage-free homes to Gold Star and fallen first responder families with young children and by building specially-adapted smart homes for catastrophically injured veterans and first responders. Tunnel to Towers is also committed to eradicating veteran homelessness and helping America to Never Forget September 11, 2001. Visit T2T.org to learn more.
Follow Tunnel to Towers on Facebook, Twitter, and Instagram.
Attachment
Proper No. Twelve presents a $1 million check to the Tunnel to Towers Foundation
CONTACT: Caroline Magyarits
Tunnel to Towers Foundation
718-987-1931
caroline.magyarits@t2t.org



Latest posts by GlobeNewswire
(see all)