New heat stress solutions added to Chill-its line of Cooling
Chill-Its Cooling Technologies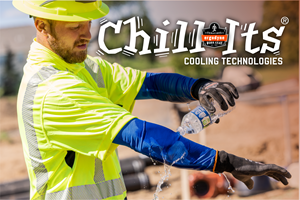 Saint Paul, March 27, 2023 (GLOBE NEWSWIRE) — With a potential federal heat stress standard years away, work safety advocate and PPE innovator Ergodyne is stressing the urgency of now in protecting workers from the dangers of environmental heat––the cost of which the Occupational Safety and Health Administration (OSHA) acknowledges is vastly underestimated.
Ergodyne was one of the first industrial safety manufacturers to address the risk of occupational heat stress with its launch of evaporative cooling gear in the 1990s.
In the time since, several states including California, Washington, Minnesota and recently Oregon have enacted heat stress standards of their own, but a federal regulation––first proposed by NIOSH 50 years ago––has failed to come to fruition.
CalOSHA found a 30% reduction of related injuries in the state since they passed the nation's most stringent heat laws in 2005.
Nationally, the Bureau of Labor Statistics (BLS) reported 1,940 injuries and 56 deaths due to environmental heat in 2020, though many heat-related incidences go unreported or are categorized under another injury initially caused by lowered cognitive or physical functioning due to excessive heat.
A report from consumer interest group Public Citizen found that "Heat is likely responsible for at least 170,000 work-related injuries and between 600 and 2,000 occupational fatalities in the United States every year, which would rank it third among all causes of worker injuries and death".
In September of 2021, the US Department of Labor announced enhanced, expanded measures to protect workers from hazards of extreme heat, indoors and out. Those measures included the launch of a rulemaking process to develop a workplace heat standard and deployment of a National Emphasis Program (NEP).
The NEP targets over 70 high-risk outdoor and indoor industries––primarily within construction and manufacturing where exposure is particularly high––and greenlights OSHA to conduct heat-related inspections while encouraging protective measures such as training, acclimatization procedures, and access to water, rest and shade.
"The data from state-level heat stress standards are definitely encouraging," says Alsie Nelson, Product Director, Ergodyne and member of the International Safety Equipment Association's (ISEA) Heat Stress Group. ISEA is a recognized leader in the development of American National Standards Institute (ANSI) and other globally accredited safety equipment standards, as well as a key stakeholder in occupational safety rule making.
Nelson is charged with spearheading Ergodyne's heat stress awareness and education initiatives, along with the development of cooling PPE, work shelters and hydration solutions. "Heat stress laws like California's have clearly shown to protect worker health in the face of extreme heat waves, which are becoming more and more frequent," says Nelson.
"So to see movement on the federal level is obviously a significant development…though, the reality is, a federal standard wouldn't take hold for likely another 5 to 7 years, even under the most favorable circumstances."
According to the Environmental Protection Agency (EPA), the average heat wave season is about 49 days longer now than it was in the 1960s. That becomes especially consequential, the agency states, because heat waves occurring earlier in the spring or later in the fall catch people off-guard, increasing exposure to the health risks associated with heat waves.
"Weather patterns are becoming more and more unpredictable, which increases the danger," says Tom Votel, Ergodyne President/CEO and Board Chair of ISEA. "OSHA's advanced notice of proposed rulemaking is a critical step in beginning to address this serious and growing workplace issue."
"But this is not the safety community's queue to step off the gas," continues Votel. "Now more than ever, we need the intense effort of occupational safety leaders such as the American Society of Safety Professionals (ASSP), ISEA and myriad others to urge protection of workers from heat exposure through prevention programs and products."
Nelson states that while heat stress is an immediate and far-reaching danger for workers, the mitigation measures are relatively simple. "OSHA's focus on water, rest and shade for reducing illness and injuries is as straight-forward as it gets. There's no reason any worksite should be without a prevention plan."
Safety managers and work crews can find more heat stress guidance from OSHA at www.osha.gov/heat.
Ergodyne also provides heat stress education and PPE recommendations at www.ergodyne.com/heat-stress.
To learn more, email support@ergodyne.com or call 800-225-8238 // (651) 642-9889.
ABOUT ERGODYNE
Since 1983, Tenacious Holdings, Inc. (dba Ergodyne, a Klein Tools Company) has pioneered the development of products that Make The Workplace A Betterplace™. What started with just one product has grown into a line of top flight, battle-tested, Tenacious Work Gear®; all precision crafted to provide protection, promote prevention and manage the elements for workers on jobsites the world over. The current lineup is extensive and constantly growing: ProFlex® Hand Protection, ProFlex® Knee Pads, ProFlex® Supports, Skullerz® Head & Face Protection, Skullerz® Eye Protection, Trex® Footwear Accessories, KREW'D™ Skin Protection, Chill-Its® Cooling Products, N-Ferno® Warming Products, GloWear® Hi-Vis Apparel, Squids® Lanyards, Arsenal® Gear and Tool Storage, and SHAX® Portable Work Shelters.
Originally posted on: www.ergodyne.com
Attachment
Chill-Its Cooling Technologies
CONTACT: Ergodyne
(651) 642-9889
tenaciousnation@ergodyne.com



Latest posts by GlobeNewswire
(see all)