Marcus Hiles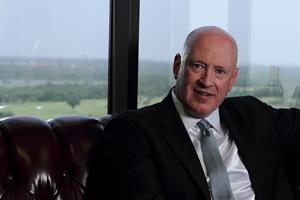 Marcus Hiles: CEO of Western Rim Properties
DALLAS, April 16, 2019 (GLOBE NEWSWIRE) — Sitting lakeside in the North Texas community of Rowlett is leading development firm Western Rim Properties' Bayside rental complex, The Towers. Opening their doors in 2018, the project is positioned right in the heart of Lake Ray Hubbard, an ideal setting for young professionals and families who want the luxury of renting in a lake-oriented area where a thriving residential and business community exists.
Now nearly one year after introducing the property to the city of Rowlett, Western Rim reports rentals continue to hit full capacity, especially now as we enter into the summer months. Offering what the firm described as the ultimate resort lifestyle, "The Towers at Bayside feature an eight-acre Crystal Lagoon, miles of lakefront trails, as well as centralized park and green space areas for tenants to enjoy," shares CEO and founder of WRP, Marcus Hiles. The property that sits on miles of sprawling Lake Ray Hubbard shoreline, was built to cater to tenants looking to take advantage of the outdoors while having easy access to recreational activities. "The amenities of this rental property are unique in that the complex sits directly on the lake's shoreline. This provides tenants the ability to take advantage of sports like sailing, kite skating and boating from The Towers' newly renovated Bayside Boat Club," shares Marcus Hiles, a veteran in the rental property industry who has established over 25,000 property units throughout his 30-year career.
A city which reported to have over $1 billion in property development projects last year has become a magnet for those looking to be located in a city suburb with residential and rental housing options. Situated just 19 miles northeast of Dallas, the suburb community of Rowlett is tucked between the city of Garland and Lake Ray Hubbard and offers a network of business and professional opportunities to residents. This close proximity to key city areas in the DFW metro is also backed by the location's wide accessibility to transit options and roadways for commuters.
The 400+ unit rental property that sits 4 stories high is not the only apartment development Western Rim has introduced in Rowlett. Also, in the area is The Mansions at Bayside which also has over 400 units and was built in 2018. New projects are also in the horizon for the Texas property firm. Part of their 2019 property development, Western Rim will launch another new community in the area as part of their growing network of rental projects. Much like The Towers, the newest addition to the firm's projects will be their community, The Mansions at Bayside which will offer 1 to 4-bedroom units starting at $1,100 and primarily targeted to the largest group of today's renter community, young professionals and families.
With the success of their 2018 projects that continue to reach full tenant capacity, Western Rim feels there is a strong potential for future growth in the Rowlett area. As the summer months approach the firm will continue to track the success of their completed projects and work to successfully launch the opening of their new 2019 communities.
YouTube: https://www.youtube.com/channel/UCwrLIhyaB0p_0F1gWg4R7cA/videos
Houzz: https://www.houzz.com/pro/marcushiles/marcus-hiles
Instagram: https://www.instagram.com/marcus.hiles/
A photo accompanying this announcement is available at http://www.globenewswire.com/NewsRoom/AttachmentNg/6de59f5d-e171-4440-9858-9bc319515918 
CONTACT: Media Contact:
Marcus Hiles
[email protected]

GlobeNewswire,is one of the world's largest newswire distribution networks, specializing in the delivery of corporate press releases financial disclosures and multimedia content to the media, investment community, individual investors and the general public.

Latest posts by GlobeNewswire (see all)