Since the launch of its new division in 2021, the agency has won several prestigious awards for its unparalleled level of design, elevated visuals and superior web 3.0 standards.
DD.NYC: Women-Owned Full-Service Design Agency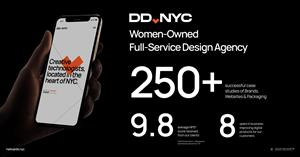 New York, New York, March 27, 2023 (GLOBE NEWSWIRE) — DD.NYC®, a women-owned, previously software-focused digital agency, has spearheaded a brand-new design division focused on branding and award-winning web design. With its own trademark, copyright, and website, DD.NYC® (of DigitalDesign.NYC), has quickly established itself as a distinct brand offering bespoke design solutions to its various notable clients.
Following the division's launch in November 2021, DD.NYC® has gained recognition for its unparalleled level of design, and has already been compared favorably to some of the largest agencies in New York, Los Angeles, and San Francisco.
"We're very proud of what we've been able to accomplish in such a short time since launching the new division," said Anjelika Kour, Managing Director of DD.NYC®. "For almost nine years, we've been categorically focused on tech and software, but with the launch of DD.NYC®, we're spearheading a new level of design with the branding, packaging and award-winning web design as the main focus, and it's been tremendously successful without almost any PR and marketing."
DD.NYC® has raised the standard not just in terms of its exceptional design, but also its elevated visuals and adherence to web 3.0 standards. In just 5 months, the agency has won several prestigious awards, including the 2023 Annual Anthem Awards Bronze Award, the World Brand Design Society (WBDS) Commended Award, and five Honorable Mention Awards from the Awwwards Council. Additionally, DD.NYC® has been certified as a Minority-and Women-Owned Business Enterprise by both the State of New York and the NYC Small Business Services (SBS).
DD.NYC®'s focus on branding has proven to be the key to its success, as evidenced by its impressive portfolio of clients. DD.NYC® was chosen to fully rebrand and redesign the website for Adweek's Agency of The Year selection for two consecutive years, as well as to redesign the experiential marketing firm of  Diageo, a global leader in beverage alcohol, and the Ms. Foundation for Women's 50th Anniversary Gala. DD.NYC® is also responsible for the Accelerate event presentation branding for VTS, the commercial real estate industry's leading technology platform in New York, further cementing the agency's reputation for excellence.
DD.NYC®'s dedication to excellence has earned high praise from its clients, including Calondra McArthur, Director of Communications at Ms. Foundation for Women, who said, "It's been an absolute joy to work with the team at DD.NYC. Their professionalism, passion and talent elevated our marquee anniversary event to the next level through the creative design concepts and refined visuals they produced. We're thrilled with the delivered results."
Another satisfied client, VTS, had this to say: "It's been a true pleasure to work with Anjelika and the Digital Design team. They're quick, talented, and were able to take our brand guidelines and come up with stunning visuals that will resonate with an executive audience. We look forward to working with them further!"
Symphony Sleep, a subsidiary of Innovative Sleep Technologies, has also been impressed with the results. According to John Schulte, President and CEO at Innovative Sleep Technologies, "These have been the most intense three months and the DD.NYC® team has been fantastic. Deciding on who to partner with gave me such anxiety……really. Best decision I've made so far. Without question, the BEST decision I've made."
DD.NYC® also worked with Theodo and Chelsea Film Festival on multiple projects, delivering exceptional results within a short timeframe, while being mindful of the budget and envisioned goals. Nicolas Taborisky, CEO at Theodo, had this to say about the experience: "DD.NYC® finished the first project in record time. They were extremely professional and had highly skilled individual contributors. The team also had amazing transparency on their progress; the co-founder was highly involved in the project, ensuring everything went well. The end clients were truly happy with the work we provided with DD.NYC® – this was the biggest measure of success for us."
Ingrid Jean-Baptiste, Founder & Artistic Director at Chelsea Film Festival asserted that, "DD.NYC® is your go-to branding agency for any project requiring exceptional, state-of-the-art design that will fit your budget and vision." 
DD.NYC®'s success is due in part to its nimble approach, from inception to finish, that allows it to deliver exceptional results, while also expediting budgets and reducing bureaucracy. Today, DD.NYC® specializes in branding, packaging design, and award-winning web design, and has quickly emerged as a leading player in the industry. 
To learn more about DD.NYC®'s services and how they can elevate your brand, visit their website at https://dd.nyc/
For more information and to schedule an interview with DD.NYC Managing Director, Anjelika Kour, please contact Katie Zeppieri at: katie@themicdropagency.com.
About DD.NYC:
DD.NYC® (of DigitalDesign.NYC) is a leading digital design agency based in Manhattan, specializing in innovative branding, award-winning web design, UI/UX, and packaging design, across a wide range of industries. Founded in 2015, the agency is dedicated to delivering quick and reliable results for its clients, making them the agency of choice for results-driven managers and companies. DD.NYC®'s experienced founders have been building digital products for almost two decades, bringing extensive knowledge and expertise to every project. They work closely with clients to understand their unique needs and goals, and develop tailored solutions that meet their specific requirements. With over 250 satisfied clients and numerous industry recognitions, DD.NYC® is committed to helping businesses succeed in the digital and real world. For more information, visit https://dd.nyc/.
Attachment
DD.NYC: Women-Owned Full-Service Design Agency
CONTACT: Katie Zeppieri
DD.NYC
katie@themicdropagency.com



Latest posts by GlobeNewswire
(see all)