The triple top pattern is a reversal pattern made up of three similar highs and usually follows an up-trending market. Typically, the pattern is formed in a relatively short period of time and confirmation of the triple top usually stems from a break below support.
Another signal of confirmation can also be found with the overall level of volume. Volume, generally, declines as the pattern is forming and an increase in volume during the subsequent decline after the third high greatly supports the bearishness of the triple top pattern.
The lowest point of the formation is, usually, seen by technicians as the key support level and once this level is broken and subsequent rallies trying to pierce through this once-support level (now posing as a resistance) fails, the bears have won the battle and the triple top pattern is confirmed.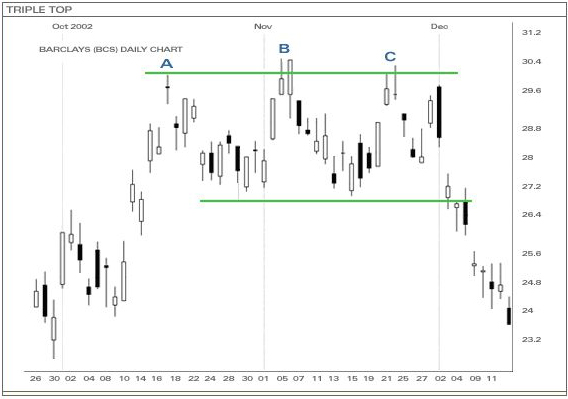 The above example shows the price in an up-trend to point A. It then traded in a range for about a month and a half, failing to pierce through resistance at points B and C. With not enough demand, the price then fell through the intermittent low and support of the triple top pattern (bottom line on chart) and thus, helped confirm the bearish pattern. Subsequent rallies in the future would now have to test the new resistance level (former support level) formed by this pattern.
Need A Business Loan? Borrow From A ForexTV Certified Partner