ForexTV Content Marketing Services
ForexTV offers a powerful suite of services to support a wide range of online content marketing efforts. Our 15 years of experience has been proven in the areas of: content marketing, content re-purposing, video production, Search Engine Optimization (SEO), inbound marketing, press release distribution and lead generation. Companies of all sizes and from varied industries have relied on ForexTV to assist in their marketing efforts.
Our services extend beyond the forextv.com web site and brand to include a complete web-based marketing offering.
Our Philosophy on Marketing

Not to be confused with conventional advertising, ForexTV Marketing Services takes a disciplined view of brand and product development. We have been around long enough to know that most "overnight success stories" actually take time develop.
We have over 15 years of solid marketing experience with blue-chip clients and we are in business for the long-run. While we endeavor to stay on the cutting-edge of marketing developments, we do not chase fads and micro-trends as a matter of strategy. We provide consistent, tested and verifiable services to our clients.
Online marketing has allowed companies to very precisely measure the habits and characteristics of customers and buying cycles and implement strategies that have highly measurable and predictable outcomes. Adhering to these online marketing principles allows us to replicate success and deliver meaningful results.
Marketing online requires discipline and knowledge. No program is guaranteed and there is a lot of planning and hard work involved in a successful marketing plan. Having an online roadmap is only a part of the challenge. Companies that wish to engage in online marketing must adapt a culture of industry leadership characteristics. They must be willing to put their industry knowledge ahead of all else, and be able to demonstrate that on a consistent basis.
3 Stages of the Online Buying Cycle
According to online marketing platform provider Hubspot, there are three stages to an online buying cycle.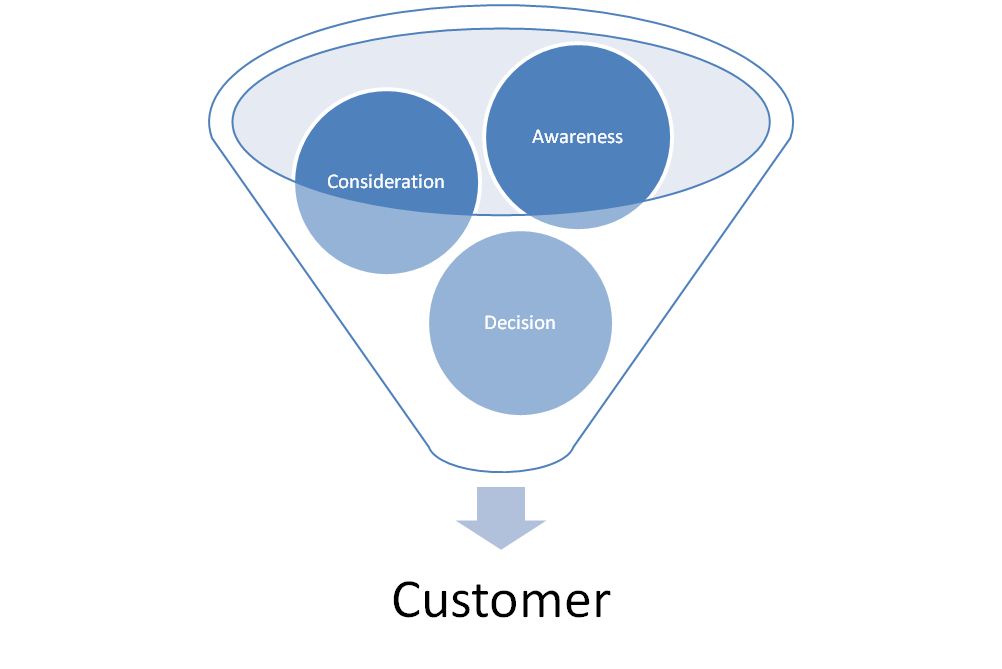 Awareness Stage – This is the stage when a potential customer begins to be aware of a need, opportunity or problem,
Consideration Stage – The buyer begins to explore options to fill a need solve the problem or take advantage of an opportunity,
Decision Stage – The buyer understands the need, problem or potential opportunity; they have an idea of how to fulfill the solution and are looking to purchase resources to accomplish the goal.
How you try to engage a buyer at each stage of the buying cycle will likely affect the outcome of your marketing and sales efforts. After all, if a person decides they may want to purchase a new home, you would not try to sell them a homeowner's insurance policy, would you? Of course not, they are too early in the cycle. But if an insurance salesman offered that same person a guide to new home ownership that helped the buyer navigate through the buying process successfully, that buyer would have a much higher likelihood of buying an insurance policy from that salesperson.
The Ideal Company For Online Marketing
Not every company can succeed in online marketing. Marketing online can be challenging. Social media has brought a highly revealing transparency to the game. Consumers and business clients purchase differently online and buyers are armed with a wealth of information and thought-validating peer reviews online. Online marketing requires discipline, hard work and leadership.
Are you ready?
[button color="blue" size="medium" link="https://forextv.com/category/online-marketing/" ]ForexTV Online Marketing Blog[/button]