What is Inbound Digital Marketing?
Essentially, inbound digital marketing is a process of marketing that results in potential customers you have never engaged with before coming to you to learn more about your products and services.
This differs from traditional marketing like cold-calling, banner or display advertising, or even worse, spamming potential customers where you make an "intrusive" or "cold" first contact.
Inbound marketing has its roots in a concept called "consultative selling." Put another way, you are taking steps to act as a consultant or thought-leader to a potential customer by demonstrating expertise in, an understanding of that customer's needs. Buyers tend to make purchases more from people they trust and have familiarity with.
In the digital world, you establish and demonstrate your understanding of customer needs by providing educational content, case studies, frequently asked questions, etc. relevant to those needs. When it comes to the buying decision, you will have a head start on the competition if you establish credibility first with the buyer.
When engaging in an inbound marketing strategy, it is advisable to rely on a marketing platform such as Hubspot to manage the process, track and nurture leads, and handle your customer relationship management database. There are several platforms you could choose from (see marketing platform reviews here), but for the purposes of this article, I will be referring to some of the practices outlined by Hubspot for inbound marketing.
Know Your Audience
As with any marketing strategy, you will need to conditionally identify your target audience profile for the product or service you are promoting. Try to create a typical customer profile including: lifestyle attributes, related interests, demographic attributes and possible keywords your target profile might type into the search engines to learn more information about possible purchases.
This is an ongoing practice, you will constantly be refining and segmenting your audience as your list grows and you get more information about your customers
Let's examine Hubspot's inbound methodology step-by-step.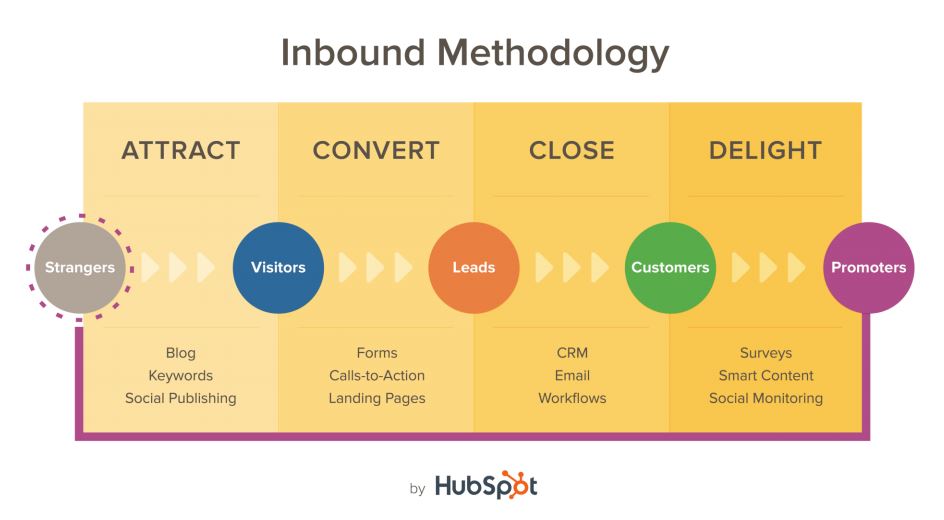 Attract
Starting with ("Attract" in the diagram above), your first step in the inbound strategy is to establish (attract) the attention of potential customers.
Keep in mind that this requires that you have access to a robust SEO channel with the ability to have your content indexed in the search engines; ideally, Google and Google News search. In addition, you will utilize social media assets to amplify and enhance your content. Also, remember that this content should be optimized for your target keywords (what you think potential customers will search for to find your product or service).
Goals:
Create content that has a purpose, will attract potential customers to your blog, web site or social media presence,
Offer significant value and education in your content to instill a sense of confidence and respect on the part of the reader,
Format the content so it is easy to read and understand
Convert
If you have effectively managed to create compelling, useful content and get your content visible to potential users that should result in visitors coming to your site or blog. If you are not getting traffic, try to evaluate the keywords you are targeting. If that does not help, you may want to evaluate your distribution channels. Do they get any traffic? Do you have followers on your social media channels?
When visitors arrive, they should find appropriate landing pages, an enticing call to action (CTA) or forms where you can capture some basic contact information and ideally gain further insights into the customer profile. Remember; give visitors a reason to fill-out a form. Offer some further information in the form of a white paper, e-book or free newsletter.
This may take several visits to accomplish. Building trust is based on repetition. This is why it is important to produce content on a regular basis and to build a strong, up-to-date content library.
Goals:
Expose expanded content offerings to visitors
Encourage multiple visits
Convert a visitor into a lead that voluntarily gives you some basic contact information
Close
By this point, potential customers will have some familiarity with your company. They have likely read one or more articles, browsed your blog or web site, visited your social media pages, or a combination of these. They have also trusted you enough to give you some contact information.
Now it's time to "close" on an offering. A well-written product or service email offering should reinforce what they have learned and leverage the trust you have build in the first few stages of your inbound marketing campaign. You should now be asking your customer to make a purchase with a well-placed offering.
Goals
Make the sale, or
Try a trial close.
Delight
This journey does not end at the sale! Marketers can learn and earn a lot from an existing customer in several ways. It's a well-known fact that existing customers are the biggest source of sales in a company.
You want to delight your customers by providing follow-up (post sales) support and customer satisfaction activity. Surveys, polls and other feedback are excellent ways to refine your products, process and service. There is valuable information to be gained by existing customers.
Also, remember that in today's digital world, most people base their buying decisions on peer recommendations. A happy customer will very likely become a promoter.
Goals
Gain post-sales intelligence
Provide excellent follow-up support
Make your customers promoters of your company
These are the broad strokes of inbound marketing. Dig deeper into each of these areas and you will build a strong inbound marketing presence that will provide your company with a consistent source of qualified marketing leads.