Provides a seamless shopping experience by integrating inventory and shipping services
ROHM's New e-Commerce Platform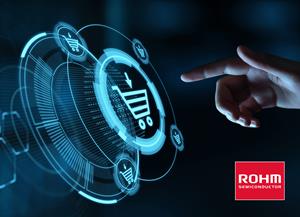 How to Buy Products on ROHM's Website

Santa Clara, CA and Kyoto, Japan, Nov. 15, 2023 (GLOBE NEWSWIRE) — ROHM Semiconductor today announced a significant step towards enhancing customer experience by launching a new e-commerce platform[1] that allows customers to easily purchase products directly on ROHM's website.
This latest development comes in response to the evolving landscape in the semiconductor industry of offering direct-to-consumer purchasing. It is now possible to buy products on ROHM's site without the need to navigate to a third-party. Simply click on the Buy button in the parametric search results or enter the part number manually to add products to the cart and complete the purchasing process.
What's more, registering on MyROHM provides the added benefit of facilitating checkout by eliminating the need to re-enter personal information for every transaction, while enabling easy access to past orders. In short, this new e-commerce platform is designed to not only deliver an enhanced user experience, but also allow ROHM to better understand end-customer needs and propose optimized solutions.
Jay Barrus, President, ROHM Semiconductor U.S.A., LLC
"We are pleased to announce the integration of e-commerce functionality to our website. This not only streamlines the procurement process, but also underscores our focus on innovation and convenience. The new e-commerce features allow access to our extensive catalog of semiconductor products, and registered users can place orders, track shipments, and quickly re-order parts. ROHM has always been at the forefront of technological innovation, and this addition is a testament to our commitment to continuously improve our products and services."
For more information, please visit ROHM's website: www.rohm.com
---
[1] Currently available on only ROHM Americas website.
Attachments
ROHM's New e-Commerce Platform
How to Buy Products on ROHM's Website
CONTACT: Travis Moench
ROHM Semiconductor
858.625.3600
tmoench@rohmsemiconductor.com

Heather Savage
BWW Communications
720.295.0260
heather.savage@bwwcomms.com