North Texas Food Bank book helps create a conversation about the issue of hunger with children in a creative and easy-to-understand way.
Hunger Bugs Me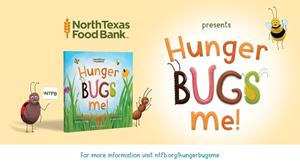 Dallas, TX, Nov. 14, 2023 (GLOBE NEWSWIRE) — The North Texas Food Bank (NTFB) in partnership with Atmos Energy, has donated copies of the children's book, Hunger Bugs Me!, to 785 elementary school libraries across the 13 counties served by the North Texas Food Bank.
Published in 2021, this book was produced by the NTFB to create a conversation about the issue of hunger in the community. Through a story about Lady Bug and her friends, children are able to learn about the complex problem of food insecurity in an easy-to-understand way and walk away with ideas about how they can be a part of the solution.
"It is surprising to most that North Texas has the fourth-highest number of people facing hunger across the nation – about 640,000, and tragically more than one-third of those are children," said Trisha Cunningham, president and CEO of the North Texas Food Bank. "The Hunger Bugs Me! book was created to engage children and help them not only understand the issue of food insecurity in their community but also show them that they can be a part of the solution."
Since the book's launch, Hunger Bugs Me! has received overwhelmingly positive support, with teachers, librarians, children and families recognizing the book's important message about children facing hunger. In addition to the book, there are Downloadable Resources that accompany the book Hunger Bugs Me! The PDF includes a conversation guide that has some quick tips to help adults talk to children about the issue of hunger.
Written by Jeremy Gregg and illustrated by Arlene Soto, the book was made possible thanks to the generosity of the Richard and Mary Templeton Foundation. Hunger Bugs Me! is a charming story about friendship and compassion written with the goal of enabling a conversation about the issue of hunger; making it easy for children to understand this complex problem. In the book, Ladybug and her friends embark on an adventure in Jan's Garden at the NTFB Perot Family Campus to help their friend, Butterfly, who is facing hunger.
Distribution of the books to the 785 schools located in 106 school districts was made possible through a generous $100,000 donation from Atmos Energy. In partnership with hundreds of organizations, Atmos Energy's Fueling Safe and Thriving Communities outreach benefits school districts, nonprofits, after-school programs and food banks through everything from backpacks and laptops to nutritious breakfasts to books that help early childhood learners.
"Atmos Energy has been a long-standing supporter of the North Texas Food Bank and helping to fund the distribution of the Hunger Bugs Me! book was a natural collaboration as it supports our goals of addressing food insecurity as well as education in the communities that we serve," said Kelly Bielger, Atmos Energy vice president of public affairs. "We are pleased to partner with the North Texas Food Bank in distributing this book to elementary schools across North Texas."
Hunger Bugs Me! is available for purchase on the NTFB website at https://ntfb.org/hungerbugsme/ for $30. Proceeds from each book benefit the North Texas Food Bank and provide 90 meals to North Texans facing hunger.
###
 About North Texas Food Bank
The North Texas Food Bank (NTFB) is a top-ranked non-profit hunger-relief organization that sources, packages and distributes food through a network of about 500 Partner Agencies and organizations across 13 North Texas counties. The organization also provides food to children, seniors and families through various direct-delivery programs, including mobile pantries.
In its last fiscal year, the NTFB provided access to more than 144 million nutritious meals or nearly 400,000 meals a day, a five percent increase over the prior year. The North Texas Food Bank is designated a 4-Star Exceptional organization by Charity Navigator based on its governance, integrity and financial stability, and is ranked 87th on Forbes 2022 Top 100 Charities in America. NTFB is a member of Feeding America, the nation's largest hunger-relief organization.
About Atmos Energy
Atmos Energy Corporation, an S&P 500 company headquartered in Dallas, is the country's largest natural gas-only distributor. We safely deliver reliable, affordable, efficient and abundant natural gas to more than 3 million distribution customers in over 1,400 communities across eight states located primarily in the South. As part of our vision to be the safest provider of natural gas services, we are modernizing our business and infrastructure while continuing to invest in safety, innovation, environmental sustainability and our communities. Atmos Energy manages proprietary pipeline and storage assets, including one of the largest intrastate natural gas pipeline systems in Texas. Find us online at http://www.atmosenergy.com, Facebook, Twitter, Instagram and YouTube.
Attachment
CONTACT: Jeff Smith
North Texas Food Bank 
469-891-7022
jeff.smith@ntfb.org



Latest posts by GlobeNewswire
(see all)