Pliops XDP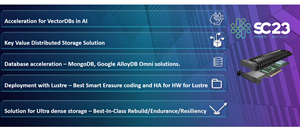 Pliops XDP Data Services Platform Takes PostgreSQL to the Next Level
SAN JOSE, Calif., Nov. 14, 2023 (GLOBE NEWSWIRE) — In conjunction with this week's SC23, which focuses on high-performance computing, networking and storage, Pliops, a leading provider of data processors for cloud and enterprise data centers, is highlighting its storage solutions addressing the demands of these massively complex, data-laden applications.
Running on the Pliops Extreme Data Processor (XDP), the Pliops portfolio of XDP Data Services maximize data center infrastructure investments by exponentially increasing application performance, storage reliability and capacity, as well as overall stack efficiency. At SC23, Pliops will discuss how XDP Data Services help optimize data infrastructure and accelerate modern workloads, while in tandem reducing TCO by 50%.
For example, drug discovery and development company Eikon Therapeutics is using Pliops XDP to improve overall operations and address data growth, with a particular focus on performance, reliability, high availability and disaster recovery. Eikon's Starfish software application, which stores and manages billions of drug discovery protein molecular files and objects that traverse millions of directories, was being pushed to its limits due to Eikon's use of high-throughput automation and powerful, AI-driven analytics.
The company's PostgreSQL database server performance was impacted due to the limitations of traditional hardware RAID and lack of hardware acceleration. Pliops XDP overcame the limitations of conventional RAID controllers and, in tandem, accelerated the application performance, enabled higher endurance, usable life and unlocked capacity for enterprise SSDs through its always-on compression engines. The Pliops solution impressed the Eikon storage team and has significantly improved performance, as well as reduced operational overhead. For the complete results, access the case study here.
Using Pliops XDP results in:
Up to 10x throughput improvement
Up to 2x higher database storage density
SSD write amplification factor reduction from 20x to 1x
Cost per TB reduced by 55%
No dedicated hot spare required and protection against 2 sequential drive failures with Virtual Hot Capacity (VHC)
"At Eikon, we are building on Nobel Prize-winning super-resolution fluorescence microscopy tools to enable exquisitely precise measurement of the dynamic behavior of individual protein molecules in living cells, on a massive scale", stated Patrick McNamara, director, R&D Computing, Eikon. "We are delighted to be working with Starfish and Pliops to improve the performance and data reliability of our PostgreSQL databases, as we accelerate our critical cancer-cure research."
"Starfish architected its high-performance software specifically for managing files and objects at any scale, ranging from departmental file shares to the world's largest supercomputing file systems," stated Jacob Farmer, CTO, Starfish. "We value our partnership with Pliops and are enjoying the impact its XDP technology has on PostgreSQL performance and reliability."
"As we continue to expand our offerings and footprint, high-performance computing has become a key market," noted Moshe Twitto, Pliops co-founder and CTO. "We have successfully worked with government labs, research institutions and enterprises, empowering them to focus on what matters most – application and business growth – and freeing them from concerns of storage management and performance. Our solutions are consistently performing in real-life situations, and our exciting roadmap of new products and technologies is set to further enable data centers to thrive in the AI era."
Attendees interested in having conversations about improving PostgreSQL database capabilities are encouraged to contact demo@pliops.com for more details and to schedule an appointment.
Pliops will be highlighting:
Pliops XDP solution for ultra-dense storage – BIC Rebuild/Endurance/Resiliency
Pliops XDP deployment with Lustre – Best Smart Erasure coding and HA for HW for Lustre
Pliops XDP Database Acceleration – MongoDB, Google AlloyDB Omni solutions
Pliops XDP Key-Value Distributed Storage Solution
Pliops XDP enhancements for AI VectorDB
Pliops can be found at the SC23 PetaFLOP reception at the Denver Athletic Club on Tuesday, November 14 from 7:30 p.m. to 11:00 p.m. local time.
Connect with Pliops
About Pliops
Read Blog
Visit Resource Center
Connect on LinkedIn
Follow on Twitter
About Pliops
Pliops is a technology innovator focused on making data centers run faster and more efficiently. The company's Extreme Data Processor (XDP) radically simplifies the way data is processed and flash is managed. Pliops overcomes storage inefficiencies to massively accelerate performance and dramatically reduce overall infrastructure costs for data-hungry applications. Founded in 2017, Pliops is a winner of the 'Flash Storage Solution of the Year' Award in the Data Breakthrough Awards program and has been named a few times one of the 10 hottest semiconductor startups. The company has raised over $200 million to date from leading investors including Koch Disruptive Technologies, State of Mind Ventures Momentum, Intel Capital, Viola Ventures, SoftBank Ventures Asia, Expon Capital, NVIDIA, AMD, Western Digital, SK hynix and Alicorn. For more information, visit www.pliops.com.
Media Contact:
Stephanie Olsen
Lages & Associates
(949) 453-8080
stephanie@lages.com
A photo accompanying this announcement is available at https://www.globenewswire.com/NewsRoom/AttachmentNg/c80f681e-94d5-45e2-99c6-ba954911c427 


Latest posts by GlobeNewswire
(see all)