Mark Lee – Finest Hour Tour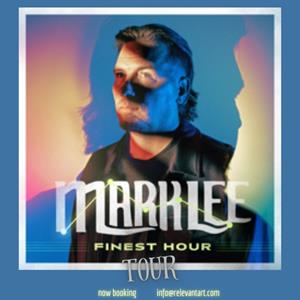 ATLANTA, Nov. 17, 2023 (GLOBE NEWSWIRE) — 2023 brought a new album project for Third Day founder, Mark Lee, following the release of its first single, "Finest Hour". With it comes preparations for a 2024 solo tour. The tour is planned to stop in 15 cities across the Midwest and Eastern United States between January and May 2024. Booking requests can be made to info@relevantart.com as dates remain available.
"This is some of my favorite music I've recorded in a long time. I'm looking forward to getting on the road in 2024 and sharing this message of hope and encouragement in a live setting." – Mark Lee
Mark Lee has been encouraging people through stories and songs for practically his entire life. In 1991 he started Third Day with high school friend Mac Powell. Through a career spanning almost three decades, they released 13 studio albums, with total sales of almost 9 million. The band has won four Grammy awards, an American Music Award, and numerous Gospel Music and ASCAP Songwriter awards. Third Day's live show has always been the heart of the band – they've performed thousands of concerts to hundreds of thousands of fans around the world.
Lee is also a prolific songwriter, writing many of Third Day's signature songs, including "Show Me Your Glory" (2003 ASCAP Christian Song of the Year), "Sky Falls Down" (GMA Rock Song of the Year), "Alien", and "Wire". He has also written songs for numerous other artists, including Kutless, Sara Groves, and Kim Hill. In 2017, Lee fulfilled a life-long goal of becoming an author, releasing his debut memoir Hurt Road through Revell Books.
In 2018 Third Day embarked on a Farewell Tour. To commemorate the occasion, and to begin the next chapter of his career, Lee released his debut EP Unshakable Heart in May.
Lee released two singles in 2019, both recorded with award-winning producer Ian Eslkelin. "Your Love Will Find Me," cowritten with Eskelin and Baylee Waller, finds Lee blazing new pop and singer-songwriter territory. "How to Feel Alive" brings a fresh alternative/pop energy to Lee's signature sound.
Lee released "Finest Hour" in October of 2021, the first single of his latest project. "Finest Hour" was produced by Chris Hoisington (Kevin Max, Brothers McClurg, Bellsburg Sessions). Reserve a stop on the 2024 Finest Hour Tour by emailing a booking request to info@relevantart.com.
A photo accompanying this announcement is available at https://www.globenewswire.com/NewsRoom/AttachmentNg/9ffbceae-6417-4674-9544-4e265a096b24


Latest posts by GlobeNewswire
(see all)