Cocktails in the Garden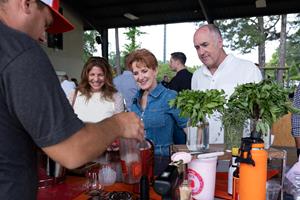 Caroline Jones Performs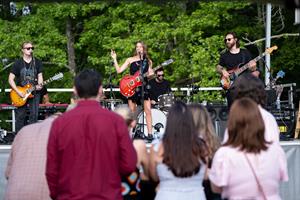 Fayetteville, Georgia, May 25, 2023 (GLOBE NEWSWIRE) — On Saturday, May 20, Camp Southern Ground, the multi-missioned non-profit organization founded by GRAMMY Award-winning artist Zac Brown, held its 3rd Farm + Table benefit to support its continued programmatic growth. The afternoon gathering on Camp Southern Ground's campus raised funds to directly help Camp Southern Ground serve more kids, veterans, and military families.
During summer months, Camp Southern Ground (CSG), located about 30 miles south of Atlanta, is an inclusive, residential summer camp for youth. During the rest of the year, Camp Southern Ground is dedicated to supporting veterans and their families.
As society continues to evolve, CSG's mission is more relevant and essential than ever. Serving veterans and advocating for inclusion is paramount to building a more equitable and compassionate world and a better future for all. To that end, success of benefits like Farm + Table allows tuition assistance to be provided to more than 90% of summer campers. It also allows all three veteran programs to continue to be hosted at no cost to participants.
"This event is special because it highlights the land on which we grow our food and deliver our programs," says CEO Mike Dobbs. "We are proud that each meal served at Camp Southern Ground is supplemented by produce from our organic garden. Nutrition and understanding the importance of the food we eat is critical to our campers and veterans thriving at home, and we are excited for our guests to see and connect with this land and, in turn, our mission."
Guests enjoyed the afternoon on camp with a clay shoot, followed by garden cocktails and tours and a locally sourced family-style meal created by CSG Executive Chef Collins Woods and his team. One of the more emotional moments of the night was the performance of a song written by veterans about their journey through service and beyond. After dinner, the entertainment continued with an electric performance by Caroline Jones, the newest member of Zac Brown Band.
MORE ABOUT CAMP SOUTHERN GROUND
The mission of Camp Southern Ground is to provide extraordinary experiences for individuals to recognize and magnify the unique gifts within themselves and others to profoundly impact the world.
For eight weeks over the summer, camp serves children ages 7-17, from all socioeconomic backgrounds, races and religions, with activities that challenge, educate and inspire campers. An inclusive, residential camp, Camp Southern Ground brings together typically developing children, children with Autism Spectrum Disorder, learning and attention issues, social or emotional challenges and those with family members serving in the military.
During the rest of the year, Camp Southern Ground is dedicated to supporting veterans. Warrior Week, their signature program, helps veterans find their new mission in life after military service. Warrior PATHH (Progressive Alternative Training for Helping Heroes), is the nation's first non-clinical program aimed to cultivate and facilitate post traumatic growth among combat veterans struggling with PTSD, depression, anxiety and/or combat stress.
At Family Camp, CSG's newest veteran program, families receive tools and training that allows each family member to learn more about themselves and each other; and the entire family unit connects to determine their own values, communication rules, and family mission. All three veteran programs are provided at no cost to participants.
Registration for fall veteran programs is open. Visit CampSouthernGround.org to learn more and apply.
Attachments
Cocktails in the Garden
Caroline Jones Performs
CONTACT: Kristin Dabson
Camp Southern Ground
kristin@campsouthernground.org



Latest posts by GlobeNewswire
(see all)