The GLOBAL Grants will fund important research, medical outreach, and health programs to help over 3,500 professionals, families, and self-advocates
Sharing Down Syndrome Arizona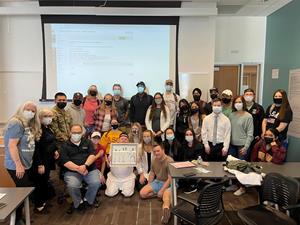 Coastal Bringing Up Down Syndrome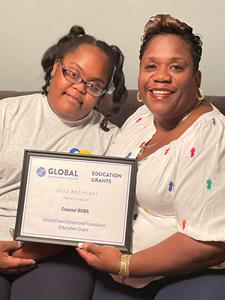 Denver, CO, July 05, 2022 (GLOBE NEWSWIRE) — Today, Global Down Syndrome Foundation (GLOBAL) awarded over $76,000 in education grants to Down syndrome organizations across the United States and abroad. Since the founding of the GLOBAL Membership Program in 2012, more than $1 Million to 235 grants – education, employment and COVID – have been provided to GLOBAL Organization Members.
This year's education grants will fund eleven programs in Albania, Arizona, California, Delaware, Missouri, Nebraska, North Carolina, Ohio, Texas, and Wisconsin. The programs will focus on providing adult medical care, mental health, research & medical outreach, health & wellness programs and more. More than 3,500 professionals, family members and self-advocates will directly benefit.
"We are so inspired by the amazing Down syndrome organizations we serve, and the impactful programs they provide for their communities," said Michelle Sie Whitten, President & CEO of GLOBAL. "Our member organizations are on the front line providing their families life-changing programs and services every day. We are proud to contribute our part as a national partner."
The 2022 GLOBAL Education Grant recipients and their funded programs are (in alphabetical order):
Buddy Up for Life, Inc. (New Albany, OH): "Buddy Up Fitness" will facilitate eight high-intensity interval training sessions for people with Down syndrome four times a year.
Coastal Bringing Up Down Syndrome (Wilmington, NC): "iCan Swim Camp (Brunswick County)" will collaborate with a local college to lead five-day swimming camps to increase balance, coordination, activity level, and overall fitness and safety in the water.
Down Syndrome Albania Foundation (Tirana, Albania): "Reach for Health-Support for Adults with Down Syndrome" will support medical care for adults with Down syndrome and host three meetings to educate the community on the GLOBAL Adult Guideline.
Down Syndrome Association for Families (Lincoln, NE): "High Intensity Functional Training (HIFT)" will facilitate a 50-week series of CrossFit sessions for 30 people with Down syndrome.
Down Syndrome Association of Central Texas (Austin, TX): "DSACT Medical Outreach" will facilitate a multi-pronged medical outreach program in partnership with the UT Austin Dell Medical School to provide Down syndrome-specific trainings to medical professionals.
Down Syndrome Association of Delaware (Middleton, DE): "Behavior Workshop with Dr. Lina Patel" will provide a behavior workshop offered to parents and caregivers in conjunction with Down Syndrome Interest Group of Pennsylvania.
Down Syndrome Association of Greater St. Louis (Brentwood, MO): "Down Syndrome and Dementia: Outreach, Support, and Education" will provide Alzheimer's and dementia support and education to the community over the course of six sessions.
Down Syndrome Association of Northeast Ohio (Independence, OH): "DSANEO Community of Care Medical Outreach for All Ages and Stages" will provide four webinars to parents and six presentations for medical professionals and students on Down syndrome, research, and medical care resources.
Down Syndrome Association of Wisconsin – Fox Cities (Appleton, WI): "DSAW-Fox Cities Health & Wellness Programs" will pilot two new programs, including a cooking class focused on health and safety and a fitness class focused on stretching, hydration, and proper technique.
Down Syndrome Connection of the Bay Area (Danville, CA): "Mental Health & Wellness Alliance" will fund the expansion of an existing program dedicated to providing training and support for mental health professionals working with patients with Down syndrome and other intellectual and developmental disabilities.
Sharing Down Syndrome Arizona (Gilbert, AZ): "The Sharing Down Syndrome Community Ambassador Program" facilitates a cycling and fine motor skill study at Arizona State University and a meeting between adults with Down syndrome and medical students and professionals at the Mayo Clinic.
"We are excited to highlight the importance of research as a benefit for people with Down syndrome in our community," said Gina Johnson, Director & Founder of Sharing Down Syndrome Arizona. "We are grateful for GLOBAL's Education Grant program, which is helping people with Down syndrome in Arizona and around the world."
To learn more about the GLOBAL membership grants, visit https://www.globaldownsyndrome.org/global-grants/
To learn more about individual and organization GLOBAL memberships, visit https://www.globaldownsyndrome.org/global-membership/
To learn more about Global Down Syndrome Foundation, visit www.globaldownsyndrome.org
# # # 
About Global Down Syndrome Foundation
The Global Down Syndrome Foundation (GLOBAL) is the largest non-profit in the U.S. working to save lives and dramatically improve health outcomes for people with Down syndrome. GLOBAL has donated more than $32 million to establish the first Down syndrome research institute supporting over 400 scientists and over 2,200 patients with Down syndrome from 33 states and 10 countries. Working closely with Congress and the National Institutes of Health, GLOBAL is the lead advocacy organization in the U.S. for Down syndrome research and care. GLOBAL has a membership of over 120 Down syndrome organizations worldwide, and is part of a network of Affiliates – the Crnic Institute for Down Syndrome, the Sie Center for Down Syndrome, and the University of Colorado Alzheimer's and Cognition Center – all on the Anschutz Medical Campus.
GLOBAL's widely circulated medical publications include Global Medical Care Guidelines for Adults with Down Syndrome, Prenatal Testing and Information about Down Syndrome, and the award-winning magazine Down Syndrome World TM. GLOBAL also organizes the Be Beautiful Be Yourself Fashion Show, the largest Down syndrome fundraiser in the world. Visit globaldownsyndrome.org and follow us on social media (Facebook & Twitter: @GDSFoundation, Instagram: @globaldownsyndrome).
Attachments
Sharing Down Syndrome Arizona
Coastal Bringing Up Down Syndrome
CONTACT: Anca Call
Global Down Syndrome Foundation
(720) 320-3832
anca.consultant@globaldownsyndrome.org



Latest posts by GlobeNewswire
(see all)