Broad-based growth led by financial services and manufacturing sectors, according to the iCIMS Monthly Hiring Indicator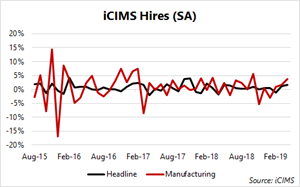 Holmdel, NJ, May 02, 2019 (GLOBE NEWSWIRE) — The U.S. labor market continues to look strong, with new hires across most sectors, regions and cities. New hires rose 1.7% and new job openings were even stronger, with a 13.8% rise on a seasonally-adjusted basis in April, according to iCIMS' Monthly Hiring Indicator (MHI). The continuing rise in hires and job openings is likely to increase wage pressures, as employers compete for workers in the already-tight labor market.
The MHI is a leading economic indicator published by iCIMS, drawing upon its database of more than 75 million applications and 4 million hires each year. New hires translate directly into payroll growth, after netting out departures, layoffs and other separations.
April 2019 U.S. New Hires and Openings Highlights:
All sectors that iCIMS tracks saw growth in hiring led by financial activities (4.6%) and manufacturing (3.8%), on a seasonally-adjusted basis.
Cities that saw the biggest increase in hires, after factoring in seasonal adjustments, include the Atlanta area as well as the Baltimore area – after seeing a dip in hiring in March.
Employers continued to open new jobs, with the financial activities and education and health services sectors seeing the fastest growth, at 10.5% and 7.1% respectively, on a seasonally-adjusted basis.
Every region saw growth in job openings, with the Northeast leading the way with 10% more openings in April than March, followed by the Midwest, which was up 8.5%.
In contrast to other early economic indicators for April, which have indicated a slower pace of growth in manufacturing employment, iCIMS' MHI shows accelerating growth (3.8% in April versus 1.6% in March). The MHI, which tracks hiring and openings for mid-sized and large manufacturers, shows growth concentrated outside the assembly line: positions like clerks and customer service representatives, but also engineers and computer programmers and technicians – in part reflecting the ongoing transition toward advanced manufacturing.
"The iCIMS Monthly Hiring Indicator for April shows another month of healthy hiring growth," said Josh Wright, chief economist at iCIMS. "There are little or no signs of the labor market losing steam, despite the bumpiness in other areas of the economy. Regardless of tame inflation, it is going to be increasingly costly to find and hire people, whether via the recruiting efforts to find good candidates or the wages needed to get them in the door."
About the iCIMS Monthly Hiring Indicator (MHI) Methodology: 
The iCIMS Monthly Hiring Indicator (MHI) measures job openings and new hires, based on iCIMS system data, which is generated by user activity within our platform. iCIMS processes more than 1 million hires per quarter and 75 million applications per year. While iCIMS supports employers across the globe, the MHI is based on U.S. hiring activity only. The figures present both indexes of hiring activity and their month-over-month percentage change, using a fixed panel of customers. To facilitate comparison with benchmark data from the Bureau of Labor Statistics, iCIMS publishes its indexes both with and without seasonal adjustments. Data from the MHI has been referenced by Bloomberg, The Wall Street Journal, Fox Business and NBC. To learn more about iCIMS' MHI, visit iCIMS Hiring Insights, where the latest data and details on the methodology are both available for download.
About iCIMS:
iCIMS is the leading recruitment software provider for employers to attract, engage and hire great people. iCIMS enables companies to manage and scale their recruiting process through a full product suite and an ecosystem of integrated partners delivered within a platform-as-a-service (PaaS) framework. Established in 2000, iCIMS supports 4,000 customers hiring 4 million people each year and is the largest software provider dedicated to talent acquisition. For more information, visit www.icims.com.
Attachment
CONTACT: Carlee Pett
iCIMS, Inc.
7325207453
carlee.pett@icims.com