Moving Average Envelopes (MAE) are bands, upper and lower, that are plotted on a chart that are identical above and below the Moving Average. Similar to the Bollinger Bands, buy and sell signals can be identified when the price approaches or moves away from the envelope's boundaries. They are a derivative of the Moving Average study.
The formula of the Moving Average Envelope is: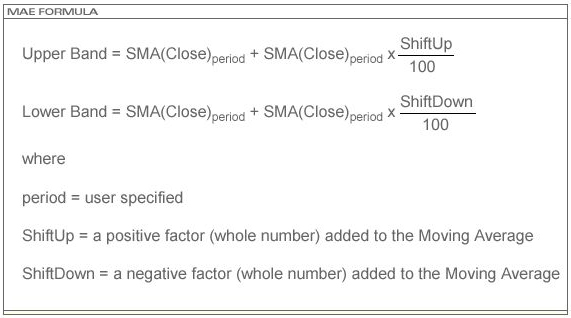 The MAE is an upper technical study. ProSticks uses a default parameter of 20 bars to calculate the MAE. 38 bars is also commonly used.
Traders can use the MAE for entry and exit points. When prices reach and penetrate the upper band, it is considered bullish and a time to buy. Conversely, when prices reach and penetrate the lower band, it is considered bearish and a time to sell.
Technical Indicators Explained
Need A Business Loan? Borrow From A ForexTV Certified Partner