Recent hiring boom and unprecedented growth moves award-winning merchant service company to a new location
Green Payments' New Office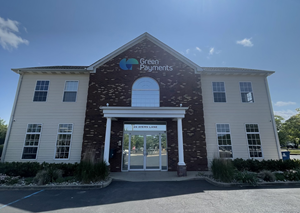 LONG BRANCH, N.J., May 23, 2023 (GLOBE NEWSWIRE) — Green Payments, an NJ-based credit card processing and merchant services provider, expands to a new office after a record year of portfolio and employee growth. The company's new location will serve as a critical hub for regional and national expansion for businesses across retail, healthcare, hospitality, automotive sales industry and more. The announcement comes at the heels of the NJBIZ Magazine award win honoring Green Payments CEO Cliff Green as a 2023 Leader in Finance for his work within the New Jersey community and beyond.
"Our new home serves as a testament to our team's hard work helping businesses navigate a fast-paced digital market," said Green. "As the digital payment space continues to evolve rapidly, we are dedicated to providing the best path forward for businesses of all sizes with customized service and unparalleled support. I'm honored to be selected as a leader in finance, but it could not be possible without my hard-working team."
Since its inception in 2019, Green Payments has helped over 5,000 businesses build their financial stability with reduced processing fees. In 2022 alone, the company's processing portfolio increased a staggering 134%, totaling over $1.2 billion in processed transactions. Located in Little Silver, New Jersey, the new location allows the company to meet the needs of its expanding portfolio and team of experts.
The company's award-winning services, like its unique Dealer Genie program, provide frictionless support and reduced processing fees for hundreds of businesses nationwide. Green Payments' customized programs and partnerships with emergent biometric technologies offer merchants and customers the latest in payment options for the best experience possible.
For more information about Green Payments, visit greenpayments.io. Those interested in job opportunities with an award-winning company can learn more here.
About Green Payments
Green Payments is a payments technology company delivering innovative software and services to customers nationwide. Green Payments' technologies, services and employee expertise enable businesses large and small to operate their businesses more efficiently through a broad range of solutions to minimize overreaching credit card fees for building a healthier economy. Since 2019, Green Payments has established itself as a leader in the payments industry with a focus of customer service at its core, providing 24/7 assistance and continued checkups throughout the length of the contract. Visit greenpayments.io for more information.
A photo accompanying this announcement is available at https://www.globenewswire.com/NewsRoom/AttachmentNg/c32ef968-e2f3-4e01-bace-b080b31a7e69
CONTACT: Press Contact:
Melanie du Mont
Uproar PR for Green Payments
mdumont@uproarpr.com
321-236-0102


Latest posts by GlobeNewswire
(see all)