The cup with handle is a bullish continuation pattern that takes the form of a consolidation period followed by a break out to the upside. The pattern has two parts: a cup and a handle. After a period of price advancement, a cup is formed, which has the appearance of a bowl or rounding bottom and should be U-shaped. This is because the flatter U-shape, as opposed to a V-shape, ensures that the cup is a consolidation pattern with strong support at the bottom.

After the formation of the cup, a short trading range, known as the handle, develops. A subsequent breakout from the handle's range then provides the signal for a continuation of the prior up-trend. Usually, the smaller the retracement is for the handle, the more bullish the formation is and the stronger the breakout. An increase in the volume should also be evident as the breakout occurs.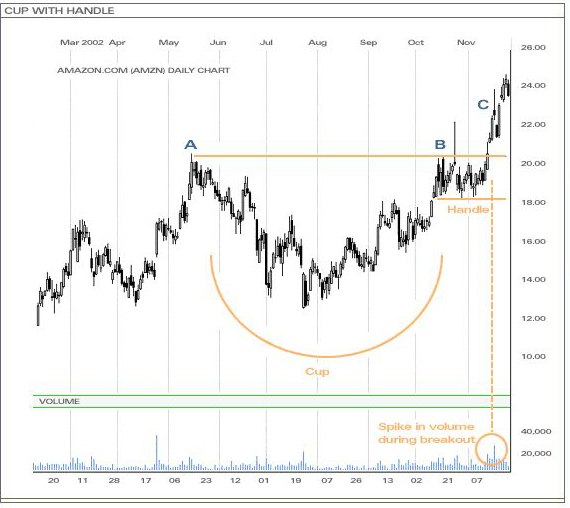 In the above example, the price was in an up-trend prior to the resistance at point A. In a span of just under 6 months, the cup portion of the pattern had formed and resistance was met at point B. The price then went in a trading range for about a month before breaking out at point C and confirming the cup and handle pattern. Volume levels provided a good indication as to the validity of the pattern as more buyers began to surface at the time before and during the breakout.
Need A Business Loan? Borrow From A ForexTV Certified Partner