The rounding bottom is a reversal pattern that is sometimes also referred to as a saucer bottom. The pattern represents, in most cases, a long consolidation period that turns from a bearish bias to a bullish bias. But as we shall see in our example, it can apply for the short-term as well.
The rounding bottom comes after a long down-trending period and ideally, the low usually marks a new low or reaction low. There are three parts to the appearance of the rounding bottom pattern: a decline, a low, and an advance.
The first part of the pattern is the decline that leads to the low of the pattern. The slope of the decline tends to not be too steep. The second part of the pattern is the low of the rounding bottom and it can resemble a V-bottom but should not be too sharp. This part of the formation usually lasts the longest and sometimes can last for months. Finally, the advance off the lows forms the right half of the pattern and should take roughly the same amount of time as the corresponding decline. If the advance is too sharp, then one should become suspicious of the pattern and that it may be a false signal.
And as with all patterns, the rounding bottom is not confirmed until there is a breakout to the upside above the resistance level, which in this case, is the beginning of the decline at the start of the pattern.
Volume levels usually follow the shape of the rounding bottom: high at the beginning of the decline, low at the end of the decline and strengthening during the rise.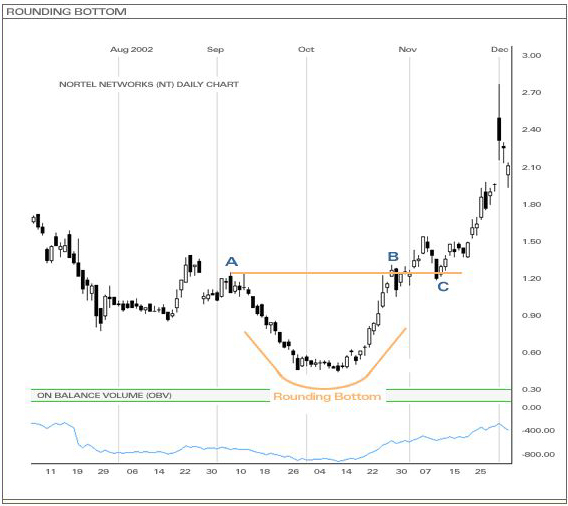 In the above example, the rounding bottom pattern spanned only a couple of months but the result after the break of resistance indeed changed the prior down-trend of the price. The price started its decline at point A and it was not until point B that it retested that mark, consolidating in between. Once it broke through the resistance at point B, the prior resistance level acted now as a support at point C and the price rebounded of this level strongly and traded higher ever since. The OBV indicator also confirmed the rounding bottom pattern as it clearly followed the decline-consolidation-advance pattern and was very strong during the advance, which is key for the pattern.
Need A Business Loan? ForexTV Certified Partner